[ Media Invite ]
If you are driving the Citroën Grand C4 Picasso (GC4P) around, be prepared to get stares. This ride is a beauty, it looks sleek, futuristic, and has power to boot.
Some MPVS looks tall or boxy, but not the Citroën Grand C4 Picasso. It brings a class of elegance into the MPV segment.

Step into the spacious cabin, happy kids enjoying their road trip around Singapore.

Kids enjoy the scenery through the paranomic roof, while Daddy likes the clear view of his front and sides (lesser blind spots).

With the abundance amount of window, we sometimes have problem differentiating whether we are outside or inside the car, the (traditional) pillars, boundaries and outlines seem to have been concealed.

Rainy days will definitely hatch a different mood for the kids, listen to the rhythm of the rain.

While enjoying our ride, parents will be assured that kids are safely buckled with a 3-points seatbelt system. Child seats are secured with Isofix, and even a tether hood. There are 6 airbags to protect all occupants.

Drivers can choose auto or manual (paddle shift) to move the Grand C4 Picasso. Daddy found the auto transmission jerky at low gears, we can feel the car jerks before it engage a higher gear. This might not be ideal for passengers in Singapore's urban landscape (read traffic lights start stop). Do take note that in auto-mode and on a slope, the GC4P might roll back slightly before moving off.
We recommend Manual mode (paddle shift) to transit between the Grand C4 Picasso's six gears. This is where you will feel the impressive engine torque when the MPV pulls away.
Our diesel GC4P reach its maximum torque of 270NM at a low RPM of 1750!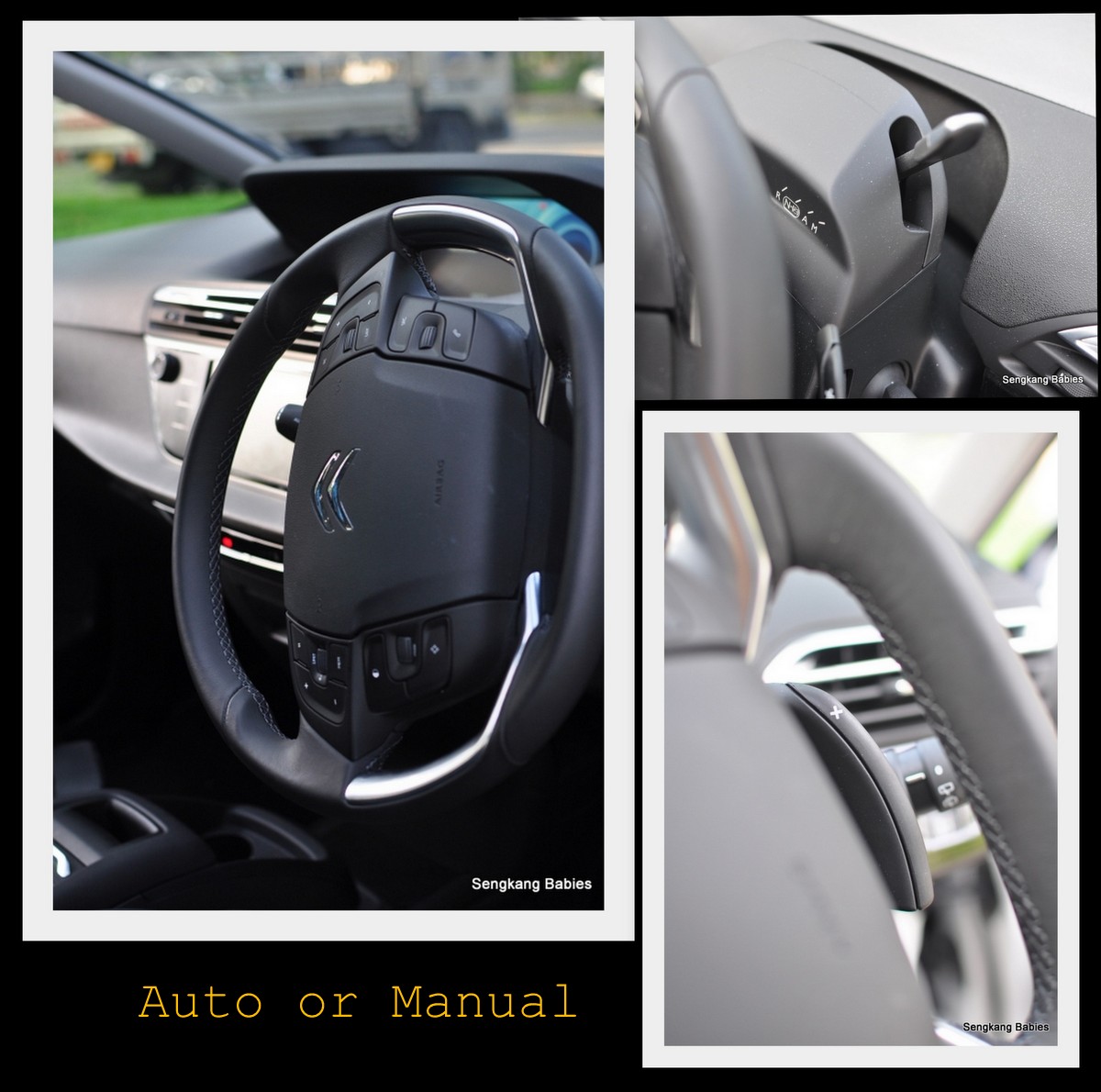 The 7″ touchpad, which serves as our entertainment and social media hub! The 12″ screen can serve as your GPS guide, or rear-view camera when you reverse.
Simple yet elegant dashboard.

What about space? At nearly 4.6m long, our Grand C4 Picasso has enough leg room for second and third row passengers. Headroom is not an issue, Daddy is 1.81m and does not need to crouch.

Citroën designers have enabled us to fold the seats with one-hand motion.

Independently adjustable seats allow us to fold down the second and third row seats to transport bulky stuffs (record 537 litres VDA, biggest in its category).


(image credit Citroën Singapore)
Small compartments, for concealing all your tissue boxes and water bottles. There are enough usb and charging points for all your electronic devices.

Cool comfort for second and third row passengers.

We love the shape of Citroën's Grand C4 Picasso. Oval and sleek, it does look futuristic. We felt it looks more like a sedan than an MPV.

Besides looking nice, the cabin is well insulated against outside noise. Our GC4P was stable and quiet even when we are cruising at 100kmh. When it is stationary, you will only hear a tiny bit of Diesel engine rumbling.

Sleek and modern headlights, both front running light and back, eye catching design.

Video : Why do we say the new Grand C4 Picasso is chio (pretty) !

Video : C4 Picasso has almost identical features

Steering wheel is packed with gadgets, bluetooth, cruise control and other volume knobs.

SengkangBabies love to watch aeroplanes, and seeing them fly overhead in our GC4P is a different experience. It seems so near to us.

Video : Plane spotting. Jetstar! SIA!

We have a few wish lists :
– power window is not sensitive to touch. There is a risk that kids' hand might be accidentally sandwiched when we close the window.
– boot door needs to be more sensitive. Once the boot door is closing, you need a hard knock before it stops. Children might be too weak to stop the closing momentum. In a multi-storey carpark with low overhead railings, there is a risk that you might not be able to stop the boot door earlier (bang!)
** we heard Citroen's Anti-pinch feature will mitigate the scenarios above
A few other advantage of Citroën Grand C4 Picasso :
– 1.6L e-HDi turbo-diesel engine has an impressive mileage of 25km per litre
– Stop&Start technology reduce carbon emissions by up to 15%
– Citroën full range of Euro V diesel models stay within COE Cat A (more savings)
– International awards and reviews
We would like to thanks Citroën for letting us experience French design and flair!
Most families should find the Citroën Grand C4 Picasso a fun and cool ride.
More details about Citroën Grand C4 Picasso :
– Citroën Singapore website
– Citroën Fanpage
– pop by for more road trip photos on our Fanpage album