Cycle to Malaysia and your playground upsized from 700km2 to 330,000km2. Yes, Malaysia is 400x bigger than Singapore!
The idea of cycling to Malaysia never crossed my mind. Primary reason could be road safety concerns.
I will be sharing my cycling experiences from Pekan Nanas and Legoland in this post. And I can confirm Malaysian drivers (motorbikes, cars and even trucks) are more accommodating towards the vulnerable cyclists!
*Do go to the end for video of my JB eat and see (in 3 hours)
For those interested to explore Malaysia cycling itinerary, pop over to Facebook group 'Cycling SG to Malaysia'. They are organising free cycling events, with volunteer leaders and sweepers, but event slots are always in hot demand!
My virgin trip brought me to the town of pineapples "Pekan Nanas".
In case you are wondering, Tuas Causeway is off-limits to bicycles as both ends are expressway and highway.
The 1st assembly spot is at the middle of causeway. You can take EPIC Sunrise photos here!
After the photos, team can climb up the bridge towards Malaysian Customs.
Cyclists with slim tyres have to watch out for the drain cover gaps. Do follow the red marking (photo below) to enter the "manual" booths.
Second assembly spot would be after Malaysia custom, somewhere here (GPS 1.466946, 103.768354).
This is where the real Fun starts 🙂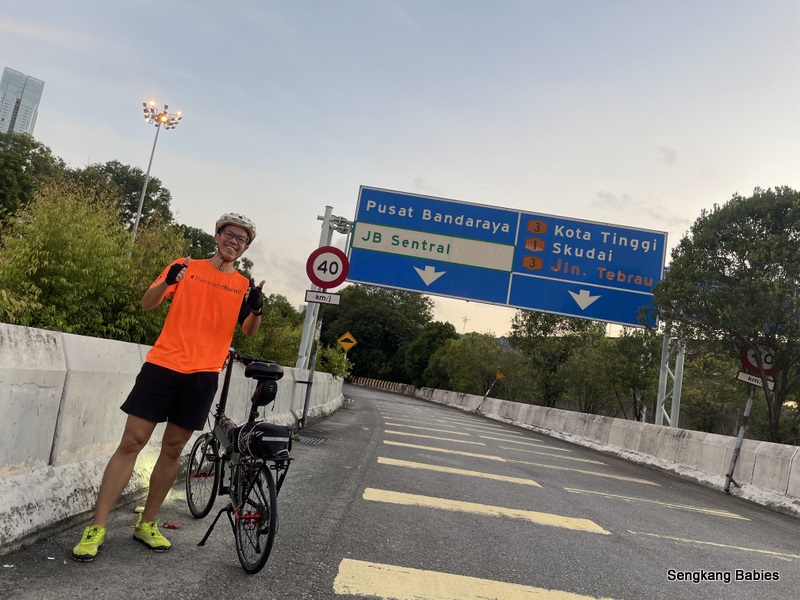 We took the coastal loop towards Danga Bay. And the dark clouds chased us for a good 20 minutes!
I wish Singapore's Shell 95 price will dip below $3 in the near future 🙁
Breakfast was at Skudai area, near Sutera Mall (popular spot with Singaporeans). We normally drive here for brunch, but two wheels are much cooler.
Not sure whether you are ready for Johor ride? We share a few tips:
1) Road confidence (You must have some road experience in Singapore)
2) Recommend cyclists covered at least 80km before (Johor has more slopes and bridges)
You will notice that Malaysian motorists are more accommodating and patient than Singapore drivers.
Malaysian motorists will wait (or slow down) for cyclists to clear junctions, change lanes or even roundabouts!

Kudos and thank you Malaysians for your patience.
Let us carry on with our Pekan Nanas pineapple adventure 🙂
Only tourists will do the pineapple pose haha (pineapple landmark infront of Public Bank).
As you cycle Westward, Pontian and Kukup (SEAFOOD!) is beckoning. And Tuas Causeway is so much nearer than Woodlands Causeway.
Cycle to Malaysia, today Johor, tomorrow Melaka and Desaru.
Map below indicates estimated km from Bukit Indah. These spots are on my wishlist, example Forest City and Southernmost Tip of Mainland Asia (not Sentosa).
Delicious dim sum lunch at Tasixi 大四喜 and we met Chef Eric too.
I would recommend newbies to ride along Danga Bay coast (ie follow directions to Hospital Aminah, then route 52, J1). Road is wider and there is less traffic.
*The stretch along Jalan Tun Abdul Razak (Route or Highway 1)back to Woodlands custom is sandy, narrow and packed with vehicles (ie Stress!)
Group is ready to roll back to Singapore. Our Pekan Nanas group consists of 30 cyclists, split into two groups.
Lots of fun and novelty for the cyclists, we went through two showers too. Many in the group were newbies at custom, but we brought back fond memories.
Just follow the motorcycle lane.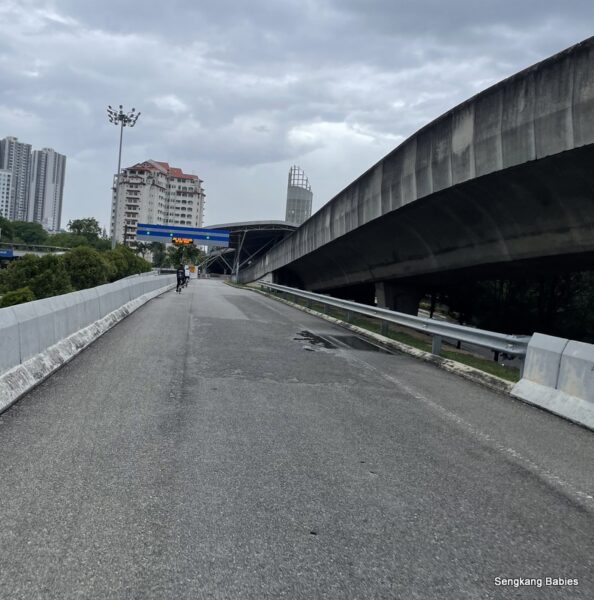 ~~Sharing some photos from my Legoland trip 28May2022 ~~
This was the first time I led a cycling group into Johor. I was quite apprehensive but felt a huge sense of accomplishment too.
You have to ensure that everyone can keep pace and hopefully not bring them go "Holland".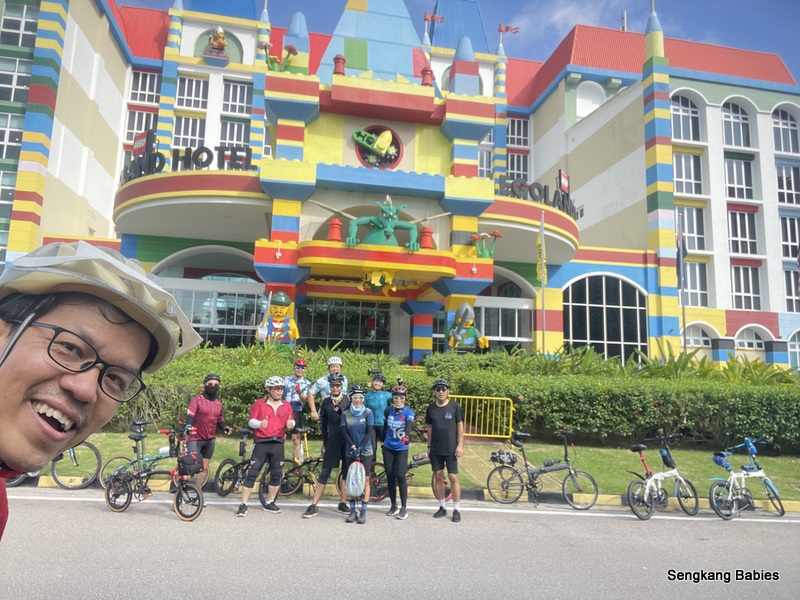 The actual distance in Malaysia (to & fro) from customs to Legoland is about 60km (This is peanuts for those who have completed RTI in Singapore).
Crossing both Singapore and Malaysia customs on our bikes is worth a toast! A novelty for most of the kakis.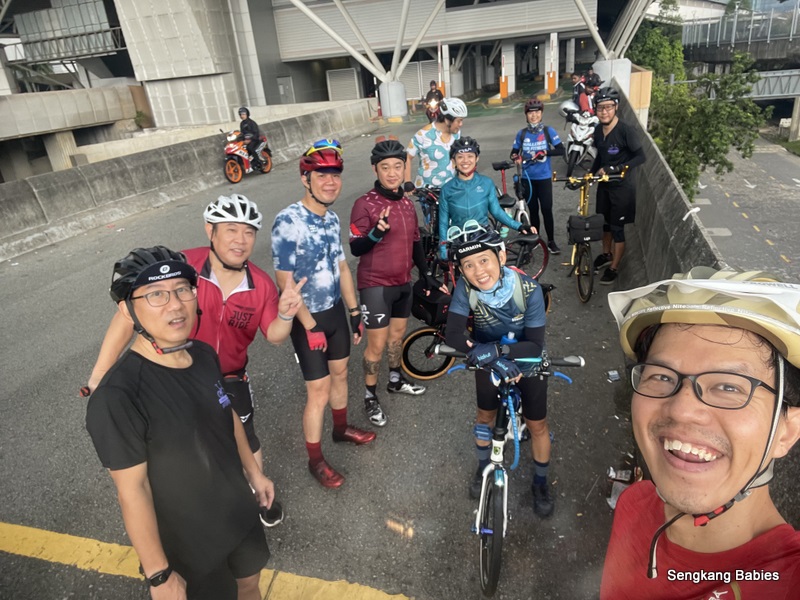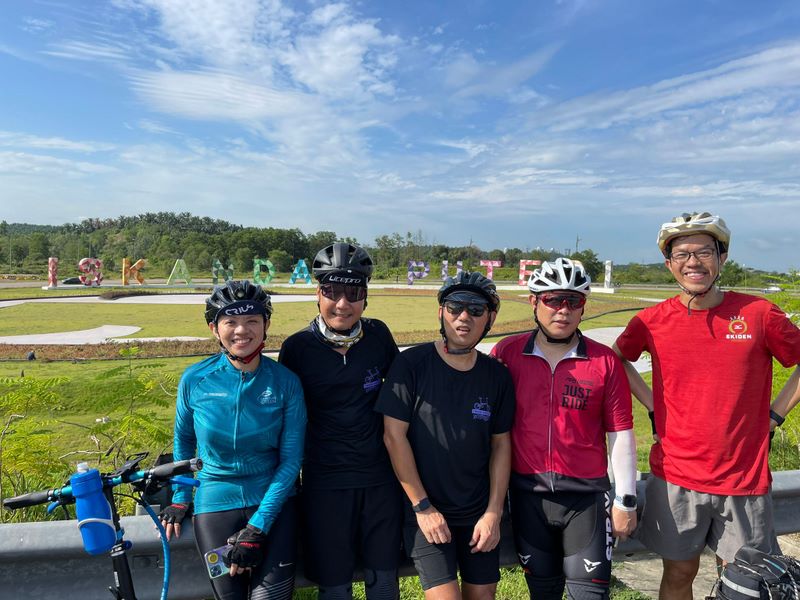 Imagine the excitement when we spot Legoland Hotel over the horizon. Mission achieved 🙂
I cannot remember when was the last time I brought my kids here. They have since outgrown Lego bricks. Revisiting this epic hotel on two wheels, brings back a sense of dejavu!
Artistic sculptures at Puteri Harbour (we did not visit Hello Kitty).
Do expect puncture/s among the group. Touch wood, but the probability is too high to ignore! Bring tube for your own tyre size.
Khass Bicycles seems to be a popular pit stop for shopping. I have no idea about price comparison between Singapore and Malaysia.
Cold dessert at Yong Yong Dessert, which is 100m from Khass Bicycles.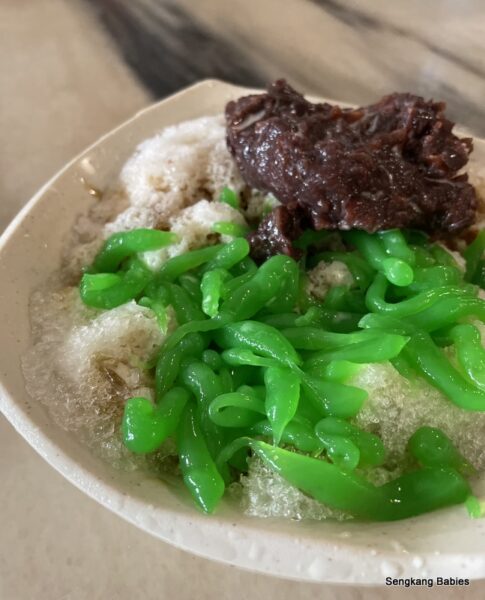 Always Safety first. We strive to enter and leave Malaysia as a group, looking out for each other. This trip has given me the confidence to explore more of Malaysia.
Should I cycle to Malaysia? where should I start?
For those interested to explore Johor on two wheels, do join Facebook group "Cycling SG to Malaysia" first. Do look out for future events to Desaru, Pontian, Melaka! Link up with friendly and helpful community for peer to peer knowledge sharing.
Like-minded cyclists are only interested to cycle, chill and eat (maybe share "poisons" too).  You might find buddies to embark on the next multi-day cycling adventure.
For newbies, your team will have a leader/captain and a sweeper. Leader will navigate and pull the team along, while sweeper ensures no one is left behind.
SHOUTOUT to sweepers Alan and Kiara for ensuring no one is left behind. Our ride would not be successful and safe without the hardworking sweepers !
*1) Step by step tips to cross Singapore Malaysia custom, refer Richard's link (Take note no photography and video inside customs area)
*2)YouTube crossing Singapore Malaysia customs (Clips from Rueben and Alan). This will help you visualise the next turns and boost your confidence (I still hate the humps!)

3)Reference my cycling planning itinerary Gsheet here (Many items were first shared from Facebook group)
4) Open my Legoland Gpx (Google Map), and just follow turn by turn to Nusajaya
5) Updated 11 June 2022 – 3 Hours in JB. Eat, see and Experience

YouTube: Chill at Pontian 笨珍

YouTube :Cycling to Forest City and boat ride (my best Johor trip yet)

YouTube: Cycling to Elephant Rock (Bukit Batu Gajeh)

YouTube: cycling to Malacca

YouTube:Cycling to Putuo Village

Cycling In Taiwan (250km from Hualien to Taitung)

Additional tips:
– Always SAFETY first! Take care of each other
– My Sejahtera app (similar to SG's traceTogether) is no longer needed, but do print out hardcopy vaccination status from https://www.notarise.gov.sg or HealthHub (just in case)
– Bicycles no need to pay toll, and Touch & Go cards are optional
– Not everyone might wish to cycle to start point at Woodlands custom. The nearest carpark could be at Marsiling Blk 22  (S730022)
– After your JB spin, cyclists can take the train from Kranji MRT
Meanwhile, you may read about other cycling trips below:
– Cycle to Pekan Nanas and Legoland
– JB food hunt (3 hours 30km)
– Cycle to Forest City
– Cycle to Pontian (笨珍)
– Cycle to Elephant Rock (Bukit Batu Gajah)
– Cycling to Malacca
–2018 Cycling Hualien to Taitung (with two kiddos)
*Do follow our cycling adventures here -> https://sengkangbabies.com/tag/cycling
*Do follow our cycling adventures here -> https://sengkangbabies.com/tag/cycling