When we went cycling Seletar North area, we found some interesting landscapes. Sand, airport and this scenic water body between Punggol Timor Island and Punggol Barat Island.

Never heard of Punggol Timor or Punggol Barat?
You are not alone, as everyone only knows about Coney Island :p

Referring to map above (credit Google), let us orientate our route Cycling Seletar North, checkpoints :
1 – Sungei Punggol Dam (If you head North pass Marina Country Club, you will reach Punggol End, Coney Island)
2 – The water body between Punggol Timor and Punggol Barat
3 – Seletar Airport
4 – Yishun Dam
5 – Take new road Seletar Aerospace Way to reach Sengkang Fernvale or Jalan Kayu
Video (Link) : Kids ride faster when I nag :p

Some of the checkpoints along our cycling route. Dam at Sungei Punggol.

You will not miss these colourful dormitories. Are these workers busy building North East's infrastructure and public housing?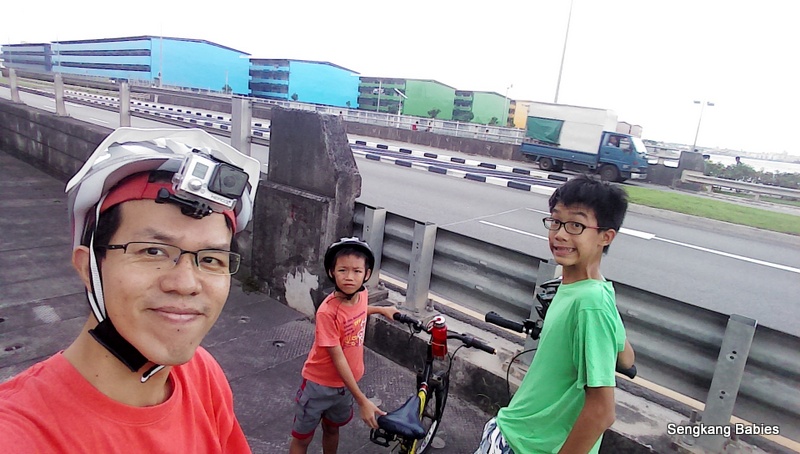 Vast amount of sand along Punggol Timor Island! (just in case Singapore's neighbours try to disrupt our construction sector). It reminds me of those slides down Pinnacles' sand dunes (in Perth).
This might also explain why the stretch of road along Seletar North is more dusty.

At "checkpoint 2", I told Yee not all snails are escargots, and we normally do not eat snails raw.

Cycle further down and you will see aeroplanes on the tarmac of Seletar Airport.

Take note of overgrown scrubs along certain stretch of Seletar West Link. We might need to push our bikes. We miss the left-turn at Seletar Aerospace Way "checkpoint 5" and ended near TPE "checkpoint 6".
This detour cost us an additional 45 minutes as there was no cycling path and we had to push the bike for about 1.5km!
I am very proud of the adventurous spirits displayed by the kids. Although we were tired (and hungry), and it was getting tough to cycle in dim light, we persevered and reach home safely together 🙂
Additional tips :
– Females should not cycle or jog alone, as these corners are very quiet and has thick vegetation
– Round trip cycling from Anchorvale Swimming Pool to Seletar Airport is around 9km, add 5km to reach Jalan Kayu
– The Marina Country club should be another interesting sight, you can see "boats" parked under the green roofs
(Marina Country Club is about 3km away from Punggol MRT)
– Easy cycling should cover this distance in under 90 minutes, we stop over for some "candid poses"
– The pathway (check the video) after Sungei Punggol Dam is a bit narrow, we need to share the path with joggers, cyclists and foreign workers
– As we get nearer to Seletar Airport, you will hear planes flying overhead (video at 7.48 minute)
– If you are really lost, bus 103 and 117 serves Seletar Aerospace area
* if you have time and energy to spend, try cycling 4.5km across Yishun Dam "Checkpoint 4" towards Orchid Country Club and Lower Seletar Reservoir. Mandai Park Connector will link you to Singapore Zoo (10 km). (The shallow water at Lower Seletar Reservoir waterplay area is very popular with toddlers)
Our Sengkang-Punggol round trip video is not up yet, but you can read about our Coney Island experience.
Forget Punggol Waterway Point, you will definitely find more adventures along Seletar North and Sengkang West 🙂
*updated 2021 Aug – Last Fishing Village and Rower's Bay are popular with folks from Sengkang and Punggol too.
Click this cycling link for all our biking adventures.