Green Corridor cycling is happening. Whether you jog, cycle or walk with pets, the 24km stretch is popular with islanders.
Some of our Green Corridor related posts are here
–Walking 17km Bukit Timah to Kranji
–Coast to Coast 42km walk
–Exploring Queensway and Tanglin Halt's heritage
-Next. I will try to cycle from Spooner to Kranji Close
You can traverse from Old Tanjong Pagar Railway Station to Rainbow Bridge. Since Tanjong Pagar Railway Station is now under renovation, the end point will be Spooner Road.
General direction would be -> Sengkang/Punggol-Serangoon PCN-Pelton Canal PCN-Kallang/Flyer-Shenton Way/Keppel Rd-Spooner Road carpark (Start point)
Cycling Green Corridor extracted GPX (Google Map) is at the end of this post. Map above shows 50 to 60 km loop back to Sengkang (via Queensway, Macritchie, Bishan)
From Sengkang, it will be roughly 20km one way to reach Spooner road. It might take between 2 to 3 hours depending on individual comfort level.
*Checkout my ride on YouTube ( Link)

Second video shows our experience from Spooner Road-Green Corridor-Singapore Quarry (!)-Hill View offroad-Bukit Batok-Jem-Ulu Pandan PCN- Green Corridor. Total 40km (If include Sengkang, will be total 80km).
Video below, Off-road at Hillview (4:03min) is something new for foldies. 2:02 shows the 50m link between Green Corridor to Singapore Quarry. (Cross bridge GPS 1.355018, 103.769587).

This blog post (and video) shows the fastest way (not easiest) for Green Corridor cycling from Sengkang and Punggol.
You may cycle pass Marina Bay and Sportshub too. Once you reach Tanjong Pagar, you can turn East to East Coast Park, cycle straight to Sentosa, or explore West Coast Park.
Startpoint can be Serangoon PCN along Sengkang (photo above).
Head towards Breadtalk HQ junction, where three PCNS link you to Kallang. Refer Nparks PCN network for Balam Park Connector, Pelton Canal Park Connector and Kallang Park connector.

There will be two overhead bridges to overcome!
Those who do not wish to climb overhead bridges, can cycle from Sengkang to Bishan and follow the PCN from there.
This will add an additional 5 to 8km (one way). Another option would be Sengkang-Lornie-Bukit Timah-Kap mall, but I hate the Bukit Timah bumpy road.
First bridge in your PCN route goes over Aljunied road.
Use the groove to roll up the bridge. Harder for ladies as upper body strength needed.  I find it easier to lift my bike (11kg) up the stairs.
Pelton Canal Park Connector route, just follow the river (drain).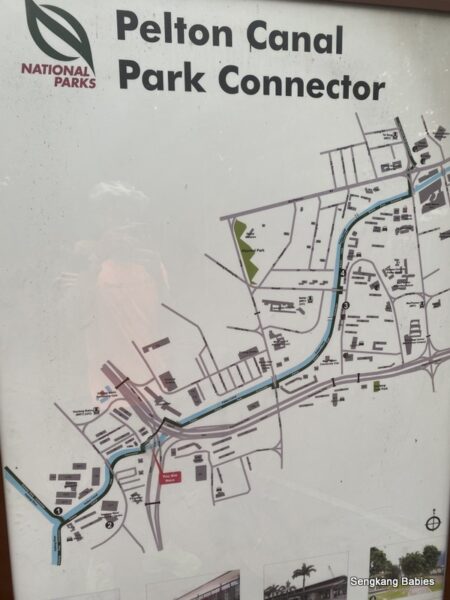 Bridge two across PIE. This bridge is easier than the first one, less steep.
So far the best bike-bridge is still the one at Ulu Pandan, no need to dismount! (Jurong Circular Bridge).
If time permits, you can detour and catch some old "Lorong 3 Geylang" blocks which had been around 60 years and lease just ended.
Otherwise, just follow the river towards Kallang MRT.
Cycling near Kallang Park Connector, follow points 1 to 5 and route behind Kallang MRT. Cycle towards Flyer and Helix bridge direction.
If you follow "A", you can head towards Sportshub, Tanjong Rhu and Marina Barrage.
Cycle towards F1, Flyer, and MBS.

The river side cycling route is really scenic and offers the best view of our waterfront.
Sit at the Bench (Marina Bay) if you are tired (the other giant bench is at Level 2 Sportshub).
If you prefer another view, try Merlion and Shenton Way route.
But take note Shenton Way will be crowded with pedestrians (weekdays) and pavements can be narrow.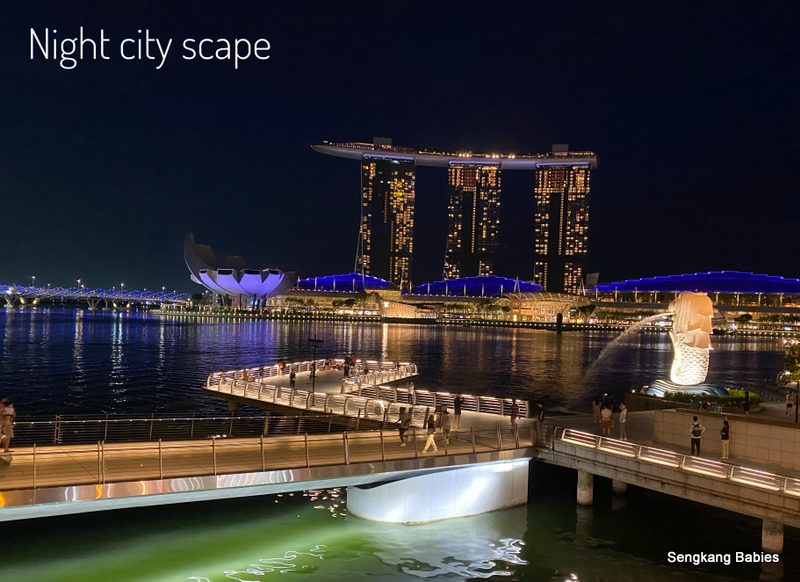 Road cycling is not recommended for newbies as there is too much traffic (and trucks) along Keppel Road.

From MBS, we can actually detour and follow Sheares Ave to ride South of Marina Bay MRT. Reconnect back at Shenton Way, near to Singapore Chinese Cultural Centre.
You get to see some nice city skylines from another angle.
Follow pavement along Keppel Road until you hit junction
(GPS 1.272750, 103.839986 ), which is before Tanjong Pagar Railway Station.
Take the PSA side of the pavement, as the other side is more disconnected.
Cycle towards Spottiswoode Park Rd (pavement) and head towards Block 101, 102.
Folks can park their car at Spooner Road URA carpark and explore Green Corridor too.
Refer Google Map below, "X" marks Spooner Rd URA Carpark.
From Junction 1, cycle towards 2. Push bike along 3 and take staircase (or slope behind bustop "Bef Kampong Bahru Ter".
Seasoned cyclists can try Neil Rd (exit before bustop), but this stretch is narrow and packed with buses (too many blindspots!)
Point 4 is temporary entry to Green Corridor.
Point 5 is the old KTM "Polis Post".
From Spooner Road, you can go all the way North to Kranji Close (24km). This was the REAL train route last time.
*Read our old train blog posts here and here
Enjoy Green Corridor cycling from here onwards. Do look out for walkers, joggers and pets.
Entrance GPS "1.275297, 103.832482" (opposite Kampong Bahru Bus Terminal)
Green Corridor attractions.
Do spend some time at Tanglin Halt to capture the colourful blocks.

One of the most relaxing moments was people watching along the Rail Corridor.
Not too long ago, KTM trains were chugging behind Tanglin Halt's backyard! (turn on volume to hear the birds)

For the return trip, I exited near Biopolis and headed towards Queensway, Farrer Park direction. Those adventurous ones can cycle till Bukit Timah or Kranji Close to exit towards Mandai Road  (Much BIGGER loop).
Sugarcane drink to recharge at Empress Market, I seldom pass by this corner.
Photo below is the junction near Adam Food Centre. You can follow Coast2Coast trail back home.

After Kheam Hock Park, climb overhead bridge (again!) over Lornie Road.
(First timers should be aware of the uphill slope and graves, refer YouTube 6:52 min)
It is illegal to cycle in the tunnel. Cars are fast in tunnel, and you risk exiting into PIE expressway!
Easy pavement on Lornie PCN. However Marymount and Ang Mo Kio Ave 6 has a lot of road works. Ride safe.
Additional Tips and Detours.
1) Referring to first Google Map. Point "A" from Kallang MRT will lead to Tanjong Rhu and Sportshub.
You can still reach Spooner Road after a detour.
2)Ever wonder night cycling experience at Green Corridor? There is no light and it can be pretty eerie to cycle alone (Look at the main video, from 5:47 min).
It is all dark. Confirm all your senses will be tuned up!
I am more curious why some walkers and joggers do not bother to shine a light, or like to wear black!
3)Next target. Cycle the whole Green Corridor. I am not worried about darkness or mud, but the weekend crowds are horrible. See the mud on the round-island video clip (from 2:00 minutes onward) from Rainbow Bridge to Kranji forest)
Click on Image below for YouTube video (Green Corridor muddy).


4) No1 tip for Green Corridor cycling.
Expect 5km of slight gradient if you start at Spooner Road. Just go easy.
5) Green Corridor (also called Rail Corridor) is not wide. It can only support 3 to 4 walkers across, cyclists should look out for pets too. Otherwise, enjoy the greenery and fresh air.
6) You may refer to the Google Map (GPX) for direction from Sengkang to Spooner Road. I have another GPX from Bukit Batok, Jurong to Green Corridor here
Enjoy our Sengkang to Green Corridor clip here.
~~~ ~~~ ~~~
Meanwhile, read our bike adventures:
-Cycle 70km East, TMCR (link)
-Cycle 80km West,Lim Chu Kang(link) (LCK slopes are tougher than TCMR)
-Cycle to Woodlands and back for 50km (link)
-Cycle 50km to explore 3 Reservoirs and 3 parks
-Completed Round Island 140km!  (Click for GPX routing)
-Cycle 20km to Green Corridor (or Marina Bay and Sportshub)
-Click for Instagram SengkangBabies #skbCycles
*Read my previous posts about MTB\RoadBike\Foldie selection, & Foldable bike shortlisting
-Previous OCBC Cycle trips for families
-More details and landmarks about Park Connectors (PCN) at nParks link
-Follow my family's cycling experience here .