Hiking Bukit Brown cemetery was conceived after a Zhi Char gathering.
We were sharing how we got fitter or thinner (or both) during our gathering. Everyone knows about Cheekiemonkie's S.A.D adventures.
That was how a DaddyMatters hike was born. Inaugural walk was commissioned as Steven's Walk!
Our meeting point was at Kheam Hock Park.
You can actually drive in through University Road and park at the side, or walk about 900m from Botanic Gardens MRT.
Do clear your bowel at MRT or maybe Adam Food Centre (toilet) before starting your hike.
I first explored Bukit Brown back in 2012 (Blog post). Glad the lush greenery is still available. Due to Covid19 and lack of travels, many folks are keenly hiking all corners of Singapore!
In SG's small context, wherever we go, we are not far from roads and cars. PIE next to our trail.
Hiking Bukit Brown only took us 90 minutes. There are small slopes and streams, and walk is relatively easy for families.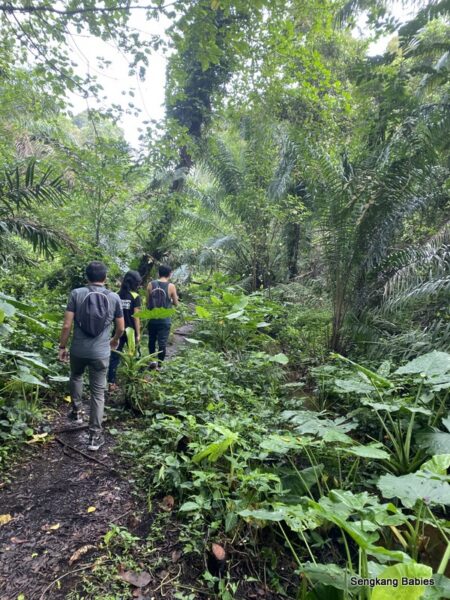 (photo above) Kelvin mentioned that during heavy bouts of rain, the stream will overflow. It must be spectacular and muddy.
As we exit from the trail into the open space. Magical Avatar trees greeted us! There were so many bird sounds around us!
Lookup . Lovely blue sky and loves the white patchy cotton cloud! The birds and insects were chirping all around.
Pure Nature and serenity 🙂
Smell the fresh air.
More than the scenic and fresh exposure, it is the fun company which was the highlight for me. Everyone would like to do an encore hike again! Thanks to Kelvin for the guide!
Listen to the surrounding birds chirping away around us! (YouTube link)

Take a 360 view of Bukit Brown through David's Gopro 🙂

Photographers and YouTubers in action. Every flora and fauna captured our fascination.
And of course, some drama Dad antics and poses.
NEA disclaimer. Hikers please take care of yourselves.
I noticed there is no warning for Supernatural sightings, but we shall not  recommend Hiking Bukit Brown cemetery at night.
The animal and birds need to rest too. Do not go and disturb 🙂

Pavements are relatively well maintained, try not to stray off the trail. We would not want you to fall into any pit or step on any unmarked graves.
Although we are near to Qing Ming period, but this area was relatively quiet.
Some workers were seen tending to the graves.

Discussing our next hiking options.
Nick brought along daughter to join the DaddyMatter Uncles.
A small shrine.

Bukit Brown Cemetery is hidden in the middle of greenery.
Unless you venture off the highway, you might not realise the rich heritage behind Bukit Brown cemetery's past inhabitants.
Steven's Walk Mission success!
Exit and we head back for some refreshments. Our hearts are full and camera is happy.
If you have walked Coast to Coast trail before, you will pass by Kheam Hock Park (and tunnel).
Lunch at Adam Food Center before we parted ways.
Will share part 2 of our Green Corridor walk in the next post.
We walk from Bouna Vista to HillView MRT via the newly reopened Green Corridor section. Total of 8km.
Do pop by the following links for more Bukit Brown and hiking details:
– Photos on SengkangBabies Facebook album
– Our family's hiking adventures, when can we explore Malaysia gunung https://sengkangbabies.com/tag/hiking
-2012 Bukit Brown trip
-Do pop by Cheekiemonkies hiking adventures for your next family hike!
If you love nature, do pop by the following posts:
– Hiking Green Corridor
– Clementi Forest and Kranji Forest (photos)
– Bukit Brown and Avatar trees