Boon Yee's JSA Badminton has ended. This is the second sport from his Junior Sports Academy Selection.
I am eager to find out what two other sports he will be enjoying over the next two semesters.
We did mention Junior Sports Academy is like a Sports buffet for Yee.
Read about our JSA Flippa Ball (mini water polo) experience here.
Yee warming up with peers. Sparing with coach or peers,  Boon Yee aspires to be the next Lee Chong Wei 🙂
Warm up , play (technique), push up(strengthen), kids had to get in shape to play well.
Seeing him enjoying his Badminton, we know JSA has already enriched those kids who are sporty in nature.
Unlike Flippa Ball, parents were not allowed to view the kids in action (Tampines Primary School). I was only there for the first and last lesson.
A pity, as we parents would like to participate along the child's progress. There was a certain disconnect when I could not see my kids leap, smash or spar with his peers.
Due to the larger number of students, most of them have to play doubles, and not one vs one. This might mean lesser attention from coaches to tune the kids' moves.
We did challenged Boon Yee's Badminton skills, and I know he has improved.
Besides JSA Badminton , kids have to pen their thoughts, quiz and some cross puzzles. They have a booklet to "chart" their progress and activities after each session.
There is a new development for JSA 2017/2018 cohort. Those who had already completed two sports and are shortlisted by coaches, get an opportunity to specialise.
The specialised path will roughly consist of more intensive and customised curriculum, under the same coaches. Training the kids with mindset of an athlete, perhaps someone with potential and aspiration would then be groomed for higher training.
In Boon Yee's case, he was selected to extend his Flippa Ball passion.  If he is keen, his JSA programme will consist of only one semester of Badminton and three for Flippa Ball.
If we choose Flippa Ball, we would never know whether Boon Yee might prefer the last two sports, potentially Taekwondo and Fencing.
Upon further enquiry, MOE is offering specialised track earlier, because JSA Programme lasts from P4 till P6. There would not be enough time for kids to "specialised" after going through 4 sports.
A pity though. We joined JSA precisely because we wanted our child to get multiple sports exposure, now child and parent face dilemma to specialise or go through all four sports.
One day, I hope Junior Sports Academy (JSA) will be extended from P4 all the way to Sec 4. If Sports Singapore is serious about finding budding sports enthusiasts, extend the current 2 year JSA programme to six.
Let the child have more opportunity to play, learn and develop, hopefully we can cultivate more passion along the journey 🙂
Gif of Boon Yee smashing.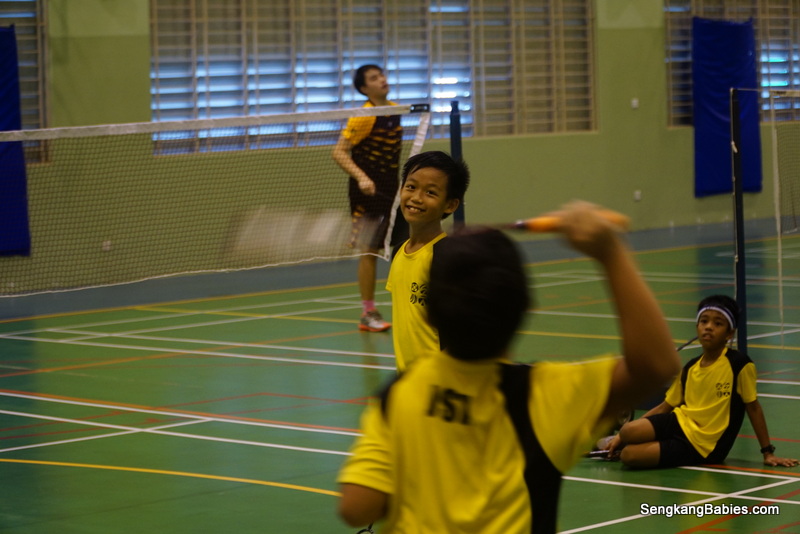 Whatever is Boon Yee's selection, we will always support him.
You may read about our JSA selection blog post here.
Thank you JSA and MOE for all the sports opportunities 🙂
Read more about our JSA adventures :
-JSA Flippa Ball
-JSA Badminton
-JSA Taekwondo