Safra Singapore Bay Run 2014 debrief :
Seven years old Boon Yee made it! Although our family cross the 5km mark together, Daddy is especially proud of Boon Yee. His hair was never dry after the first km, but quietly displaying his determination, our little man try to pace his brothers.

Earlier in the day, we say Good Morning to Merlion. Our 5km race is at 8am, but the early birds are already pounding the tarmac (21km 5am and 10km 7am).

It feels good to run on a road deprived of cars. Absolute freedom. We heard more than 46,000 serviceman and families have signed up for 2014's Safra Singapore Bay Run & Army Half Marathon.

Safra mascot, which kids had mistaken for M&M haha!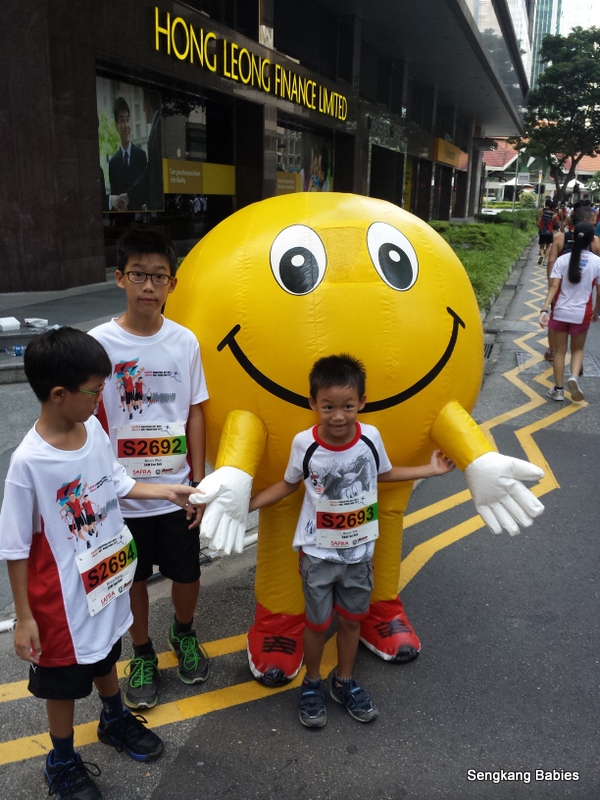 Does not matter if you are going against traffic, the roads are cordoned off today 🙂

We just walk through Promontory yesterday with Fairprice, read our "Fairprice Walk with U" review 🙂

Halfway-point is at Helix bridge. We refused to let tired legs dampen our mood. Some folks are doing Aerobics with loud music to encourage us to carry on.

Nice try boys, today no chartered services. Actually, it is Daddy who wanted to take a shuttle bus and take photos of us when we reach end-point (lame excuse!)

As we reach the last kilometer, SuperDads and SuperKids are ready to dash 800m 🙂

Even Victoria Concert Hall produced melodious chimes to egg the runners to push on (check video below).

Video : Running up and down and keeping the momentum

We clocked 48 minutes to finish our race. It was heartening to see young families trying to cross the finishing line hand in hand 🙂

Poor kids looking tired and worn out, we just need our 100Plus (and maybe tower).

And they are not yet aware that Daddy is SUPER proud of them today! Well done Boys!

Post-running activities. While we catch our breath, kids can enjoy fishing or slide-a-mug. There is a huge bouncing castle too.

How come kids are not tired?

Jumping for Joy, we did not understand what Daddy meant when he say "5km will be the new benchmark" for our future runs?

Daddy has something to say :
You will notice on our Instagram that SengkangBabies are leading an active lifestyle. As our kids love sports, it was a good opportunity for me to pull them along to participate in mass jogging or runs. It is easier to motivate them when we run in groups, rather than individually.
Besides improving our family bonds and a good workout (away from Ipad and computer games), sports is always one of the best way to buildup resilience and increase a child's confidence.
My boys were initially skeptical about completing their 5km run but they persevere.
Seeing them put in so much effort, I myself am motivated to improve my fitness and join them in more Fun Runs in the future! Do pop by some other sports events on our blog, "Fairprice Walks with U" and "Energizer Night Trail".

Thank you for the invite SAFRA Singapore Bay Run and Army Half Marathon. (running route for 2014)
Follow Safra on their website and Fanpage for more Family events in the future.

Do pop by our Fanpage album for more event photos. As Daddy is working on this blogpost, Boon Yee has just subscribed to some sleep therapy ..ZzZz…
(Visit our 5km runs, Safra , Energizer, Sundown, HelloKitty, ZooRun, Justice League)