Nparks Coast to Coast Trail is popular on the island. I have uploaded more photos on Facebook album.
Two things are common during Covid19 measures, folks cannot clear leave and families are exercising more!
So we (me and colleagues Daniel, Francis and son) did a 2-in-1 by walking the 36km Coast to Coast trail (C2C).
And we realised it was 42km instead of 36km :p
(Refer my Google Map GPX here)
Startpoint at Lakeside MRT (7.15am)
We started at Lakeside MRT, and I had to take the earliest train from Sengkang.
Rough estimation of distance between checkpoints.
This might help in planning for your rest points.
~Lakeside (Start) to Hindhede (CP3) – 8km
~Hindhede (CP3) to Adam (CP4) – 6km
~Adam(CP4) to Bishan(CP5) – 8km
~Bishan(CP5) to Sengkang Swim(CP7) – 8km
~Sengkang Swim (CP7) to Coney (CP9) -7km
Total= 37 to 38km (real walk will be longer)
If add Rower's Bay (CP10) from Sengkang Swim (CP7), add another 7km +
Back to our trail…
There are a lot of constructions and detour around Jurong Lake Garden, walk under MRT viaduct, along PCN markers next to Boon Lay Way.
Park Connector Network (PCN) and Coast to Coast Trail signboard.
Image below indicates Bukit Batok Park (CP2) is 6.5km away.

Checkpoint 1 Chinese Garden(7:38am)
As we begin our walk, no worries about toilets and water points. There are MRT stations, coffee shops and 7-11 for pit stops.
If you are first time attempting c2c, I would recommend Npark app to pinpoint your checkpoints. But take note keeping this app running in the background will suck your mobile phone battery!
Another useful webpage would be NEA's rain area. Although not real time, you can get a pretty good idea of whether it will be a passing drizzle or island-wide thunderstorm (NEA website recommended, as the app is not responsive).
The viaduct and PCN provides much needed shade.
After CP1 (checkpoint), cross overhead bridge and walk towards Block 115. If you are cycling, head to the junction of Jurong Town Hall Road and Boon Lay Way.
You will be heading North East under MRT viaduct, between Jurong East and Bukit Batok stations.
This is part of Ulu Pandan PCN.
**Detour** Do take note of ongoing work down the "slope" (at GPS 1.34294, 103.74523). Keep left at this junction.
** Detour ended (2021 Nov)
Refer image below, you will have to walk along Bukit Batok Ave 1, pass by swimming complex (on your right), and turn right along Bukit Batok Ave 6.
Just follow "Bukit Batok" direction,  and not "Toh Guan".
Walk another kilometre from Swimming complex and you will reach the stone zodiacs at Block 280 (BB East Ave 4).
Checkpoint 2 Bukit Batok (8.55am)
I would say the first 3 checkpoints are relative near to each other, and offer a lot of shade.
We love the awesome amount of greens as we skirt around Bukit Batok hill. Beyond the shades, the pathway beckons you to explore inland.
Continue along the shared path and you will pass behind Autobacs.
We passed by Liveband pub, which used to be a Firestation.
Checkpoint 3 Hindhede Drive (9.28am)
This is very near to CP2. And if time permits, you can sprint up SG's highest hill Bukit Timah. We noticed a crowd, even on a weekday.
On second thoughts, stick to the Coast to Coast trail, unless you do not mind completing in 15 hours :p
Bukit Timah Market & Food Centre
might be a good pit stop for some snacks. Most folks will actually eat at Adam Food Centre (CP4), but price and queue might be higher.
15 min break, nice Bak chang.

5km more to reach Adam Road Food Centre.
Many sights and memories along Bukit Timah road. King Albert McDonald, Railway line, and Ngee Ann Polytechnic.
More slopes, kerbs and junctions along 4km stretch of Bukit Timah. The road-work around here makes driving tough, and biking harder.
If you are cycling, the narrow paths and pedestrians add to the congestion!
We are amused by all the atas MRT stations. Remember to have fun along the way, it makes the journey so much more relaxing.
Laughter does help to delay fatigue.
Rochor river runs along Bukit Timah road.
Checkpoint 4 Adam road Food Centre (11.15am)
Took a well deserved 40 min lunch break. The longer you rest, the harder it is to resume your pace :p
Order any food, but do pamper yourself with some cold beverages.
After cp4 Adam lunch, compose ourselves and march on, this time under the merciless sun. From CP4 onwards, it is easier to navigate but distances between checkpoints are longer too.
Head towards Kheam Hock Park and go through the underpass (GPS 1.33043, 103.81966).
You will pass some tombstones, this area was part of Bukit Brown cemetery. Do not be spooked, especially when you are walking in the night.
Cross the overhead bridge and land on the new Lornie Road PCN.
Head towards Macritchie Reservoir carpark direction. Toilet or water break, or take a small detour and enjoy the scenic water view.
Take the underpass (in the direction of St Theresa's Home, GPS 1.346073, 103.838151) and exit to Marymount Road.
This stretch towards Bishan Park is exposed to elements, and dust from constructions.
Checkpoint 5 at Bishan (1.52pm)
You need to detour left and walk 500m in.
We took a small detour, crossing the overhead bridge to catch some merlions (infront Block 218).
Decided to treat ourselves to some cool ice cream, celebrate 25km completion, about 2/3 of trail 🙂
Pass by AMK Town Garden West, this used to be my childhood playground. There were some hidden "forts" at the top.
Turn right towards Ang Mo Kio 5, Buangkok and Sengkang direction.
Looking at the sidewalk flora distracts us from the long trek.
If you follow this trek between 10am to 12pm, you might see some happy butterflies.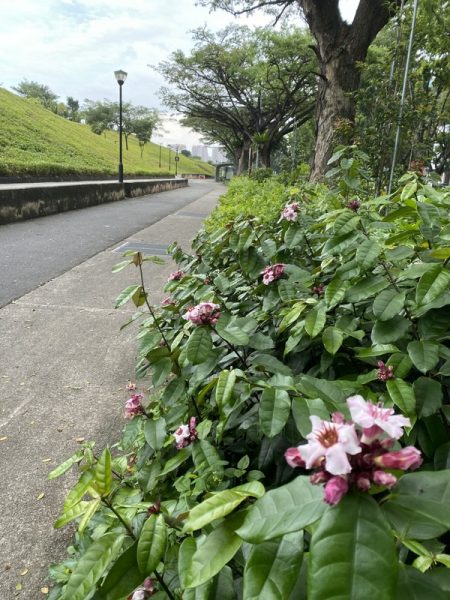 Checkpoint 6 Lexus Hills Park (3.25pm)
The rain clouds were threatening us from Punggol and Sengkang.
We decided to have a sweet pitstop at Esso Yio Chu Kang.
Pocari and Eclair boosted our energy and spirits.
9km to Coney island end point, but only 2km from home!
Just follow PCN and river to Punggol.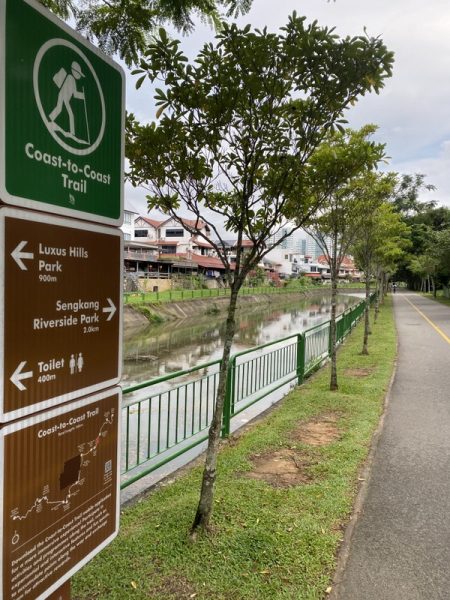 Buangkok Kampong is just behind us.
3 more checkpoints to go, 7, 8 and 9.
We will not attempt Checkpoint 10 at Rower's Bay, which is out of the way.
On another trip, I had cycled to Rower's Bay to catch the beautiful sunset.
Checkpoint 7 Sengkang Floating Wetland (4.10pm)
The park connectors in Sengkang and Punggol has one of the most scenic routes, mixture of nature and man-made.
One loop (Sengkang Punggol Hougang Buangkok) is 25km, checkout my running route. Imagine exercising along the riverway.
Iconic Jewel Bridge (GPS 1.409512, 103.89587).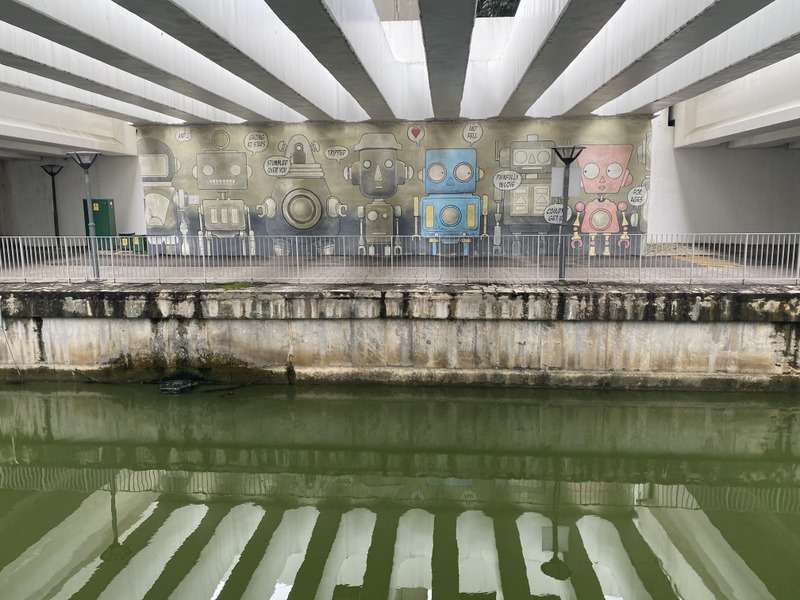 The robots mural, next to Block 308C (S822308).
Checkpoint 8 Punggol Waterway PArk (5:02pm)
Can smell the ending already! Quicken our pace. The whole C2C trail has taken us longer to complete (both distance and time).
Oasis Terraces, plenty of F&B options here. I thought it is less crowded than Waterway Point.
Checkpoint 9 coney Island (5.40pm)
One feeling: Relive!
One picture for memories.  Had estimated to cover route under 8 or 9 hours, but we took 10 hours (including breaks).
Relive Video. (Use Strava to clock your journey, then just run Relive app to get the animation)

After the trail, some will choose to have dinner at Punggol Settlement. We chose to Grab home 🙂
More Nparks Coast to Coast Trail photos are in my Facebook album.
I have friends asking whether we need to be super fit to attempt the Coast to Coast trail. Long distance walking should not be new to those who have done NS (National Service 24km).
But walking 42 km (sorry not 36km) still exerts a fair bit of energy. We know we can complete, but we often add undue pressures for ourselves. Go easy.
As a guide, if you wish to complete in 9 or 10 hours,  you should be comfortable walking 10km around 2 hours 10 minutes. Go practice first or even try Coast to Coast in installments.
Factor in rain and sun (humidity) elements. First timers might even miss a junction or two :p
You may navigate Coast to Coast trail with my Google Map GPX. Just follow my route and reach your destination.
Photo below, my Crius Master at Bukit Batok. I jogged and cycled the trail to identify the checkpoints beforehand.
Additional tips for Nparks Coast to Coast Trail
1.Nparks link and detours
–Brochure  (and side visits)
*Latest updates (detours and Mobileapp)
2.There are plenty of walking groups in Meetup groups! Long queues too.
Do search for "Trailblazers coast to coast" or "Deep breathing coast to coast". You can identify your own pace and join a group, someone more experience will help you hunt for the checkpoints.
3. Packing. Besides hydration, powerbank and waterproofing would be most important. You might wish to use Strava to track your journey too.
-I brought along a 500m bottle, but we can always find 7-11, provision shops and coffeeshops nearby.
-Umbrella or rain coat, slippers for heavy downpour
*Sunblock lotion, muscle rub
-Sunglass, towel, cap
-(optional) Spare tshirt/short to change after walk
-Cash for taxi and food
4. Start/end at Coney Drive or Lakeside?
Lakeside has MRT, but one-hour journey from Sengkang.
Coney Island entrance has no public transport. Nearest LRT is Punggol Point, followed by 1km walk. (Punggol Coast MRT is still under construction). You can grab bus 84 to Punggol end, but service is only available weekends.
Nearest carpark should be at Punggol Settlement.
5. I will recommend weekday walk as many folks will be tramping this route over the weekends. For first timers, choose daytime over night time especially if you need to "pose" at the milestones.
Once you have completed Nparks Coast to Coast trail, there are other Round-Island trails (up to 150km) waiting for you!
6. Wear a pair of shoes instead of sandals or slippers. Your sole and calves will be sore after the walk.
*Follow our families' hiking adventures here. We hope to climb Malaysia Gunungs soon. Happy Walking!
ps Updated 2021 Jan 22, we walk Coney Island(CP9) to Adam Food Centre (CP4), Relive video