Continuing from our Jiufen exploration, we headed to Shifen attractions.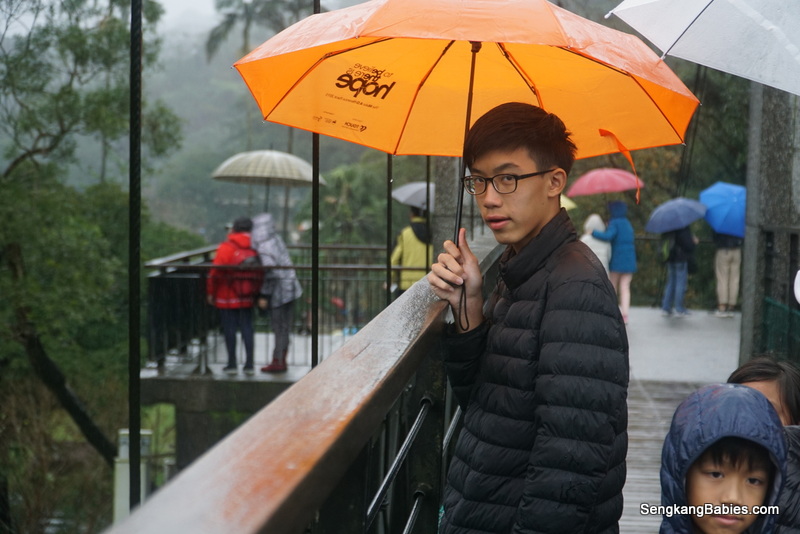 Referring to Google Map below (Link), Shifen Old Street is about 20km away from Jiufen Old Street. You may visit nearby 猴硐貓村 Houtong Cat village too.
*Our Taiwan Maps are all documented in this post (and Gdrive).
Instagram Sneakpeak of our Jiufen Shifen tour
We will share some of the 十分 Shifen attractions in this blog post.
If you are lucky, you might spot the train rumbling across the river.
十分瀑布 Waterfall
This is Taiwan's mini Niagara Falls. Quite impressive, just listen to the endless storm of water pouring downwards.
The trail to the waterfall offers  good workout, with flights of steps, but visitors get to enjoy the greenery and fresh air. (GPS 25.049165, 121.787412 )
There are a few visitor's points to admire the waterfall. It was too misty when we visited, due to the rain.
Photo below is taken during another trip, when the sky was much clearer.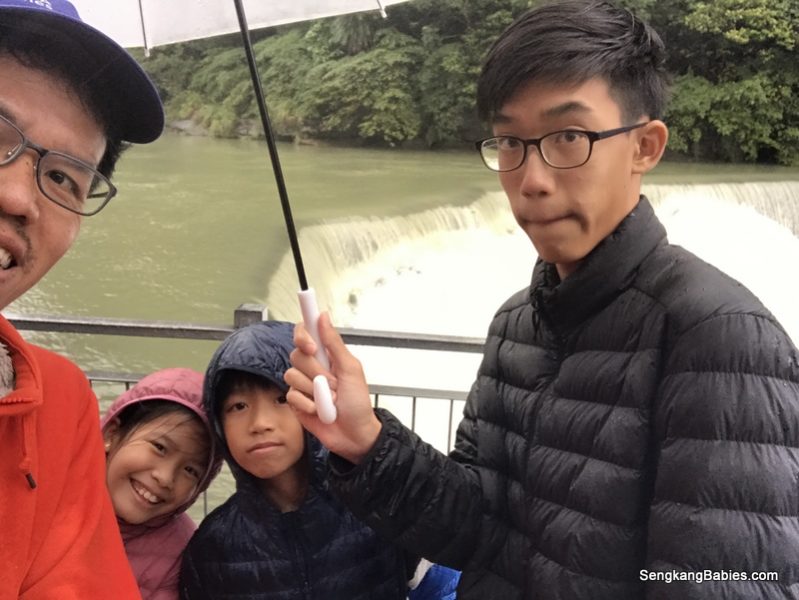 From here, take a leisurely 15 min walk back to Shifen Old Street.
The second Shifen Attractions are the 天燈 Lantern
We pen our best wishes and auspicious couplets on our own lantern.
Not to worry if your Mandarin is weak, there is a sample template for you to copy and paste the idioms 🙂
You can choose to draw on only one side or all four side, let your cartoon creations dot the lantern.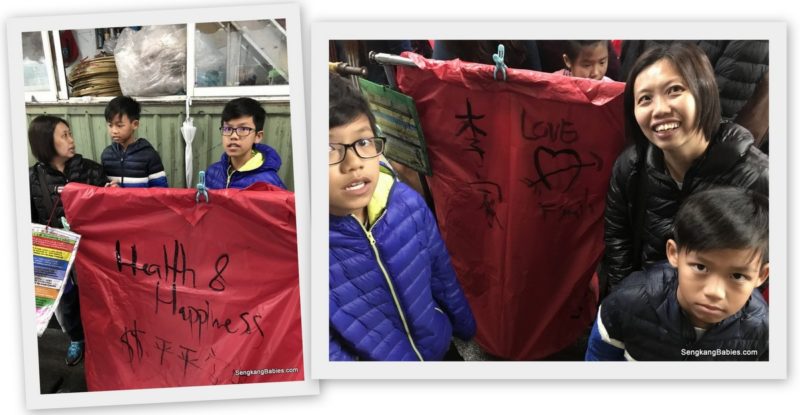 Our 李家 lantern (and gif below)
They were still releasing the lanterns in drizzle, a novelty for tourists.
The lanterns are cheap, and the helpers will help you take your family photos. 1, 2, 3 Let IT Go! Huat Ah!
There are actually two famous spots to release lanterns, 十分 Shifen and 平溪 Pingxi. Most tourists will be letting their lanterns soar in bustling Shifen, Pingxi is normally a quiet town
Train map below, Pingxi is 3 stops away from Shifen.
Can you spot Ruifang and Keelung station?
Ruifang Station is the interchange for the region.
The "1000" lanterns in Pingxi are only released during special occasions, like Chinese New Year or  Lantern Festival (Mar). What a sight!
Real trains cut through Shifen old street very hour.
Train rumbling across Shifen Old Street is the 3rd Shifen Attractions
Someone will whistle a warning before the train arrives. The crowd would instantly disperse to the sides. We would recommend waiting to pose with the trains (Please be safe!)
Bring out your cameras! Do take note this train is notoriously packed during holiday seasons, some tourists actually miss the last train due to overcrowding.
The 4th Shifen Attractions must be the festive atmosphere along the train track (十分老街)
Families would be jostling for family portraits, trying their best Instagram angle. When we are hungry, snacks line the street too.
Maybe this suspension bridge can be a mini attraction too?
靜安吊橋 (Jinggan) links you to the old town, and we can see the spans of the river on both side. You can see the lanterns floating away towards the forest fringe.
We pass by this mini cafe on our way back hop in for some hot chocolate.
Ok #TrueStory. The lanterns look good for photos, but they are not good for the environment. What happens if they caught fire or drop into the sea? The plastic components will contaminate the surroundings.
We are guilty.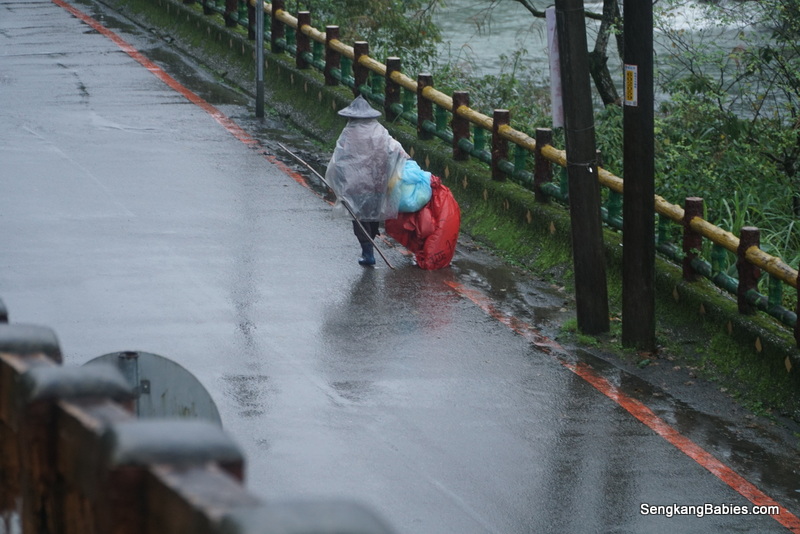 After Jiufen and Shifen (both venues were raining), our driver from Round Taiwan Round brought us back to Taipei. I am going to miss the Great Outdoors 🙂
Photo albums :
–Day 1 Aowanda, Cing Jing
–Day 2 Cing Jing
–Day 3 Xitou Nature Education Area, Monster Village, Sun Moon Lake
–Day 4 Taichung (Zhongshe flower, ShengXin station, Cycling, Fengjia)
–Day 5 Taichung (Animation Lane, Rainbow, Miyahara)
–Day 6 Keelung 基隆
-Day 7 Ruifang, Jiufen and Shifen
–Day x Taipei HomeAway and Neighbourhood
–Day 8 永康, Xi Men Ding, 象山, 饒河 Raohe
–Day 9 and 10 北投 Beitou, Toyshop, 士林 Shilin
Blog posts :
** Taiwan Itinerary for families 
–Day 1 Google Sheet, Aowanda, Cing Jing
–Day 2 Cing Jing Farm
–HomeAway Recommendations for Taiwan
–Day 3a Xitou Nature Education area (溪頭)
–Day 3b Monster village 妖怪村 and Sun Moon Lake
–Day 4 Cycling Taichung 台中 
–Day 4a 台中 Taichung  attractions
–Day 5a 台中 Taichung food Ice cream and Bubble Tea
–Day 5b 台中 Taichung Fengjia night market
-Day 6 基隆 Keelung
–Day 7a Jiufen attractions
–Day 7b Shifen attractions
–Taipei Neighbourhood around our HomeAway Vacation Home