[ Daddy's childhood memories ]
Growing up, I would always return home from school to a quiet home.
My parents would be working, only my grandparents and younger brother would be home.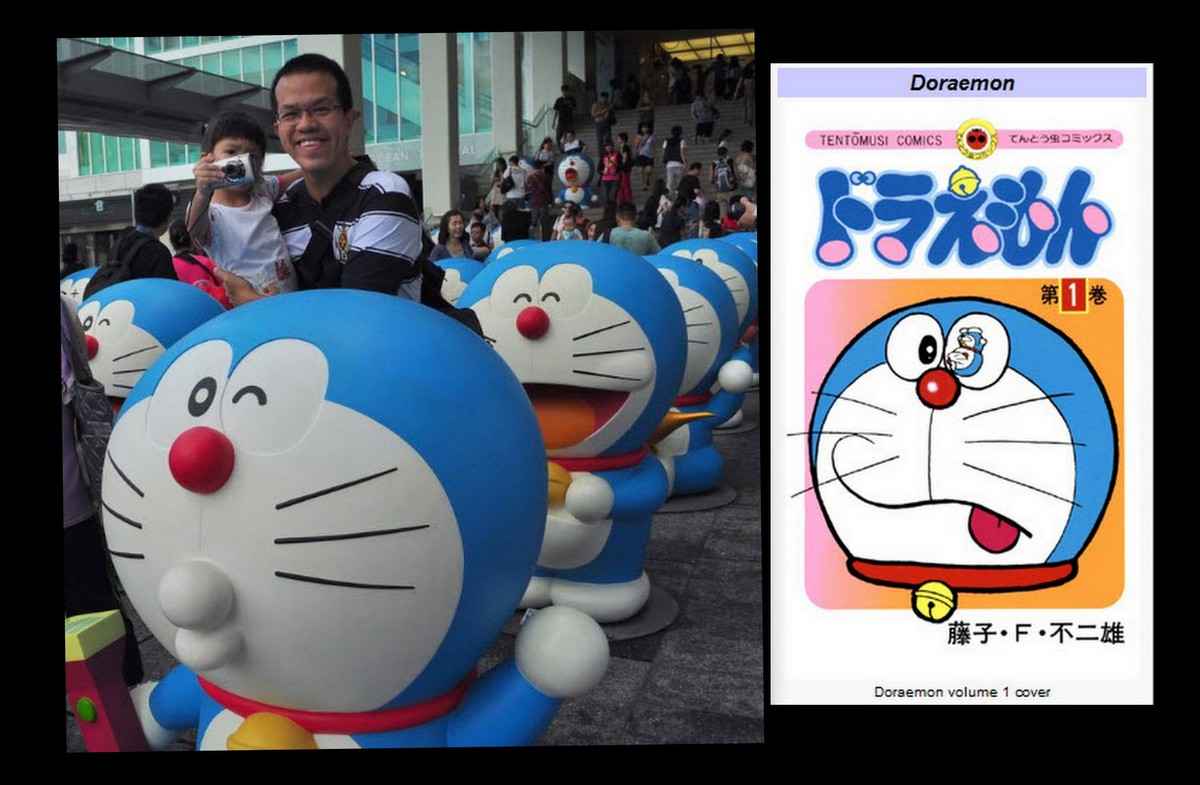 Every so often, I would be secluded in my own world of fantasy.
You can say that I was a loner, my childhood was filled with adventures and fantasies from the world of comics.
Doraemon (小叮噹) was my favourite, the robot cat and Da Xiong (大雄) kept me entertained in the afternoons. Doraemon always has a solution for everything contained within his pouch. Together, 大雄 and 小叮噹 always stand up to the bullies.
Doraemon's gadgets are so ingenious!
His door can time-warp you anywhere.
Unravel history in his time-travel machine, hidden inside Da Xiong's drawer!
Everyone can fly with Doraemon's flying thingy!
I love the gadget which allows one to shrink themselves so that they can start riding on their toy cars and planes!
Do pop by our Doraemon moments during our Hongkong and Taiwan tour.
I was more excited than the kids !

Doraemon comics spent many happy moments with me during my childhood, I would always day dream and let my imagination run wild. Sometimes I wished I had Doraemon as my buddy too 🙂
A pity all the comics are no longer in my possession, either given away to neighbours or Karang Guni. I brought the kids back to my favourite second-hand bookstore at Ang Mo Kio Ave 6 Block 724, but alas the bookstore has already closed down.
It would be cool if I can find some 小叮噹 comics to reminisce on my childhood memories, and share them with my kids.

Recently, Singapore Memory Project has launched a campaign "Books That Moved Me". This campaign hopes to trigger our memories about the joy of reading and books.
Video : Find out how Yihao manage to reunite with his childhood memories, with the help of social media.

What is your favourite books and comics growing up? Pop by irememberSG's Facebook page for the Books that moves me album to discover more old time favourites.
Maybe one of these "scribbled" books belong to you? (Ghost Stories and 老夫子 included!)

The Singapore Memory Project (SMP), a whole-of-nation movement that aims to capture and document precious moments and personal memories of Singapore, is presenting two exhibitions during the Read! Festival this year. Based on the theme "Books that moved me", we hope the exhibitions trigger memories about the joy of reading and books. Come on down to the National Library and check them out!

There are 2 showcases on "Books that Moved Me".
Date: 20 June – 31 August 2014
Venue: Lobby, Level 1, National Library Building
This exhibition features 40 reinterpretations of book covers, from local titles to international best-sellers and literary classics. A collaboration between SMP and KULT, artists from Singapore and overseas will present their take on book covers well-loved by the public, such as the works by Enid Blyton, Shakespeare and Catherine Lim. The artworks, accompanied by memories from readers, will be showcased in an SMRT train and at the lobby of the National Library Building.
Date: 20 June – 31 August 2014
Venue: Central Public Library
SMP embarked on a journey to reunite old books with old friends, and the result is a reunion showcase for avid readers with popular books of yesteryears and recent times. This exhibition invites the public to contribute their memories of reading and books. Activities will also be held over selected weekends for the public.
ps.. All content submitted will be contributed to the Singapore Memory Project. Please visit iremember.sg to find out more.
Disclosure. This is a sponsored post.