Kawasan Falls canyoneering with family was the best activity from our Cebu trip. Read our 2019 Dec Cebu Family itinerary here.
No matter which angle you look, Jumping is SCARY!
Water hiking (canyoneering) involves a lot of jumping and the risks are definitely higher.  We are not saying this activity is suitable for everyone.
But if you and your family is game, this is our guide to visiting Kawasan Falls. Even non-swimmers can join in the canyoneering fun!
If the kids can JUMP, it would be embarrassing if I could not follow haha. You jump, I jump!

Just count 1,2,3 JUMP. Otherwise your legs will freeze :p
Photos cannot capture our fun morning. Do checkout our Kawasan Falls Canyoneering with family video ! (4K YouTube link)
First, everyone has to report to Kawasan Canyoneering office.
Payment, briefing, and gather our safety gears and one small waterproof bag.
The life jacket has a pouch for a water bottle and your spectacles. Besides your phone (waterproof) and GoPro, everything else will be kept in locker. Do keep your towel and spare clothes in the locker too.
You do not need anything else. And you are not allowed to bring your own 5l or 10l waterproof bags.
Transport will bring you to the assembly point.
You can decide to take the zipline, or trek 45min to the trailhead.
Take the Zipline, because Fun is guaranteed!
This is not your usual zipline, you will literally experience a Flying sensation YEAH!
This hut is the "trailhead". From here, everyone will walk 20 minutes downslope to the water.
It took us 40min as the Mrs struggled with the slope and steep steps.
You will hear water splashes and screams (thrills!) before you even spot the water.
WOW the water is really emerald blue!
Expect human jams during weekends.
Warmup jump, 4m.
This is the easiest cliff jump, subsequent leaps will be higher!
Feels like reliving our childhood dreams.
Surreal surroundings as we walk through the waterway and valleys. The cliffs and walls are spectacular. Love the sun rays filtering in through the tree foliage.
The Blue water is refreshingly cold!
8m looks tall
..but you will land within 2 seconds! It is still intimidating standing at the edge 😛
We had tons of nice family photos at Kawasan Falls too.
We had fun role-playing Sparta kicks too!
Our guides are good, professional and yet super caring.
They really take care of everyone, and they like to sing too 🙂
This scenic dam is famous for posing at Kawasan Falls. Funny, why others POSED so nice but me #notSexy
Unglam photo can only blame model, not props, camera or photographer :p
More family photos.
Amazing, there is a BBQ in the middle of Kawasan Falls too! Guides can pay in advance for you.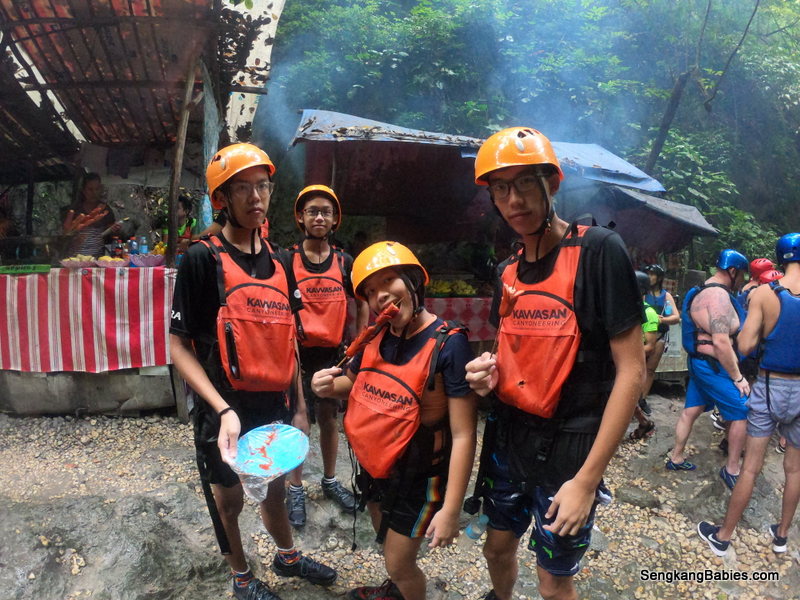 Seen this photo before? Why always the same person eating huh?
8m jump after hot dogs!
From the top, the river below seems a bit narrow. I always hesitated before leaping, but kids just JUMP! Quite the dare devils.
Jumping is optional, but NO Need to tell the kids or spouse :p
The water and surroundings are so unreal. Greens, blues and sunlight shining through.
Super Instagramable. Simply magical!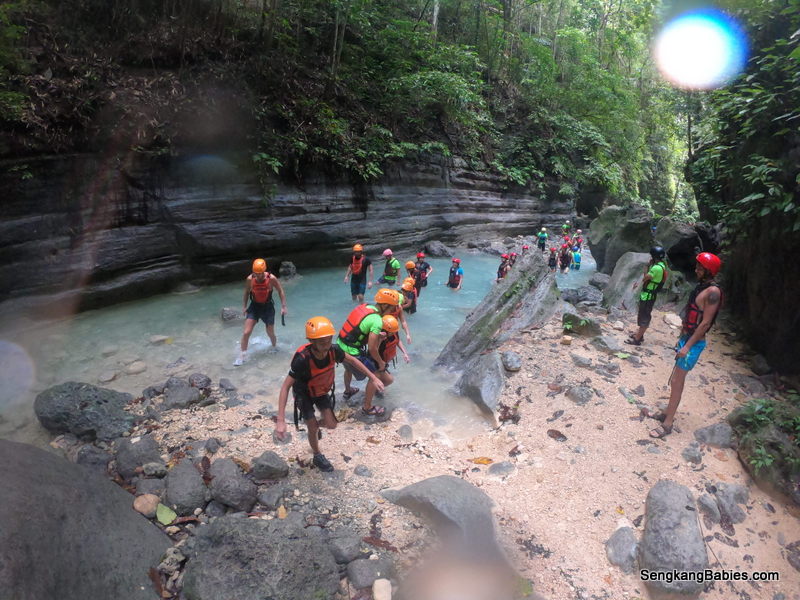 Helmets and life jackets all the way. Canyoneering is not a walk in the park, slips and falls can happen, safety first.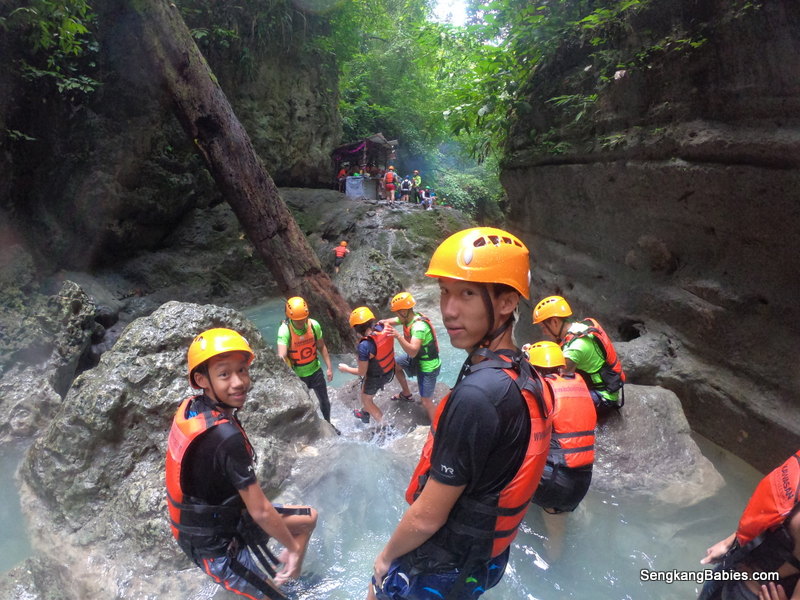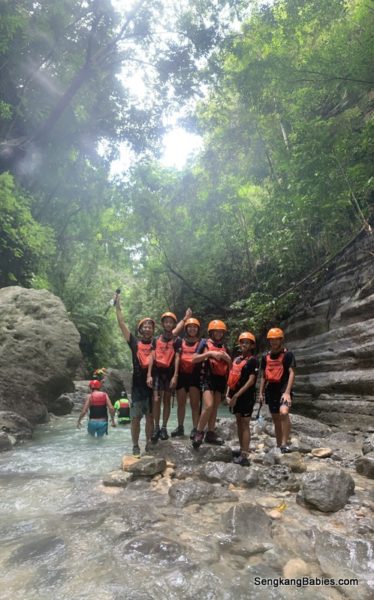 10m platform is the halfway point
We have to run and take off. Just keep your legs close, otherwise good luck to your groin.
Once you leapt off and see the Drop below, you will get a "WTH" moment ! Too late for regrets haha
Boon Yee (12 years old) leading the jumps. He can go to Commando course next time and enjoy all the free adrenaline.
Our family's adventure appetite has Level Up, and I am so proud that we can enjoy adventures together as a family.
Preparation tips for your reference
If time permits, do some staircase training. Kawasan Falls canyoneering is doable for anyone with reasonable fitness. Your calf and thigh will get a lot of workouts.
Your shoes will be wet all the way. We had some experience canyoneering in Johor (Pelepah waterfall), and the kids adjusted well.
The final leapt, 15m
Others mention it is 12m. Nevermind, it feels like 20m from the top! Only No1 and No3 completed this jump, Daddy chicken out.

Crazy crowd, all waiting to do the last jump!
So proud of the kids, my bum was still sore from the 10m landing.
Walking back towards the "main" entrance. If you are only at Kawasan Falls for photos, do take note there is a small entrance fee of 40 pesos.
* Take note there are two entrances to the Blue waterfalls
Our package is inclusive of transfer to and fro from Kawasan Falls (from Moalboal), and a lunch.
The chicken thigh is not bad, maybe we were hungry too 🙂
From Social Media, you should know there are two ways to appreciate Kawasan Falls, Canyoneering or just waterfall photo.
We would strongly recommend trekking 3 to 4hours and do Kawasan Falls canyoneering! You will be rewarded with 7 cliff jumps!
During our research, we could easily find 50 tour agencies offering Kawasan Falls canyoneering package. But it is rare to find vendors who cater for family and kids.
Kawasan Canyoneering contact:
Website: https://www.kawasancanyoneering.com.ph
–Facebook and Instagram
Zipline – 500 pesos per pax
Canyoneering – 1500 pesos per pax
Additional tips for Kawasan Falls Canyoneering:
– Go for the Badian Zipline (Superman!)  The kids and spouse will thank you for it


– Jumping is optional, there are alternate paths to walk down. Do confirm with your agency beforehand.
-Safety is a top concern for us. Accidents had happened before, follow guides' instructions and do not anyhow jump
-The trek will take 2 to 3 hours, expect longer weekend queues
– Book your Kawasan Falls slots earlier, this adventure is very popular!
-Some might bundle Kawasan Canyoneeering (Afternoon 3 hours) with Oslob whale sharks  (Morning 30 minutes) together.  This might be adrenaline overkill, we recommend covering the activities over two days
– Location is just 25km South of Moalboal. Those who visit from Cebu city would need to leave around 3 or 4am to avoid queues
More photos are uploaded in our Fanpage albums :
–Moalboal Panagsama stay
–Whale shark at Oslob
–Kawasan Falls
–Half Day Cebu City Tour (and nice food Sugbo Mercado)
–Danasan Eco Adventure Park
-Free & Easy SM Seaside
Cebu Blog posts:
* Cebu Family Itinerary
Day 2 Oslob with Whale Sharks
Day 3 Kawasan Falls canyoneering with family
Day 4 Free & Easy
Day 5 1/2 day Cebu city tour
Day 6 Danasan Eco Adventure Park (more adventures!)
Day 7 Free and Easy
Day 8 Fly home
Do pop by our Instagram Hashtag #SengkangbabiesCebu  and Story for our summary. The links to more photos and other blogs are at the end of page.
Disclaimer: We have received some discounts from "Kawasan Canyoneering"
All our Hiking trips are listed here https://sengkangbabies.com/tag/hiking