Doi Suthep temple might be the most visited temple in Chiang Mai. Besides the golden stupas (Pagoda), the panoramic city view at 1676m is impressive.
Doi Suthep temple is not only visited by pilgrims and tourists, it is a favourite circuit for cyclists too, they love the crazy and torturous slopes!
The first question, climb 309 steps or take a lift?
Ticket entrance is 30 THB, the lift would cost 50 THB.

This temple is glittering with gold! And an endless stream of visitors throng its sacred grounds. Status of Buddhas can be spotted everywhere in shrines.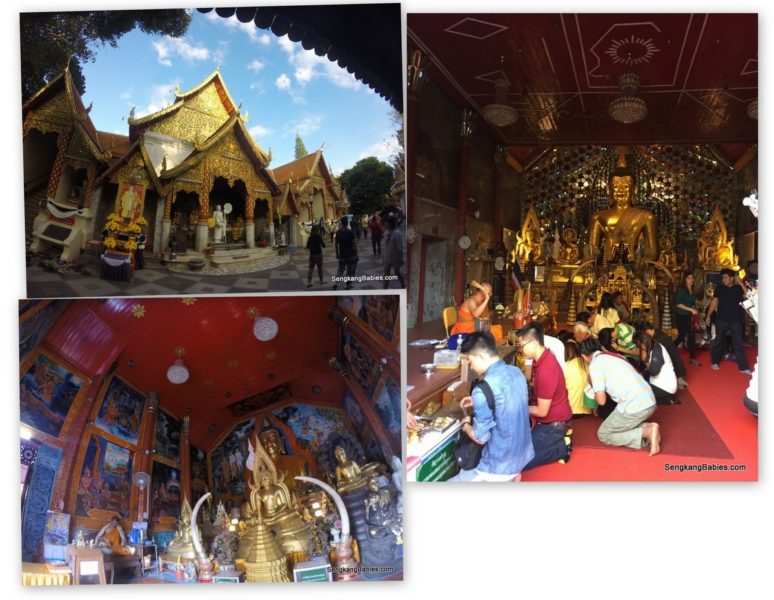 The real name for this temple is "Wat Phra That Doi Suthep", Doi Suthep is actually the name of the mountain.
That famous Golden Dome! Looks splendid under the afternoon sun.
There is a white elephant legend too, how Buddha's relic was brought to the temple's site.
We can see Chiang Mai city from the top, look closely and you will see aeroplanes taking off too! Some folks actually drive up mid-way just to catch the marvelous Sunset (so romantic).
Wear a light jacket as temperature was between 21-23 degrees when we visited in December.
There is a small market at the foot of the steps, selling bbq and grilled meat. Try the deep fried pig skin, crispy and addictive.
I felt so guilty describing this sinful collagen snacks haha :p
Back in town, our driver recommended this eatery for authentic Thai cuisines.  We would highly recommend "Aroon (Rai)" to our friends 🙂
GPS For Doi Suthep Temple – 18.804317, 98.919974
Besides cycling, there are hiking trails too. Doi Suthep is about 20km West of Old City, do check with local guides on which pear period to avoid (jams) cars and human)
GPS For Authentic Thai restaurant – 18.786239, 98.993550
If you are looking for shopping centres in Chiang Mai, you would be disappointed. All our 5D4N Chiang Mai Family Itinerary photos have been uploaded :
– 5D4N Chiang Mai Family Itinerary
– Day 1 photos — Airbnb stay, Grand Canyon Waterpark
– Day 2 photos – Doi Inthanon
– Day 3 photos – Buatong waterfall, Siam Insect Zoo, Doi Suthep temple
– Day 4 photos – Elephant Jungle Sanctuary, Old city
Follow out hashtag #skbChiangMai