Bua Tong waterfall in Chiang Mai,  is popularly known as the sticky waterfall.
If you only have time for one waterfall in Chiang Mai, make Bua Tong waterfall your pitstop!
If you want shopping, go Bangkok.
If you want nature and adventure, go Chiang Mai YES!

Continuing our #skbChiangMai escapade, this waterfall is one of our highlights, refer Day 3 "North" in our Chiang Mai itinerary.
We have seen folks abseiling waterfall, but climbing up?
Imagine our surprise when we tested our feet on the "lime stone", it is not slippery, it felt super surreal
Amazing, we can walk up a waterfall!
Most waterfalls are slippery, not Bua Tong Waterfall. It look daunting, but after a few climbs, it gets easier!
Definitely doable even for 4 or 5 years old, kids are far more agile and fit than we parents would give credit for.
Video (YouTube Link) : Check out the fun, we got dogs to lead the way too!

After a few test trials, kids got comfortable and wanted to explore on their own. But I reminded them to pair up and look out for each other.
Word of caution, this is still a waterfall and parents should exercise caution. Keep the kids in sight, do not wander off the edge. We would recommend a parent to accompany a smaller child.
Although the surface is non-slippery, accidental slip or pushing can still lead to serious injury.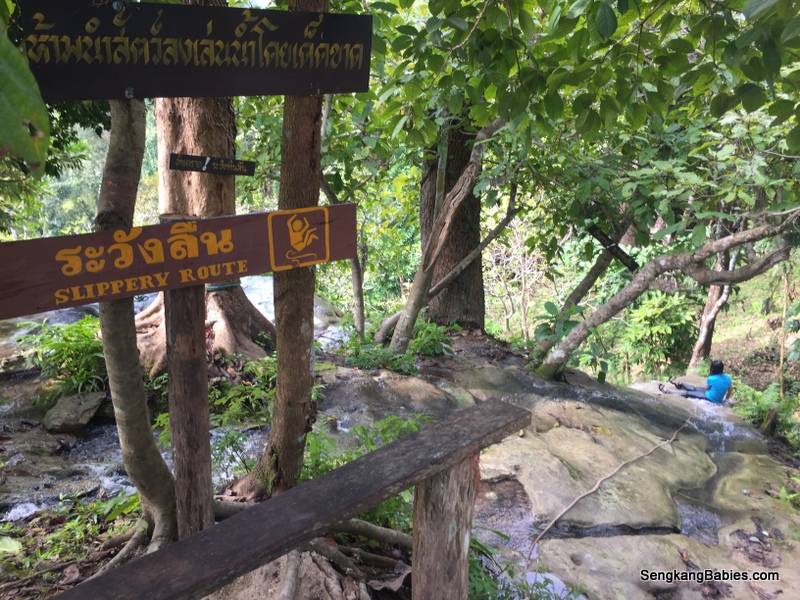 If Bua Tong is crowded, do not try to rush up the slope, if someone on top slipped, he might pull everyone down like a domino.
Just be careful and look out for each other. Do watch out for green moldy patches (and leaves) on the ground as it might be slippery.

My kids became good friends with the local "guides", there were at least 4 or 5 of them, all friendly! (checkout Video above on how they climbed the waterfall with us)
After the third "hike", you will start to feel soreness in your under-utilised core and muscles haha. When we are having FUN, and with the constant showering, we tend to forget about tiredness 🙂

There are three segments to Bua Tong waterfall, top, middle and bottom.
For most folks ( ie you and me), the top segment (slope of up to 45 degrees) would be more than enough.
A climb up would take you between 3 to 5 minutes. Sometimes, we need to go on all fours to maintain our balance and grip.
The slopes for the middle and bottom segment are much steeper (up to 75 degrees!) And you would definitely need the ropes to pull yourself up.
Some visitors were swimming in the bottom ponds, it looked Fun but I had to skip as I needed to look after the kids.
Not sure why a waterfall lime stone (deposits) surface can be non-slippery, but we know Bua Tong waterfall scores 4.5/5 for sheer Fun Factor, and it is FOC!
Map of Chiang Mai North Area, relative distance  from Chiang Mai city (Train Station) 1. Bua Tong Waterfall, 2. Siam Insect Zoo and 3. Doi Suthep (Temple)
We spent almost two hours at Bua Tong waterfall.
More photos from Day 3 is on our Facebook album .
Tips to enjoy sticky Waterfall:
– You need at least 1 hour to fully enjoy the "climbing" experience. If you have more time to relax,  spend 20 minutes at the 7-colour pond, and another  20 minute for picnic after exercise

– Go early to avoid crowd, you will have the waterfall to yourselves
– Bua Tong waterfall GPS – 19.070030, 99.080118
(about 60km North of Chiang Mai Railway station)
~~~ ~~~ ~~~ ~~~
If you are looking for shopping centres in Chiang Mai, you would be disappointed. All our 5D4N Chiang Mai Family Itinerary photos have been uploaded :
– 5D4N Chiang Mai Family Itinerary
– Day 1 photos — Airbnb stay, Grand Canyon Waterpark
– Day 2 photos – Doi Inthanon
– Day 3 photos – Buatong waterfall, Siam Insect Zoo, Doi Suthep temple
– Day 4 photos – Elephant Jungle Sanctuary, Old city
Follow out hashtag #skbChiangMai
Shoutout : In case you need a Local Expert to bring you to Bua Tong, checkout the friendly folks from TakeMeTour group (itinerary package).