At Desaru Crocodile farm, one of the crocodiles came close to Boon Kang (camera angle). Parents need not worry as water is shallow, and crocs cannot propel their tail and rocket upward.
Buaya alert as this croc is only 5m, and weighs 400kg!

Desaru Crocodile Farm is one of the popular attractions for tourists, there are more than 1000 beasts in this farm alone.

It is about 30km drive from Lotus Desaru (or 80km from Woodlands checkpoint)


(image credit Google map)
It happened to be Boon Yee's Birthday when we visited, we rented a crocodile (inclusive duct-taped jaw) for him to pose. His No2 brother Boon Kang's keep-that-BUAYA-away expression is priceless haha!
(RM2 per croc per child)

We paid a small fee (RM20) for three dead chickens. The encik (keeper) will then invite poke the crocodiles to feast, but they need to perform first.

Feeding frenzy.

Waiting eagerly for the crocodiles to leap up. We suspect they already had breakfast, not many were eager. If you wish to have a feel of the crocodile tail's strength, stand near the wall and wait for it to splash water onto you.

After watching the crocodile's prowess, everyone heeded the warning signs. There is no doubt humans are fair game for the crocs and there will be little left when they are done with human steaks!

Ok, taking wefie is still safe, as long as we do not lean over the wall.

We follow the Uncle as he show us the different crocodiles around the farm.

To get the crocodiles' attention, he has a 4m pole to poke them. When the crocodiles are angry, you can hear their low frequency hiss and your hair might just stand. Imagine coming face to face with one of them when you are swimming!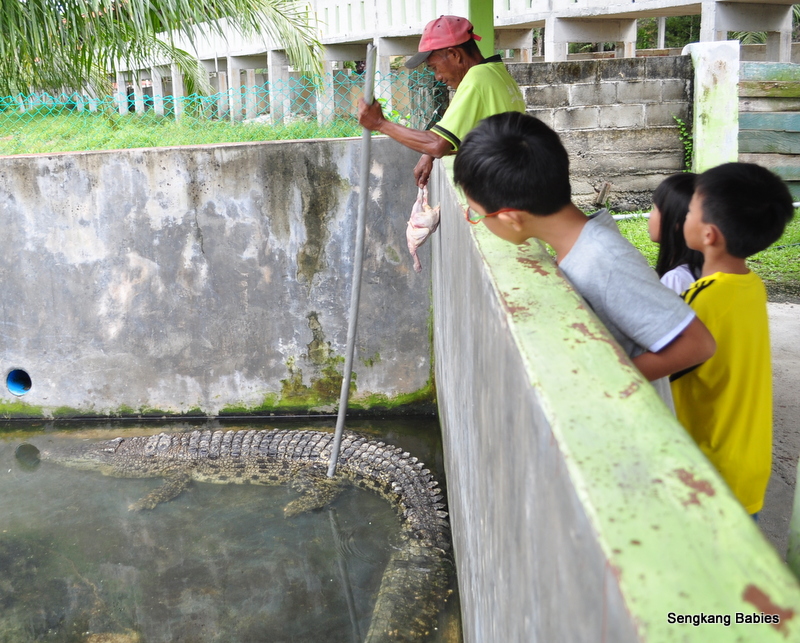 This one is staring at you! It's menacing gaze was seizing us up and down, definitely not the most comforting thought.

Desaru Crocodile farm (鳄鱼场) also harvests crocodile hide for Bonia bags. We heard herbal tonic made from crocodile meat is highly nourishing. Have you heard of a sick crocodile before, these crocs were once relatives with dinosaurs and they will likely outlive the human race.

Older crocodiles have their own enclosures. Perhaps to prevent provoking each other, these are territorial beasts.

The crocodile living in captivity can live above 300 years old! A few specimens are above 155 years old, and even 170s years old already!

We saw a deformed crocodile too. Initially Daddy thought it sustained the injury in a fight, but apparently, it was born without a tail.

Tourists

We would strongly recommend Crocodile World for the kids, you do not get so close to "dinosaurs" everyday.

More details about Desaru's Crocodile World :
Tickets – Adult RM8, Child RM4
GPS – N1.56537 E104.02647 (30 min drive from Lotus Desaru)
Do pop by our recent Desaru JB itinerary :
– Kota Tinggi's Waterfall
– Mario Kart, Go Karting at Permas Jaya
– Crocodile Farm (up to 170 years old!)
– Best Bak Kut Teh in JB
– Sungei Rengit Seafood
Catch more crocodile photos on our Fanpage album.
ps.. Follow our Instagram tag #SengkangBabiesJohor for more JB adventures