Singapore Night Race rocks! This is Singapore F1's 7th edition at Marina Bay Circuit, but you can still expect tons of actions and excitement, both on and off the tracks.

Hamilton overtook fellow Mercedes teammate Nico to lead overall with 3 points.
0.007s was the margin between pole and second position!
We shared Nico's frustration when everyone zoom off, and he had to perform Ctrl-Alt-Del reset on his steering wheel.
The decibel from the engines (and concerts too), the sparks, the adrenalin filled evenings.
We were able to witness all the pumping actions from the comfort of our Paddock suite.
Video : our experience on and off the track

Pit lane walk was the highlight for us. After watching the F1 machines lapping during their practice sessions, we could now witness the mechanics performing their last minute tuning.

Catch the Red Bull, wave an imaginary Flag. The safety car is still stationary, but we know it is a Singapore tradition to deploy the AMG every year 🙂

Mercedes might have the most points (drivers and constructors) but Ferrari is red hot popular with the crowd!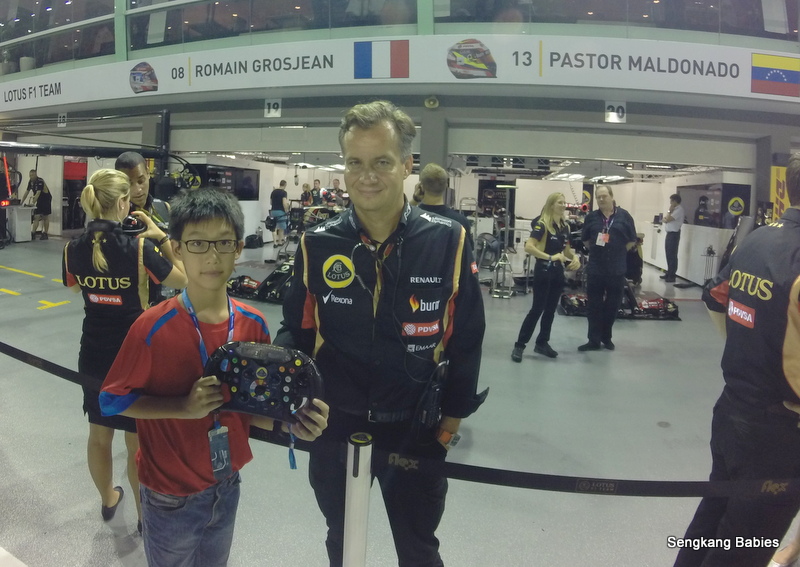 On the left of Paddock building, this could be one of the best spot to catch the machines leave their pits. In the background, fellow racers need to paddle down their gears from 300kmh (sometimes with sensational wheel-lock and smoke) into a tight Turn 1. Feel the Rush 🙂

Jennifer Lopez and John Legend entertains on Sunday, while Robbie Williams and Pet Shop Boys on Sat. Internationally renowned chefs will prepare a culinary feast for our eyes and tummy. Ice cream anyone?
Be prepared to queue for caricature or palm reading.

View from the Paddock, Temasek suite. Paddock experience is for the well-heeled with each ticket costing upwards of $8,000! Free flow cuisine and liquor, a chance for business people to network. Some suites are built directly above the pit stops, so yes, you can catch Alonso coming in to change his super-soft tyres.

Although the suites are air conditioned, we still prefer to hear the F1 roar under humid Singapore evening. Watching F1 at Marina Bay Circuit and on TV is different. You can hear the engines around the corners before they zoom by in a Flash!

Just when we thought the top 10 rankings have been settled, Mercedes decide to gatecrash the top 2 positions. AWESOME experience, right to the last seconds!

Perhaps, Daddy should bring the boys on a walkabout next year 🙂


(image from SingaporeGP website)
2015's Tickets are already on sale, gather more updates from SingaporeGP Website and Fanpage.
More Singapore Night Race photos can be found on our Fanpage album.