[ Media Invite ]
We pop by District 10 (UE Square) last weekend for a hearty brunch.
We were told District 10 brunch has a new breakfast menu.
Farmer's style Breakfast (rated 3.5/5) was good, because there was not much left after my oldest boy went through it. Boon Wee loves the bacon, sausage and mushrooms 🙂

Fortunately, we had the lovely Belgian Waffle (3.75/5). Warm and crunchy with a generous toppings of fruits, the waffle is good enough to munch on its own.

Wholemeal tortilla wrap (3/5), Mexican style chicken breast, roasted capsicum and scrambled eggs.

Yummy District 10 Brunch Beef Burger (4/5). Charcoal-grilled black angus patties and sweet savory bacon. This was my burger but kids all wanted a share 🙁

Healthy blends, left Anti-Aging (dragonfruit, pineapple), right AntiOxidant (peach, green apple, mango and strawberry)

What we like about District 10 is their special Kids menu.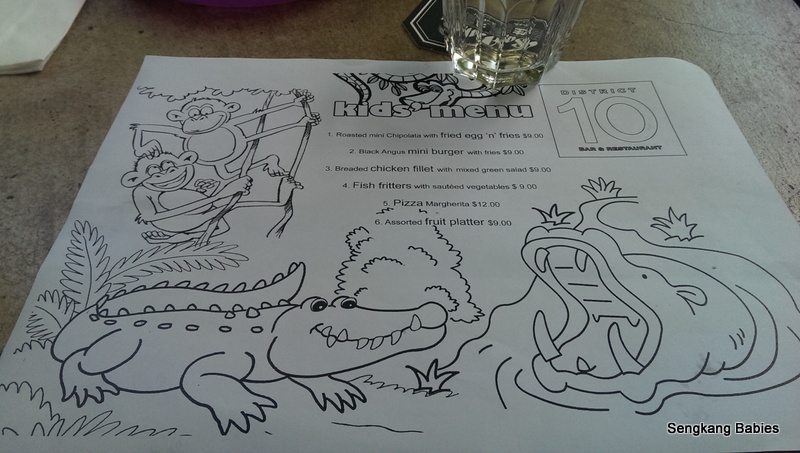 Breaded Chicken Fillet (rated 3.5/5), kids love it and we had to order a second set.

With so many food options, and a bouncing castle (weekends only), no wonder kids are in a happy mood.

For the younger tots, a special playpen vibrantly outfitted with ride-on cars, colouring books
and pencils will keep them occupied.

We end our brunch with some sweet treats. Love the warm chocolate cake with vanilla ice cream (rated 3.75/5).

Thank you District 10 for the lovely invite, we would not hesitate to pop by for brunch again 🙂
To make your next appointment for District 10 brunch, keep in touch with them via their Facebook and website.
Address : 81 Clemenceau Avenue, #01-15/16/17, UE Square Shopping Mall, Singapore 239917