Last weekend, I followed Randy to cycle West Singapore for 80km. Slowly but surely, I am training towards 100km and first RTI ( 125 or 150km Round the Island).
(RI trip completed May 2021, read here. You may wish to read our North 50km and East 80km cycling trips too)
Our route covered 80km (90km for Randy) and includes four short breaks. We did take some photos at scenic spots. (Must enjoy your ride journey and have happy memories)
RIT for me is not for personal glory, but sort of a bucket list.
We know we can do it physically, but we need to commit the time (actual day and mileage) to achieve our goal.
No need set time limit, nor personal best, just aim for completion and a sense of achievement.
On that note, East side (Tanah Merah Coastal road) is definitely easier to navigate compared to the slopes along Kranji, Lim Chu Kang or old Choa Chu Kang.  East side (From Pasir Ris to TMCR to ECP) has beautiful and wide pavements (PCN). TMCR has dedicated bike lane too!
Relive video:
*
*Strava and Relive to capture your bike trip
West side some sections do no have pavement nor PCN (yet), and you will encounter more trucks and dogs too!
Our ride brought us from Sengkang-Seletar-Yishun-Canbera-Woodlands-Kranji-Lim Chu Kang-Jurong West-Bouna Vista-River Valley-Bugis-Kallang-Macpherson-Sengkang
Estimated timing/checkpoints:
0600 Setoff Sengkang
0715 Sembawang Canberra (17km)
0745 Causeway point 20 min break
0850 LCK Jetty (40km)
0950 Lakeside MRT (50km)
1000 Mcd Jurong East (15 min)
1130 Queentown Petrol staton (5 min)
1220 Bugis (70km)
1320 Sengkang (85km)
For first timers to west side, you should attempt Kranji and Lim Chu Kang only during weekends. There are no pavements and a lot of trucks will be playing the roads during weekdays!
a)Vehicles wise, roads there are relatively quieter Saturday or Sunday but expect hundred of cyclists 🙂
b)Beside the trucks, the slopes along LCK are killers and will really whack your calves. Better ensure you have enough water (hydration and no full bladder). I did not spot any public toilet or coffeeshop for a good 20km (Kranji to Jalan Bahar).
c)Hardcore folks will cycle 3am or 4am too, but the cemeteries look spooky at night
d)There is higher chance of being chased by dogs rather than ghosts. If you do encounter dogs, some experts will recommend out-pacing the dogs by cycling above 40kmh! My foldie max is only 30kmh so I can only go for next options.
Slow down, and dogs will find you too-boring to chase. Otherwise, dismount and pretend to throw a rock. (PRETEND only, otherwise someone might complain dog abuse)
Disclaimer. Please do not blame me if above dog-panic steps fail. I would panic too if a crazy dog threatens to snap at my heels
Fyi. Lim Chu Kang road will become a runway for F15 and F16 during an emergency, do read our 2016 Ex-Torrent blog post.
Back to two wheels, just cycle straight along LCK towards Jalan Bahar, Jalan Boon Lay. You can break at Lakeside or Chinese Garden area. We continued to Jem.
Turn left towards Lakeside Garden (and MRT) at this junction (GPS 1.337888, 103.710052). Just cycle under 10 minutes to reach Lakeside MRT, and you can head towards Jem (Jurong East MRT).
After Jem, turn right at this junction along Boon Lay Way (GPS 1.328629, 103.749727) and just follow the canal ( Ulu Pandan Park Connector)
With respect to Bouna Vista direction, the right side path of canal is more "scenic" and cooling.
Special mention to garang Randy. He keeps motivating me and is my navigation guru, and he does not need Google Maps!
Really helpful to have him around as I am quite poor navigating the West Side of SG.
Follow canal all the way towards Bouna Vista and Holland Village. Go straight towards Queenstown. Ulu Pandan PCN is about 6km.
Turn Left "small path" (GPS 1.294833, 103.806194) before Queenstown MRT to go along river "Alexandra Canal Linear Park" PCN.
Follow river to Clarke Quay and Boat Quay, look out for pedestrians. There are at least 4 or 5 small junctions to cut across, but route is quiet and cooling as you cycle in between flats and condos.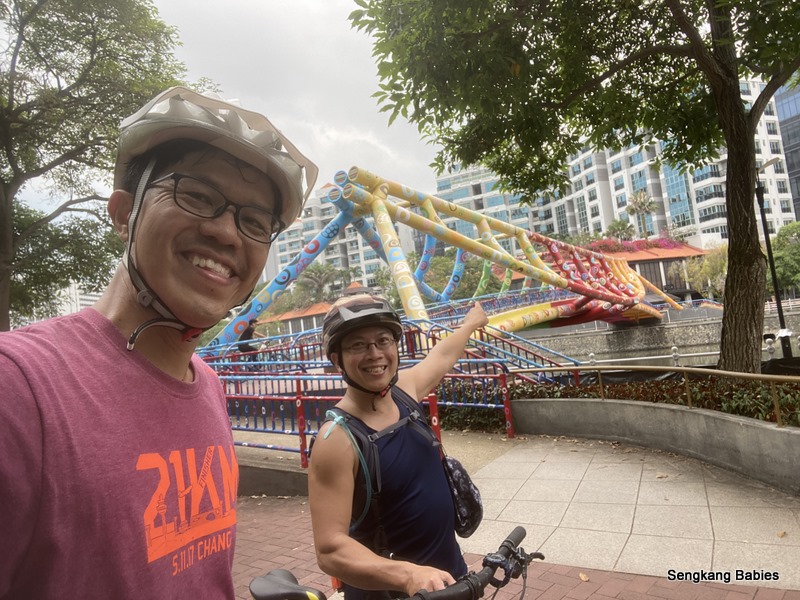 From here on, we cycled towards Bugis and Kallang Park Connector.

We were fortunate as the day was warm and not too hot. Nevertheless, 80km took me 7 hours to complete (including breaks).
Referring to the coast-to-coast map below (credit Straits Time url), we are excited about new upcoming trails across Singapore.
-Does it mean Kranji and LCK will be more cyclist friendly?
– Looking forward to RIR (Round Island Route) as it means we can explore more without cycling on roads
While we ride, do not forget to enjoy the ride and scenery. Every kilometre is a milestone, a memory.
This post shares Cycle West Singapore 80km, next posts will share Cycle East side 🙂
Sharing some other related posts to trails or Lim Chu Kang below:
-RSAF Ex-Torrent 2016 (LCK runway)
-More details and landmarks about Park Connectors (PCN) at nParks link
-Coast to Coast Walk 42 km from Lakeside to Punggol

-Cycle 70 km East, TMCR (link)
-Cycle 80 km West, Lim Chu Kang(link)
-Cycle to Woodlands and back for 50km (link)
-Cycle 50km to explore 3 Reservoirs and 3 parks
-Completed Round Island 140km!  (Click for GPX routing)
-Cycle 20km to Green Corridor (or Marina Bay and Sportshub)
*Read MTB\RoadBike\Foldie selection, & Foldable bike shortlisting
-Follow my family's cycling experience here .
-Instagram SengkangBabies #skbCycles