The adults' lunch topics has shifted from Dengue, COE and MRT breakdowns to PSI, Facemask and stop-order. Maybe that Indonesian minister might agree Boon Kang's Darth Vader mask looks childish.

Last Mon, if you live on the higher floors. You might have commented Singapore looks like Genting or Cameron Highlands, depending which direction you see. Our eyes and throats are uncomfortable with the burning sensation from the polluted atmosphere.
And that was only at PSI 100. Since then, we have hit PSI of 300 every day !

Singaporeans have a sense of humour, we joke about using recycled brassiere (please wash first!) if N95 face-masks run out of stock. Trending topics in social media is 95% about the HAZE, and 5% about Hello Kitty (wahaha !)

Referring to first photo, Daddy hopes Darth Vaders (masks) will not be roaming Singapore when PSI climbs higher. Meanwhile, someone from 9Gag even improvised a facemask made with Bread, Kaya or Peanut Butter?
=== === === === === === === === ===
In the media, we are reading the problem from two perspectives.
From Singapore : We know the problem, but we cannot solve it.
From Indonesia : We are trying our Best, year after year.
In summary, Daddy told the kids Indonesia's farmers (Sumatra) are burning a lot of land so that they can prepare it for crops plantation. Slash and burn might sustain the farmers' families livelihood, but the wind will carry the smoke to neighbours Singapore and Malaysia. Daddy ask kids whether they will purposely smoke-out their neighbour's hall ?
Meanwhile, Ministry of Health (MOH) has some Health Advisory to combat the Haze.


[Image credit MOH fanpage]
Daddy suspect history will repeat itself again, no wonder the general public can only resort to mockery to reduce the misery. Since the adults cannot do anything much, Daddy tries to ask for some tips from the kids 🙂
Kids are stuck at home during the school holidays, the windows are mostly closed, and kids are asking for their "Sunny days"!

Yes Boon Kang, no one likes to wear a mask…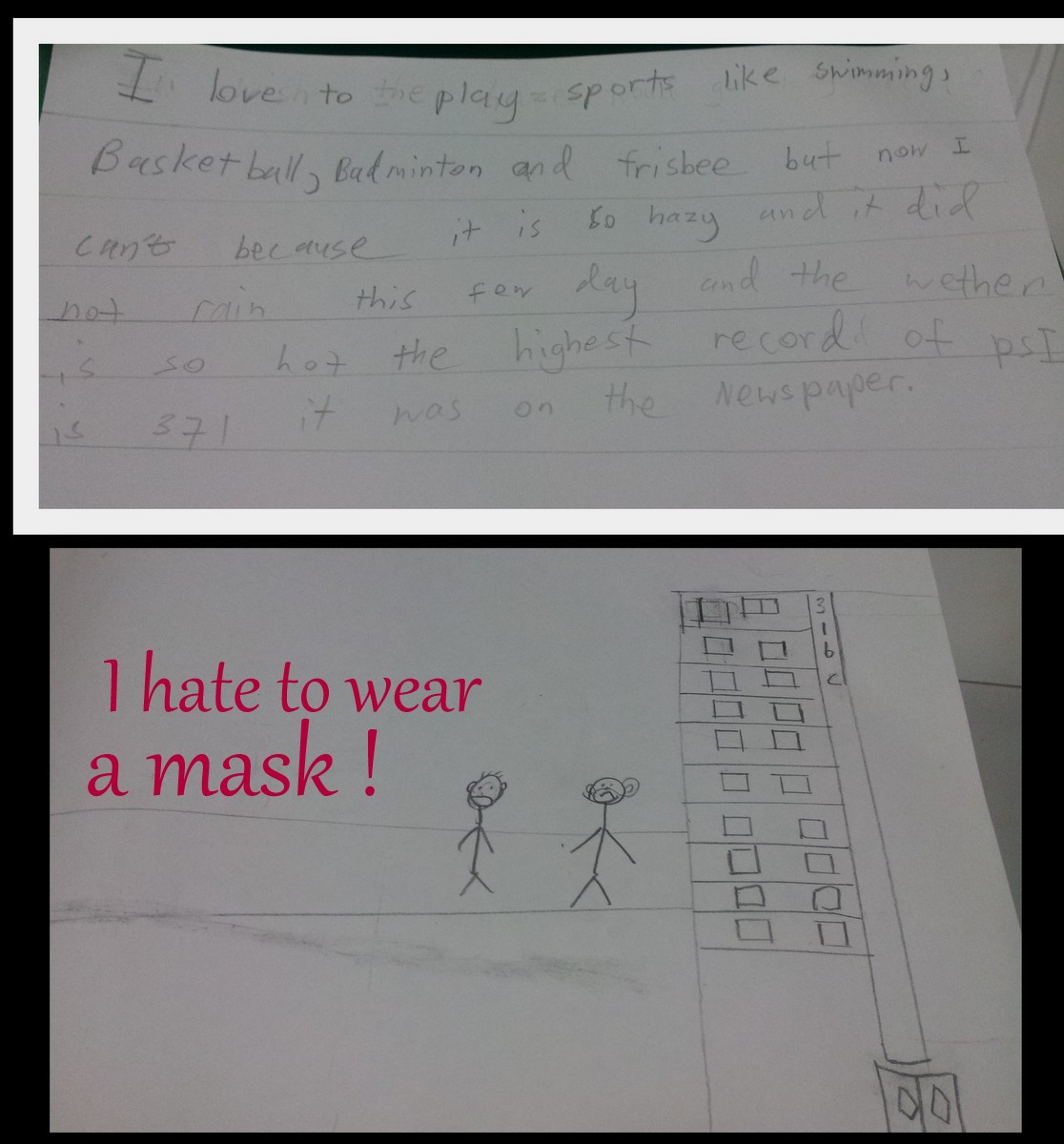 School holidays should be full of FUN, not cooped at home 🙁
Parents and teachers, do take this opportunity to ask the kids to share their opinions (and maybe recommendations) to improve the Hazy situation.

If you do not mind, do share your kids' drawings and stories with us on our Blue-Sky–Green-Fields fanpage album. Daddy would like to tell more adults about how the kids are affected by the Haze.
** Rain Haze Haze go away, do not come back to Singapore again **
More Haze Foggy details :
– http://www.nea.gov.sg
– MOH Haze FAQ
– Twitter Hastag #SGhaze