I visited Pulau Hantu last year for another intertidal walk experience. The group met at Marina Bay Cruise Centre before sunrise, and boat trip took us 1 hour.
Many in Singapore still do not believe that we have a rich biodiversity in our "urban" settings 🙂
Conservation and protection of our marine assets are the buzzwords nowadays. The recent news about Singapore Blue Plan, and turtle hatchlings on Sisters' Islands, cultivation of coral reefs in our waters, recreational diving and snorkeling for students in the Southern Islands might be a reality one day 🙂
We are conserving a vital part of Nature heritage for the next generation. I would like to visit a turtle sanctuary on Sister Islands one day too.

Back to our Pulau Hantu trip…   Different skyline along the ferry journey, high rise buildings replaced by view of oil storage tanks and chimneys.
As with all intertidal walks, the best period is when water is ankle level or lower. This would allow us to view more marine creatures.
Reached Pulau Hantu and we can see clear water. Hantu in Malayu actually means ghost 🙂
No haunting on the island, but we spotted many marine creatures, we got to touch some of Singapore's rich biodiversity.
This is all the more amazing when Pulau Bukom's oil storage tanks and chimneys are less than 500m away from us.
Amazingly, thousands of vessels pass through Singapore Strait every day, brushing so near to the Southern Islands.
Visitors can learn about Pulau Hantu history.
Grass, trees and ferns. Feels like a nature park. This island is usually quiet.
Blue sky, clear water, and that is Pulau Bukom refinery in the background.
oogle Map below, Pulau Bukom is so near (to the North) I might be able to swim across. We can see the chimneys.
To the South is Pulau Semakau, a landfill for Singapore's waste (ashes) but has evolved into an excellent example of how Singapore conserves our biodiversity even though we have limited land space.
Read Semakau episode , it is our best intertidal experience in Singapore.
Our guide will bring us single-file to spot more marine creatures and other oganisms.
Seagrass is staple food for dugungs (sea cows). We heard wild Dugungs and Dolphins are regulars in Singapore waters.
And other patches of greens, which looks like a carpet.
I believed these are some corals foundations.
Petrol-chemical industry coexist with rich marine biodiversity. Foreground coastal ponds and oil storage tanks in the background. WHAT a contrast!
One day, this stalk of mangrove will flourish and offer protection and sanctuary for inland coastal area.
Wildlife and marine ecosystem are resilient and can thrive in harsh  environment. Marine life galore, guide will display some specimens in the containers for us to view.
Besides the sea cucumber, anemone and starfishes, some other creatures are acorn worm, clipper and pea crab. Sand collar and sea sludge, but no oysters or scallops.
Nothing beats an outdoor science classroom.
Sea star (right photo above) is different from starfish.
Our guides told us that goby fish cohabitat with shrimps, benefiting each other. Shrimps maintains their habitat, and goby's good eyesight protect the shrimps from predators.
Flower crab (below right), a delicacy to some.
The translucent white slug is unique, but we heard some slugs are voracious hunters.
Catch of the day was a stone fish. It would be excruciating painful if you step on this well-camouflaged species!
Before we left Pulau Hantu, we cleared some of the rubbish off the islands. Although no one lives on the island, but current will bring rubbish in from the sea.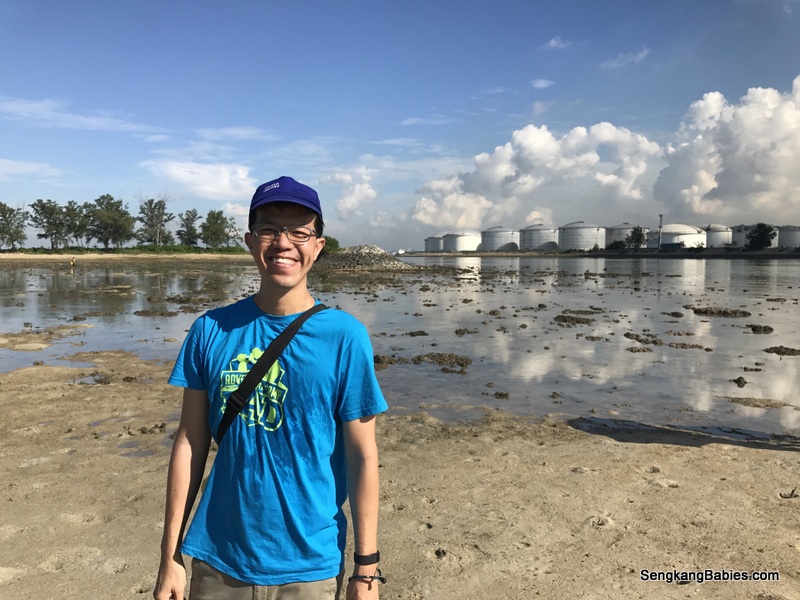 Do visit more photos on our Facebook album.
GPS for Pulau Hantu is "1.224857, 103.748914". Do look out for more future offshore explorations from Nature Groups.
You may visit our Intertidal experiences at this link.(Sisters, Semakau, Chek Jawa. If your child loves everything Marine and nature, do pop by "http://www.wildsingapore.com"
ps.. Our Pulau Hantu trip was organised by Lee Kong Chian Museum, and sponsored by HSBC.