We started our December School Holiday with a swim. Well, maybe swimming was the second item on our itinerary, the first was checking into Crowne Plaza Changi Airport and marvelling at aeroplanes!

Changi Airport is a world renowned travel hub, we know it is also extremely popular with families during the weekends. try to visit during weekend evenings and you will find all F&B outlets full house.
Changi Airport has everything to offer within its three terminals.
Our Holiday need not require us to fly off, and we were eager to explore what Changi Airport has to offer.
So far so good, our 3D2N staycation at Crowne Plaza has take off on a high note 🙂

Room with a runway view, kids could not stop exclaiming and counting the planes during the first hours! When kids are contented and happy, we parents will have no complains 🙂
Love the flower motifs in the rooms, so soothing and relaxing, just what we need for a holiday.

The kind folks at Crowne Plaza allocated a connecting room for us, that means one more bathtub and two Televisions! All the boys decide to camp over in one room.

This is what we see (or dream) before we indulge in our afternoon nap. Window view with Blue sky and white clouds, jets ascending or descending. Best of all, our room is insulated from the jet engines noise.
We were tired out after the first night, and could only detect slight rumbling from the planes. But we noticed that the planes seem louder on the second evening, has it got anything to do with the persistent rain?

No Holiday is complete without a swim. From our corridor, the alluring swimming pool invites us to take a dip. Crowne Plaza's swimming pool is one beautifully landscaped oasis.

We can even spot airplanes taking off from T1. Hello Control Tower!

Kids enjoy playing gun battles or hide & seek among the "bushes". It was easy for Daddy to play crocodile and sneaked an ambush from behind.

Video : Having Fun at the pool, Kinetic Rain

Crowne Plaza's Club Lounge is ideal for hungry kids. Delicious snacks to entertain us while we wait for dinner. Actually the sandwiches and curry puffs can be quite filling.

Chess or canape, beer (for adults only) or savoury dessert selection. We are spoil for choice. Kids would routinely empty the cookies jars!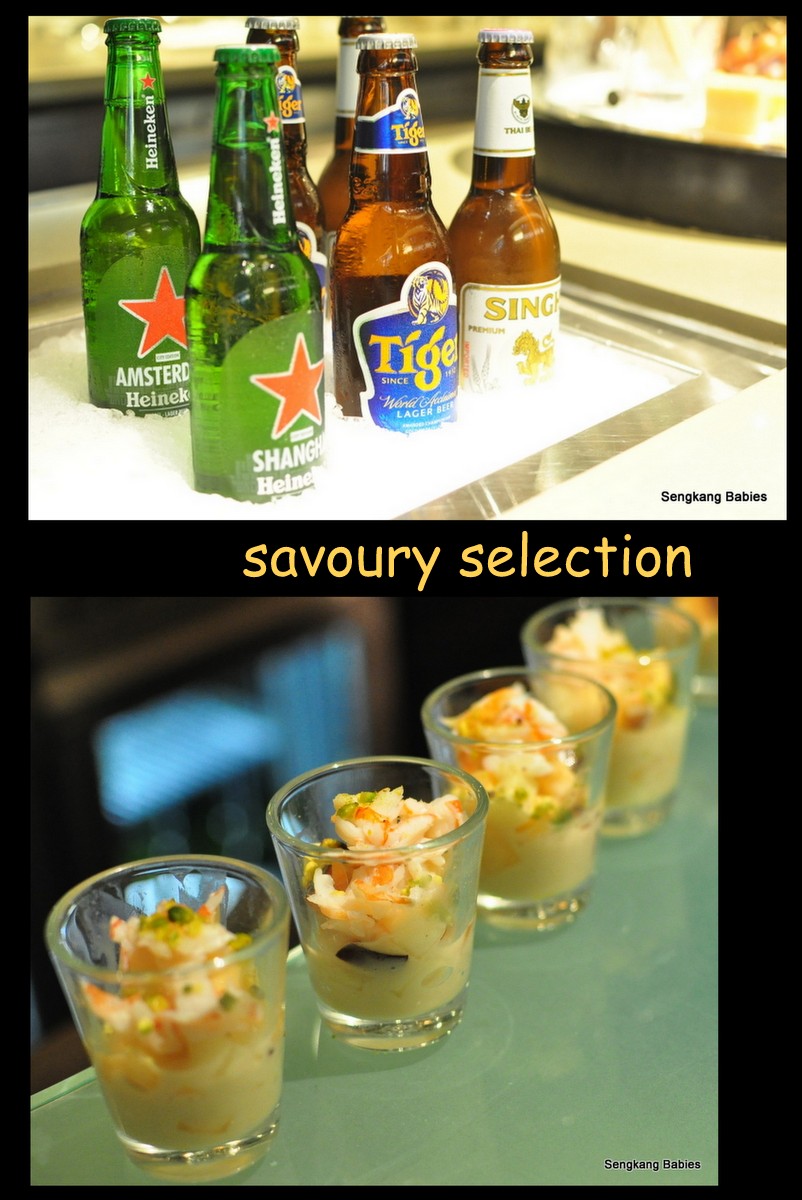 Our kids are Tree Potatoes fans. Although Daddy mentioned before that Tree Potatoes production is geared towards slightly mature audience (not for kids, as video content has sexual innuendos and stereotyping), but these folks are pretty normal friendly upfront heh heh 🙂

When it comes to food choices, Changi Airport does not disappoint. Kids are exaggerating with their baby back ribs, Ginseng chicken or Ebi, but you get the appetite idea.

Daddy always wanted to pose some Fun UPSIZE food photos (source Ch5 Local UPsize) !

Need more Food and Entertainment? It is always one click away, bewildering options from Changi's Three Terminals!

Breakfast, Donuts, Lunch, Coffee, Dinner and Supper. 7×24 365 days, this Airport does not stay still, and there is always a queue at 4Fingers!
Daddy has not experience any other international airport which can call itself a lifestyle hub.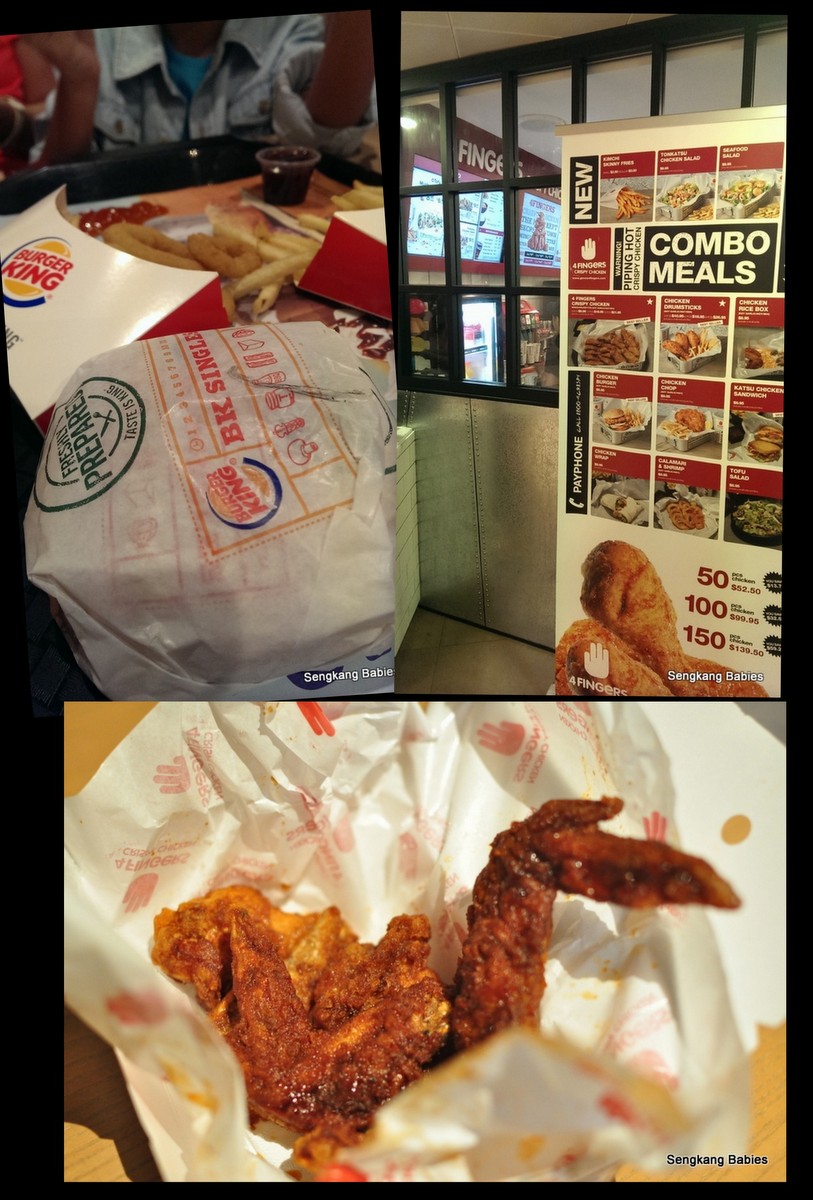 T3's Slide is always popular with kids who wish to burn off some calories.

Since the Yuletide season is near, we could ride Zoomoov's Santa and reindeer ($5 per ride, $10 for three rides). Checkout their latest locations on their Website and Fanpage. The kind folks at Zoomoov even allow our kids a few extra rounds 🙂

Airport might be crowded but some sections are quiet enough for kids to test their driving skills piggy back each other. SengkangBabies always know how to entertain themselves 🙂
It is not unusual to spot little kids scooting along.

That was how we spend our first day and night roaming around Changi Airport, leaving our footprints and laughter all over the place. Tom Hanks (The Terminal) will not mind getting stucked in Singapore's Changi Airport.
Besides flight status, follow Changi Airport lifestyle through their Instagram @fansofchangi, Fanpage and Website.
Book a Airport Hotel experience like no other, checkin Crowne Plaza Changi Airport.
Need more Changi Airport Lifestyle activities?
Checkout Changi Airport Mickey Mouse makeover (and bouncing castle). Pop by our Fanpage for Day 1.
Do pop by our Crowne Plaza Changi Airport itinerary here :
– Day 1 Checkin, swim and canape
– Day 2 Exploring Changi Airport (photos)
– Day 3 Transit area's attractions (photos)
– 2014 Disney Magic at Changi Airport
ps.. Thank you Changi Airport for hosting us! Our stay is sponsored.