We had a 2D1N Legoland Malaysia Fun weekend recently.
Legoland is packed with celebrations for Q4 2017. They just celebrated their 5th anniversary in September, and October is Halloween "Brick-or-Treat".
The next Halloween weekend is on 20/21 Oct evening 🙂
Skulls, pumpkins, ghouls and other "scary" creative bricks dotted Legoland compound. (poster below, do look out for December Christmas events too)
Brick-or-Treat Halloween at Legoland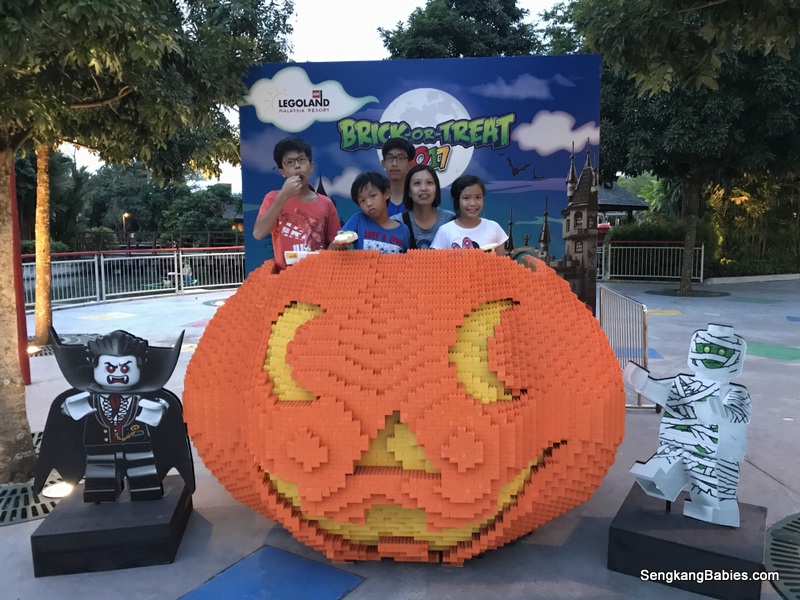 These are some of the activities you can expect at Legoland Brick-or-Treat. As Legoland is designed with families in mind, the scary antics are mild, so little ones are not spooked.
I thought the Halloween Lego bricks looks more cute than scary :p 
The Kingdom area does look difference day and night. Do take note that during "Brick-or-Treat" evenings, only "Kingdom area" is extended beyond normal Legoland operating hours.
One of the highlight would be kiddy's costume contest (Spook-Tacular Costume Contest). Hint : We heard kids who are dressed for the horror occasion can enter Legoland for free hooray!
Photo above, Aladdin and Princess Jasmine were so adorable, the audience were full of praise and not scared. Spot a cute little witch with a bloom too.
Second (Harry Potter) and third-prized winners, congrats 🙂
The winner is a "Chinese Zombie" , who can hop very well 🙂
Then we follow the monsters horde (Brick a Boo parade) back to the front stage.

LEGO Halloween characters like Dracula and Frankenstein entertained us with some dance moves.
Many opportunities for photos, just approach the friendly "monsters" and they will obliged.
That was how we spent day one of our 2D1N Legoland Malaysia weekend.
Legoland Hotel Experience
Back at Legoland hotel, we got to spend one night in the "Adventure room". We did mentioned before that we love Legoland's bigger themed room (two rooms) as it can accommodate 5 or 6 easily (no need to book two rooms).
Remember the cool lift?
Everyone can be a dancing queen when the door closed !
Adventure starts before we enter our room. Follow the map for a treasure hunt.
Behind the doors, scorpions and bugs await. We thought Indiana Jones would fit right into the theme.
First task for the kids, search for clues and unbox the treasure chest in our room. Lego treats await the kids 🙂
This trick always work to let the kids settle down fast.
Bunk bed is the other highlight, everyone loves to sleep at the top but only the older kids got this luxury :p (even Daddy did not had a chance)
We had stayed in Legoland Hotel's Pirates room before (read review), and the lobby is still the main attraction for first timers. Huge mini figures greeted us at the entrance.
Kids can spot the rows (and 100 more rows) of mini-figures behind the reception too, Cool!
.. or kids can help themselves to more bricks fun at the "pits" under the castles or sailing boat.
Photo below : You may spot life-saver Boon Kang (from 2013) in the hallway too. View of Waterpark from our room.
Walk further in and Kinect will keep families entertained.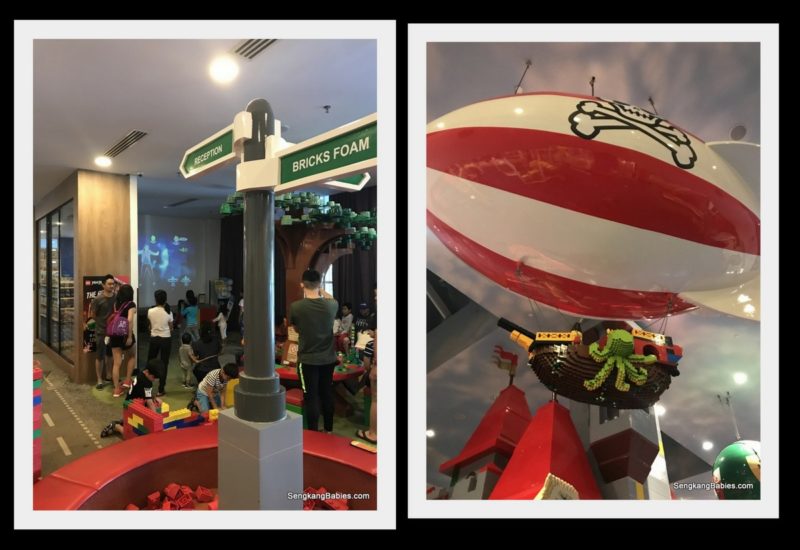 Your breakfast venue at Bricks Family Restaurant. Be prepared to queue as many families crowds the dining area! Heh, we spotted teh-tarik too, quite tasty and innovative too 🙂
Theme Parks Fun (more photos here)
Visitors to Legoland might wish to top up their day tickets by RM80 to upgrade to an annual membership (that is less than SGD $30!)
Through the rides, our kids had literally grown up with Legoland! Some rides are now deemed "childish" for them haha.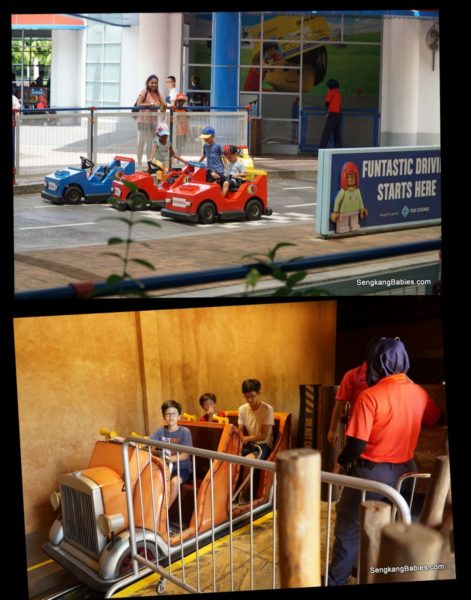 Boon Yee looking over the horizon from his train, we did noticed many apartments had spout up around Legoland compound.
Managed to convince them to take one super-slow train ride around Legoland playground haha. 
They still prefer anything with speed and which can induce adrenaline 🙂
We heard a VR roller coaster will start cruising in November. Sounds cool, just wear a VR goggle and let the world spins and Drop around you.
Do pop by our friends' Legoland Halloween reviews too (Life's Tiny Miracles and WackyDuo)
Additional tips to enjoy 2D1N Legoland Malaysia:
-Book a themed room and enjoy the bundle tickets promotion
-Grab the RM80 annual membership promotion (expiry date unknown)
-If you have a combo tickets, try to enjoy the water park first (just in case day 2 should rain)
-It is possible to enjoy Wet and Dry theme parks on same day but it will be tiring for adults (not kids). It helps that the theme parks are just 5 minutes walk away from hotel
-Apply suntan lotion as it can be very hot at Legoland, and we noticed Legoland had installed huge ceiling fans to cool everyone down
-If you would like some seafood or zhi-char for dinner, drive a short 8min away to Gelang Patah (Xinmin Chu review , we love the the sweet coconut crab)
We had uploaded more photos on our Facebook album.
Do pop by for more Legoland details on their Website and Fanpage.
We have documented all our Legoland adventure at this blog tag "Legoland Malaysia", we hope your families will enjoy your 2D1N Legoland Malaysia Fun too.
Thank you Legoland for the fun invite 🙂

ps.. Follow our Instagram tag #SengkangBabiesJohor for more JB adventures
*Our 3D2N Legoland accommodation, activities and meals are sponsored