We were in Malacca (or Melaka 马六甲) for 2D2N during the June School holidays. Malacca Street Food is famous in Malaysia, and we are not only talking about Peranakan dishes.
With the notorious jams and small lanes within the city center, walking might still be the best way to explore this ex-Portuguese enclave. Choose a accommodation near to your attractions, or food options.
We will share the street food and eateries (recommendations and ratings) in this post, GPS is end of the blog post. We will share Jonker Walk exploration in another post (all Melaka photos uploaded here).
Restoran Aunty Lee (+606 283 1001)
If you only have time for one Nonya (Peranakan) restaurant, Aunty Lee is the one! Just remember to make a reservation.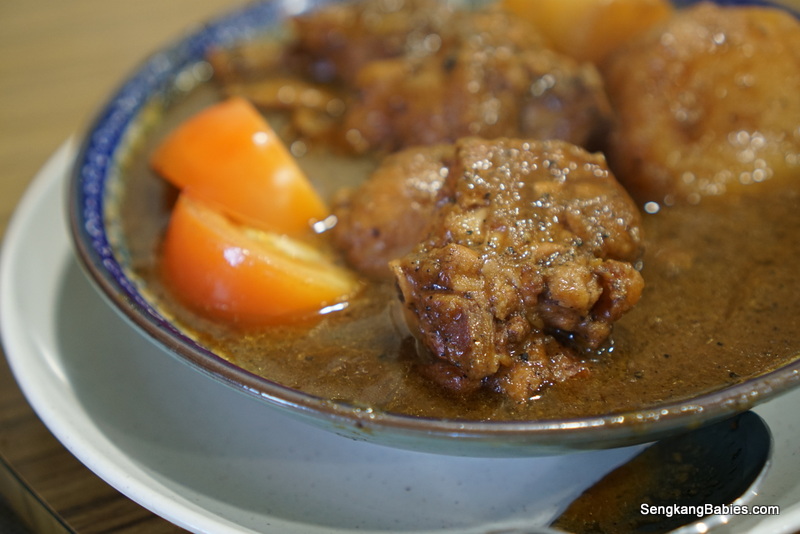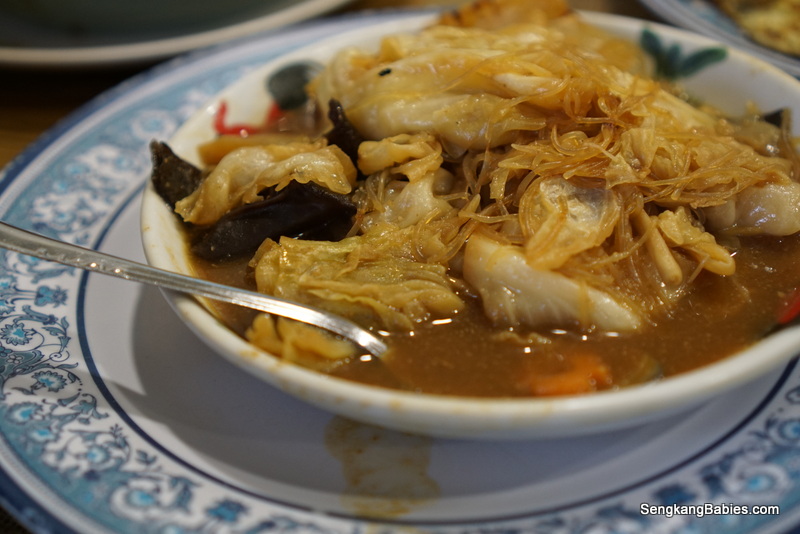 For the adults, there was no doubt the two best dishes were the humble "Chap Chai" and the succulent "Ponten chicken (or pork babi?)". We just needed plain rice to go with these two delicious dishes, we would rate both at (4.5/5) .
Fried chicken (4.25/5) so good, we ordered a second serving. Crispy and crunchy just forget about the calories 🙂
We ordered some other dishes too (prawn, squid and otak), but we would deem them so-so only (3/5).
Empty plates can only mean one thing, our lunch was delicious!
There is always extra space for famous waffles. And Chocolate chip (4/5) and Banana (3.75/5) are popular at Cafes Daily Fix below 🙂
Yummy warm waffles with dipping chocolate or honey.

.. but this cafe is not easy to spot for first timer, we needed to go round a second time to confirm (look out for the logo NEXT KK and walk inside)
Besides the fabulous pancakes, do look out for the quirky props on the second floor. Infact this cafe is like a little museum, with many Instagrammable corners and props.
Lung Ann Refreshments (街隆安茶室)
Traditional kopi and toast is always popular with our family. Delicious and relaxing breakfast (and half boil egg) before we start exploring the city.
You might have to wait around as seats are limited. Enjoy your coffee and people-watch, many folks will follow their Google Map GPS and reach this location too 🙂
Experience and our breakfast is rated (3.75/5).
The same venue serves delicious satay (Satay Loi) in the evening.
Teo Soon Loong
(潮顺隆餐馆, +606 282 2353)
Standard has dropped. We felt the old corner location was more authentic and novelty. The oyster noodle and dessert were supposed to be the signature dishes, but were so so. We can only give (2.5 to 3/5).
Do check out Google Map reviews, they are still getting decent reviews, maybe we were unlucky?

Below map  (Google Map link) indicates the estimated proximity of each Malacca Street food eatery.
Makhota Parade (GPS 2.187505, 102.248673 ) is in the center. We did not try those highlighted in red this trip :
1) Restoran Aunty Lee peranakan (GPS 2.186806, 102.273644 , 20min East of Mahkota)
2) Teo Soon Loong (GPS 2.197343, 102.232127 )
3) Nancy's Kitchen peranakan (GPS 2.197565, 102.239598)
4) V Love Hot Pot (GPS 2.195785, 102.238601)
5) 新天地 -like Hawker Centre, crowded (GPS 2.196820, 102.238960)
6) Aunty Fatso (夜来香海鲜家) Seafood (GPS 2.198605, 102.234126), Long queue!
7) Jonker Walk – (三叔公 GPS 2.194977, 102.248334)
8) Lung Ann Refreshment – Kopi and Kaya Toast (GPS 2.195849, 102.249312)
9) The Daily Fix – Cafe (GPS 2.196229, 102.246793)
Additional TIPS :
-If this is the first time driving to Malacca, head North along "North South Highway" and exit 231 (Ayer Keroh) (take note exit numbers are descending, not ascending). Exit 231 is about 210km from SG, and it will take another 30 mins to reach Melaka center (near Mahkota). This 30min will go beyond 60 mins during school holidays!
-Driving in Malacca is relatively safer compared to Johor Bahru, the only challenge is finding carpark. We would recommend car pooling from your hotel (eg) or simply walking
-We got many food ideas from our friends Cheekiemonkies (here and here). There are still many unexplored corners in Malacca 🙂
-You may read about some highway driving and safety tips on our previous post.
We have uploaded all our Melaka photos (with more Malacca Street food) on Facebook (album).