Camping In Singapore was a new milestone for us.
2D1N at Pasir Ris Park, and the packing activities started one night before.
As first timers, we did not want to forget something, so we brought everything out except the sink :p
Our camping barang barang. Besides the camping equipment, we packed in SPORTs too. Bikes, skateboard and soccer 🙂

Camping site secured, goods unloaded. We got two bikes and a skateboard for our supply runs (water and snacks).

Do a quick sweep for debris or broken glass, ensure you are not under coconut tree's kill-zone!

Before we venture further, you need to register your camping interest at Nparks website (and get the AXS receipt) beforehand. Registration is free.

Once you arrive in designated "Area 1", and identify your choice spot, proceed to setup camp.
1)Pull the four corner
2) Slide in the rods diagonally, more hands work faster.

3) The rods-intersection at the top (roof) will meet at 90 degrees, ensure a good knot so tent will not deform. We hold all four corners and bend the rods towards the ground (ready to be hammered in).

4) Knock the pins into the ground (with mallet or shoe) to secure the four corners. It can be windy and we do not want our tent to fly away.

5) Tata, our camping tent completed! The final step is to cover our roof with a "rain fly" shelter (blue colour), in case it rains.
We took 30 min to setup our camp and 15 min to pump the air beds.
Time for some fun sports activities. Add Kites, swimming or hammock for more options. Waterbombs anyone? We spotted some otters too.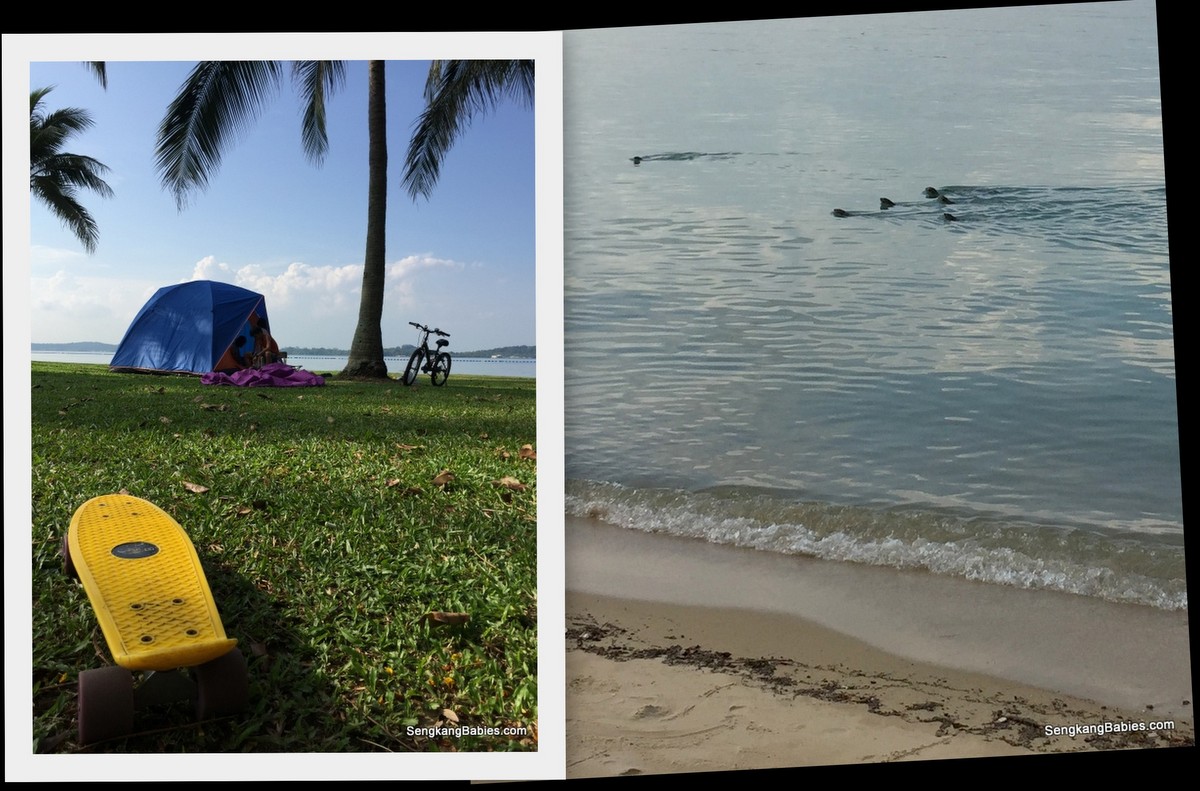 Meanwhile, Daddy took a short nap on his comfy sofa 🙂
I jokingly told the kids we had to rotate sentry duty.

Our camping furniture, the 4-legged seat is much more comfortable than the tripod seat. Mosquito coil and headlamp is a must, get an overhead lamp (30W should be bright enough) which can provide illumination from the roof.
Handphone's flash light might be too glaring.

Our 8 men tent is spacious for our whole family. Enough legroom for 1.8m Daddy too 🙂
We would recommend a layer of tarmac for additional cushioning against rough floor, and perhaps protection against small rain. Have a small mat in front of entrance so kids will not bring sand into the tent.
Airbed is a must (not optional) if you are no longer a teenager, or unless you like the sensation of pricky mimosa or pebbles along your spine!

Toilet and shower facilities. We are in Singapore, so a lot of our creature comforts are readily available, including 4G, food and sanitation.
No wonder some say camping in Singapore is Glamping (Glamour + camp) hee hee.

Our zhi char (煮炒) dinner, delicious chicken wings to sweeten our virgin camping experience.

Surprisingly, the humble Maggi was the highlight for our camping trip. We did not BBQ this round, so a mini "campfire" with army-style mesh-tins got the kids excited!

Yummy Maggi and hotdogs, kids are glutton, blame it on all the nice food 🙂
Hope they do not assume all camping experience are always so "luxurious", I will only pack sardines and jam+ bread for them next time.

大舅 visited us and brought durian supper haha, muffins from our lunch.

YEAH, our camp experience was a major success, securing 90% satisfaction from 5 out of 6 campers. (Shall not let you know who is less enthusiastic about outdoor camping)
Most of us love the GREAT Outdoor and Freedom!
No3 Yee still wish to zen out the morning chill.

Packing up, Pasir Ris Park is still very quiet, with the occasional joggers and cyclists.

Thumbs up for our camping experience,  I hope there will be many more "staycations" soon.

Video (Youtube link) : Teamwork 分工合作, we get everything done faster

Additional tips for Camping In Singapore :
– Number 1 rule, do not litter.
– Number 2, do not eat or fart inside the tent
– You can grab most of your camping needs at Decathlon, Beach Road or Winning.
– Camping cost (estimated): $125 8man camp, x1 Airbed $25, Pump $13
– If camping at Pasir Ris Park Area 1, nearest carpark is "Car Park A"  (GPS 1.379728, 103.959770). Car park rate 2230 to 0630 maximum $4, $0.50 per half hour other timings.
– Bring a trolley to cart your heavy baggage and equipment along
– Our staycation was too warm overnight, perhaps we should face the tent-opening towards the sea for additional breeze. Add 3 to 4 usb fans to ventilate the tent.
– This might be common sense, pitch in daylight and under shade. It will be challenging in low light to find the strings, hooks and alignment.
– #CommonSenseToo, ensure tent-opening facing away from BBQ fumes
– Go easy on the tent's zip and anti-insect mesh, kids might pull too hard and jam the zippers
– Organise the Tent interior, food, toys, beds so everyone know where to find their stuffs. We would recommend phones and chargers to be kept in those waterproof 10l duffel bag (in case in rains at night)
– For security reason, adults should sleep nearest to tent entrance. In case someone goes to the wrong tent or kids sleep-walk or someone thought your bikes are OFO or Obike.

– Families might like to camp within 10 minutes walk to toilets, in case you need the loo at 3am
– Bring your camping permit with you, in case Police spot checks.
– Standby socks and pants or spare blanket in case weather turns cold
– Light sleeper bring ear plugs along. We were entertained by Aloha's Karaoke till 2am and overly friendly (and loud neighbours) who were fishing till 3am!
– Wake up earlier the next day (like 5.45am) to catch a glorious sunrise
** Camping and hiking list for your reference.
First timers will struggle to setup a tent, it is not intuitive for me and there are no user manual.  You might take up to 60 minutes for first setup.
We had to hone our pitching skills at a Sengkang knoll before we went LIVE at Pasir Ris :p
Camping In Singapore had not cross our mind earlier, until we saw Tan family's camping village! (read here and their helpful FAQs here). Hope to join them one day 🙂
– Pop by our first camping experience at White Sands shopping mall here
– More photos uploaded on Facebook album
– Instagram itinerary hashtag #skbCamping

Camping In Singapore is a FUN experience for our whole family. We would like to try camping at East Coast Park or Sentosa (available during 2017 Mar holidays) next.
Try water bomb during your next camping Fun water episode here 🙂