We only knew that  Cing Jing Farm (or Green Green Grasslands) is famous in Nantou, we were clueless about other attractions.
I can come up with 100 activities in cities, but I was clueless about Cing Jing.  I could not find a good review about Cing Jing restaurants too.
The other popular attraction is 合歡山 (He Huan Shan) see Sunrise or 云海 (sea-like cloud) . During extreme coldness, we might get to see snow too(or leftover of snow), but you need to wake up at 3 am and endure shivering and windy 0-5 degrees, and a winding road (I believe a daytime visit of He Huan Shan would not be disappointing)
We had planned for 2 nights,  I needed to find some activities to keep everyone busy. Many visitors  stay for one night, or do a day trip.
My intention was to slow down our pace and enjoy some fresh air. Read our Day 1 post at Aowanda and Mist Plaza here (link).
Introducing our 民宿 minsu (好家寨 from Airbnb), not your usual 3 stars resort, but comfortable for us. The bed, shower facilities are decent, and we chose this because of the short 8 min walk to Mist Plaza (aka 7-11 and Starbucks,  GPS 24.043918, 121.157100).
Fyi, Minsu prices in Cing Jing are second in Taiwan, after Sun Moon Lake!
By the second night, kids understood that we should totally chill (pun intended) in 清境 Cing Jing. Soak in the cool weather and fresh air, enjoy nature. Learn to relax.
Most bnb beds will be heated, the temperatures can drop to zero in the early mornings. We did not want to get out from our comfortable bed in the morning!

青青草原 Cing Jing Farm (also known as 清境農場) is one of the most popular venue in Cing Jing. Imagine sheeps roaming over the hills, beautiful scenery etc.
I would say it is a must to visit this farm if you are in Cing Jing. Even adults will enjoy the scenery.
Castle in the clouds.

Warning, there might be more tourists than sheep during peak hours :p
Tickets allowed you to enter and exit multiple times.
We would recommend that you start at the top of Cing Jing Farm (gps 24.058568, 121.163454) and slowly walk down 3km to reach Swiss Garden or Starbucks.
Maybe  your Minsu owner can drive you up, or take a public bus. Our Toyota Wish taxi charged us NTD400 for one way.
The December mist and 12 degrees temperature greeted us. Cold, but we were eager to explore the grounds. Expect 2 to 3 hours of leisure exploration.
In sunny days, vast expanse of green and mountain would greet you, you should be able to  spot more sheep. This is why Cing Jing Farm is also known as 青青草原 (Green Green Grassland).
(checkout images from our friends BPDGtravels)
Introducing the stars of Cing Jing, free roaming sheeps. All fat, and adorable. Do not look at their bums!
Do not "meh meh" to them, sheep only understand the language of food.
Once they hear visitors shake the "feed", they will approach you.
Heads up, Cing Jing brochures will not mention of sheep poo, tons of them. It is almost inevitable that someone will step on the poo haha :p
Go on, take more photos in the misty setup.
Two of my kids are already teenagers but they still enjoy the feeding experience. Hey, I enjoy taking the photos of family too.
The mist would constantly float in and out during the colder months, too cool!  The windmill was here one minute, and hidden the next 🙂
It can be challenging the spot the camouflaged sheep!
Instagram Video (#SengkangBabiesTaiwan) :
There is a new 清境高空觀景步道 "skywalk bridge" parallel to Cing Jing Farm, but go only if there is no mist. You are supposed to get a nice view of the mountains.
Photo above, stable with real horses. We did not catch the sheep shearing or pony shows.
At the mid way point, warm up with some bbq sticks. Everyone will pass by this path. Honey and cookies are on sale too.
There are many trails in Cing Jing. Photo below (right) is the Cherry blossom trail, I can imagine pink and white Sakura lining the paths in Spring!
Please walk the 499 steps ladder to the base too. Relaxing, unless you climb in opposite direction. Love the "modelling" photo here, kids look stylo in their Uniqlo jackets (#notSponsored)
Reached the base at around 2pm, famished. 7-11, and some cafeterias. Beef noodle soup would be nice  for this weather. There are a few stalls selling steamboat meals.
After lunch, we walk a leisurely 20 min to the next stop, Swiss Garden.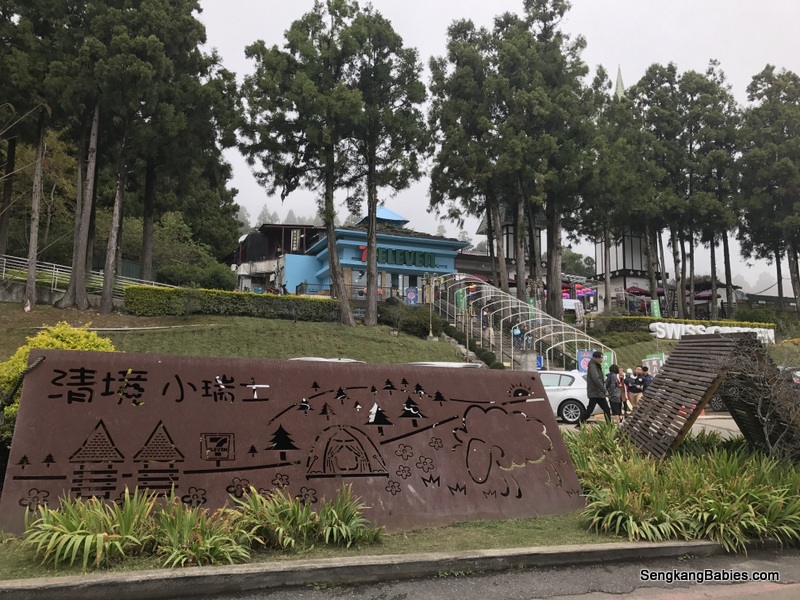 Do take note that Carton King had moved to another location since 2018 Jan. It is no longer at Swiss Garden.
Could not resist the pretty umbrellas.
As mentioned in our earlier Taiwan Itinerary post, it is challenging to navigate around Cing Jing Farm. Waking distance would be too long for kids, self drive might not be recommended due to winding road and sometimes low visibility.
A 10min taxi trip might cost between Ntd 400 to 600.

Photo albums :
–Day 1 Aowanda, Cing Jing
–Day 2 Cing Jing
–Day 3 Xitou Nature Education Area, Monster Village, Sun Moon Lake
–Day 4 Taichung (Zhongshe flower, ShengXin station, Cycling, Fengjia)
–Day 5 Taichung (Animation Lane, Rainbow, Miyahara)
–Day 6 Keelung 基隆
-Day 7 Ruifang, Jiufen and Shifen
–Day x Taipei HomeAway and Neighbourhood
–Day 8 永康, Xi Men Ding, 象山, 饒河 Raohe
–Day 9 and 10 北投 Beitou, Toyshop, 士林 Shilin
Blog posts :
** Taiwan Itinerary for families 
–Day 1 Google Sheet, Aowanda, Cing Jing
–Day 2 Cing Jing Farm
–HomeAway Recommendations for Taiwan
–Day 3a Xitou Nature Education area (溪頭)
–Day 3b Monster village 妖怪村 and Sun Moon Lake
–Day 4 Cycling Taichung 台中 
–Day 4a 台中 Taichung  attractions
–Day 5a 台中 Taichung food Ice cream and Bubble Tea
–Day 5b 台中 Taichung Fengjia night market
-Day 6 基隆 Keelung
–Day 7a Jiufen attractions
–Day 7b Shifen attractions
–Taipei Neighbourhood around our HomeAway Vacation Home
–Day 8a Yong Kang Street and Xi Men Ding
–Day 8b Raohe Night Market, Wu Fen Pu and 象山 Elephant Mountain
Instagram #sengkangBabiesTaiwan