Cycling Hualien to Ruisui, this is Day 2 of our #SengkangBabies花東 Taiwan biking adventure. You will find the links to each day's activities at the end of this page.
Meanwhile, you can checkout our planning Itinerary here (Google Sheet) or our 4D3N cycling summary post.
Video: 80km route, 9 hours on the road (YouTube link)
A rough time estimate of our journey:
-0700 Left minsu
-0900 Liyu lake
-1130 Guangfu station
-1300 Fentian train
-1430 Danongdafu forest
-1600 Reach Ruisui town
You will notice that Highway 9 actually runs along the train line. There are lesser hills compared to highway 11, and we are shielded from  strong coastal winds along highway 11.
0km – Checkout from our minsu homestay
All looking super fresh at 0700. We wanted to start early to avoid the afternoon sun.
Just have to follow Highway 9 towards Liyu Lake.
We had wanted to visit instagrammable 翡翠谷 Emerald Valley, but we lost our way. I spotted the attraction from across the river haha.
(Gopro wifi had hijack my GPS's hotspot, leading us to the wrong track)
Otherwise, take note this "waterfall" is a 15 mins easy trail. You will need to secure your bikes and bags before you track up.
There are a lot of mild uphill slopes after we left Hualien town.
The climb towards Liyu Lake was unexpectedly tough.
Be alert along this stretch of road (GPS 23.942526, 121.543420) .
For about 2km, there is only single lane both ways and no dedicated bike paths. You might encounter a lot of coaches. Do look out for cars overtaking from the opposite lane too.
鯉魚潭 Liyu Lake is actually a detour from Highway 9. But it is a nice spot to take a break. We are following the Hualien Taitung route recommended by Hualien Adventure. More details here.
20km Liyu lake is the biggest lake in Eastern Taiwan.
Our first pitstop for the day, enjoying our biscuits with a nice view. If time permits, you can cycle around the lake too.
After Liyu lake, it will be 90% downhill. YES!
Pitstops
Whenever we are tired or hungry, we will just stop at 7-11 or Family Mart. A 20min rest is enough to recharge us for one more hour. I need to ensure kids are properly hydrated every 15 to 20km.
Besides beverage and food, there are toilets at these convenience stores. And of course AIRCON!
We normally take a window seat, and we felt safe enough not to lock our bikes.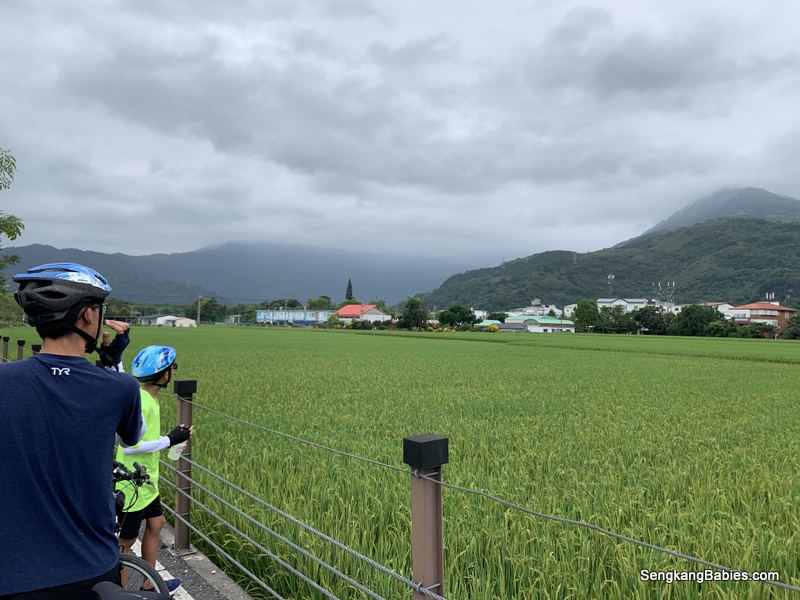 We also take short breaks whenever we spot nice scenic views. And there are PLENTY of green valleys in East Rift Valley 花東縱谷!
Weather was extremely good to us. Forecasted rain clouds drifted away before our arrival. It would definitely be more challenging (and dangerous) to cycle in wet conditions.
Temperature was only 26 27 degrees but we still got a tan.
40km Lunch at Fenglin
Bento at 悟饕池上飯包(Fenglin township). This store is popular with locals, we saw many folks takeaway the bento meals.
3 hours+ on the road, 12pm. We were famished and finished up all the delicious morsel.
Road sign below indicate 120km to Taitung end point.
The distance between Hualien 花蓮 and Taitung 台東 is either 165km (Highway 9) or 171km (Highway 11). Refer Google Map here.
We end up cycling 250km due to detours and exploration 🙂
We plan an easy tour, and covered the distance in 4D3N, instead of 3D2N. We wanted to do some sightseeing instead of rushing through.
(Refer our embedded Relive Video, 自行车环岛)
You may decide whether to cover between 40 to 100km per day.
Own Time Own Target 🙂
Boon Wee (no1) is my trusted navigator. I just give him a destination and he will lead us there.
50km Stop over near Guangfu station.
Cycling Hualien to Ruisui 瑞穗, we are over the halfway point.
System check. Bike ok, cyclists ok, we are confident of reaching Ruisui 4pm.
Sun sets around 5.30pm and we did not want to cycle in the dark.
Original plan was to cycle 60km, but we stretched it to 80km!
7-11 after Guangfu station. We only booked our night accommodation 20km away from Ruisui!
I had to book it so late as I could not confirm whether Ruisui (or maybe Guangfu) would be more suitable. Fatigue, weather and daylight conditions, there are too many things beyond our control.
I have listed more accommodation booking dilemma on this Blog post.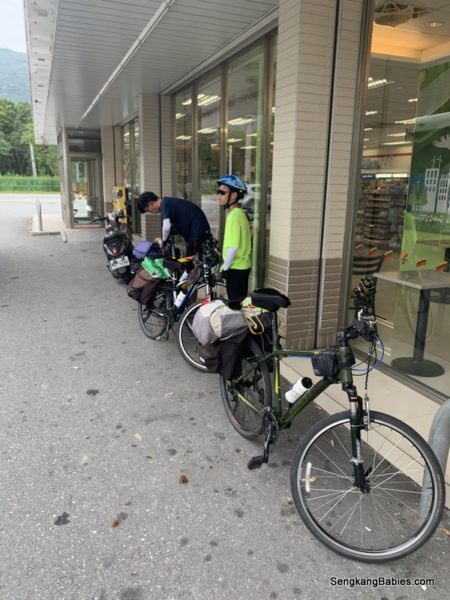 Our minsu name is Happy Forest (through Booking.com). I suspect owner tried to do a direct English to Mandarin translation, thus Happy=黑皮 森林!
I am sure the friendly boss has nothing against Blacks 🙂
From the previous 花東 images and videos,  you would noticed the dedicated motorcycle and bicycle lanes.
The bicycle lane gives cyclists more space and drivers generally overtake with a wide margin. Kudos!
We are on the same track as Taiwan's Round Island Route 1.
60km大農大富平地森林 Danongdafu Forest Park. We had decided to detour as we had seen plenty of beautiful images on social media.
Greens and mountains surround us! Mist would cover the peaks too.
The lanes inside this park are only for bicycles and motorbikes.
You will spot some curated art decorations.  Enjoy the fresh air and expanse, We spent almost 45 minute in this lovely park.
Personally, this wooded corridor is the most scenic spot. Try popping by during autumn and the pavement would have layers of brown fallen leaves.
FREEDOM. JOYRIDE. This is our Cycling Hualien to Ruisui experience 🙂
Highway 9 speed limit is 70kmh at this stretch, and we are traveling at 35kmh. Not bad 🙂
80km, reached our minsu Happy Forest.
The scooter is available for guests, FOC 🙂
Love the colourful and cartoonist interior.  This must be the theme for Happy Forest haha.
Took a quick shower before heading out for dinner. I could not wait to lie down on my comfortable bed.
Hungry and tired. We had already shortlisted some famous food nearby. We are less than 400m from nearby popular food joints.
涂媽媽肉粽 has good Google Reviews. Generally, any F&B with "媽媽" are popular :p
Value for money and tasty treat, but we still prefer Singapore's bak chang (more flavourful).
In our comfy slippers.
綠精靈, Google also highlight Ruisui's famous milk hotpot.
Ordered two portions. We heard the lamb version is popular but we chose the safer pork set. Yummy 🙂
Ruisui town is also famous for their hot springs 泡湯. We gave it a miss as we will be heading to Antong 安通 on Day 3.
Headed back for an early rest after dinner. 80km is no joke and the kids seem to recover faster than me.
We must be super tired, Boon Yee (no3) commented the next day that Daddy and No1 snored so LOUDLY!
Stay tune for more adventures and photos.
Do follow our IG Story too #sengkangbabiesTaiwan #SengkangBabies花東
You may reference our Taiwan cycling posts at this tag SengkangBabies花東 : *Google Sheet itinerary (GPS inclusive)
*4D3N Cycling itinerary and summary
-Day 1a-Hualien-Taiwan Railway Online booking
-Day 1b-Hualien-Taiwan Giant bicycle rental and Hualien attractions
-Day 2-Cycling Hualien to Ruisui (Google Map GPX)
-Day 3-Cycling Ruisui to Yuli, route 193 is SO beautiful! (Google Map GPX)
-Day 4-Antong to Donghe (Attractions along Highway 11) (Google Map GPX)
-Day 4/5 – Surfing at Dulan
-Day 5 – Taitung top attractions, Kaohsiung, Home
ps.. Do follow our Cycling adventures on Instagram hashtag #Cycling
Do pop by link 1 and link 2 to explore everything else about Hualien!