[ Sponsored ]
Before the end of school holidays, we visited Adventure Cove Waterpark. It was a good opportunity for us to refresh our snorkeling skills too, post Tioman.
Adventure Cove always hold us a special spot in our hearts. There are so many corners to explore, so many slides to test our adventurous spirit.
Lazy river offers some interesting views along the way too, dolphins, stingrays, do pop by our previous review (link).
We have captured most of the Fun in our video (below).
The only thing which has changed is kids are no longer clamouring to go the the Big Bucket Treehouse. Too childish, they said 🙂
We were fortunate that there were fewer visitors around Adventure Cove. Perhaps the overcast sky was a dampener for some?
It means we got more time to enjoy the slides, and shorter queues. YES!
Riptide Rocket was my best ride, up down and twists. As I am 1.81m, a few of the upswings always make me duck lower in order not to hit the roof (I am paranoid haha).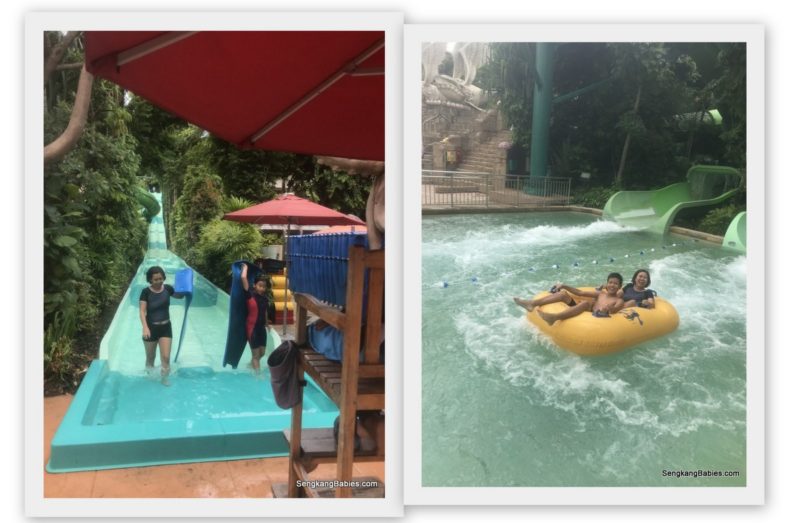 Bluwater Bay is always a favourite with families. We spotted a 4-legged VIP too, and pool was closed till the monitor lizard was caught.
Pretty Sentosa has wildlife around every corner 🙂
Catch the waves in our video. Younger kids should wear their life jackets as they will be bounced left-right and up-down!
The highlight for our family is always Rainbow Reef. Kids are now comfortable with snorkel kits in the large lagoon.
There are some 20,000 fishes swimming around and some of them are huge! All are friendly to humans 🙂
Swimmers cannot remove your life jackets to dive down, but feel free to bring your underwater cameras and video along.
This might be the kids' first snorkeling adventure, minimum height of 107cm applies. If possible, please ensure kids have experience with snorkeling beforehand (mask and breathing through mouth). Otherwise they will struggle with the mask and might not enjoy the experience. The queue can be 30 to 60minutes, followed by 10 to 15 minutes orientation.
For those with deeper pockets, you may with to try to pad the dolphins and perhaps get up close to some friendly rays or sharks.
Adventure Cove's Rainbow Reef always provide a magical and surreal experience for us (even though it is man-made).
Do checkout our Fun Water Adventures on Youtube (link). So much fishes swimming around, and you will spot some stingrays up close at the tunnel too.

Lastly, the most relaxing float around Adventure Cove, Adventure River.

Grab a tube or simply swim along the channel and let the current sweep you along. Who can resist Water Fun 🙂
Do pop by the corner at "Splashworks" too. Besides jumping from the edge, kids can play rounds of obstacles too (just like Ninja Warrior).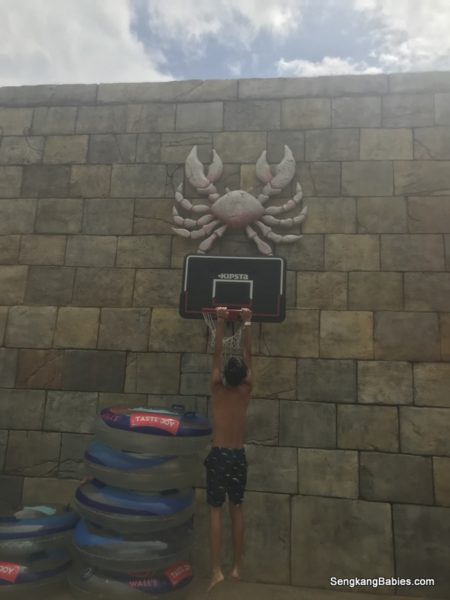 Additional Tips :
-Most of the rides require kids to be above 107 or 122cm, do confirm at RWS  website
–Map of Adventure Cove
-Ticket prices are adult $32 and child $24
-Do book online for more Resorts World Sentosa (RWS) bundle promotions and avoid the queue
-Parking in RWS can be expensive, $20 for 4 hours. Or you may consider parking in Sentosa itself. Option B, drop the family at RWS, then drive into Sentosa to park. 4 hour might cost you less than $12 ($6 entry and hourly $1.20). Take the Monorail back to Waterfront Station. (Alternatively park at Vivocity and take the monorail across, or walk 2km)
– Adventure Cove opens from 10am to 6pm, do maximise your Fun (take note in the event of lighting and pool closure, no tickets refund)
-Locker fees start from $10 (Small) to $20 (large)
We would like to thanks Sentosa Development Corporation and Resorts World Sentosa for the fun invite. We had so much fun reconnecting with Adventure Cove again. Do visit our previous Adventure Cove Waterpark experience.
Do follow RWSentosa on their Website and Facebook.
I loved this family photo as it captures our FUN snorkeling experience very well. Thumbs up!