Spartan Kids Singapore BTSC was our virgin Spartan exposure and the take home memories are the awesome amount of MUD and FUN!
It was raining the day before, so we sort of expected the ground to be wet. But the mud was beyond our expectation. I was a bit worried that the kids might hesitate to go through the obstacle course.
My fear was unfounded, once the race starts and with everyone dashing and relishing the mud spa treatment, there was no more reservations!

The Spartan AROO spirit was evident around the whole course!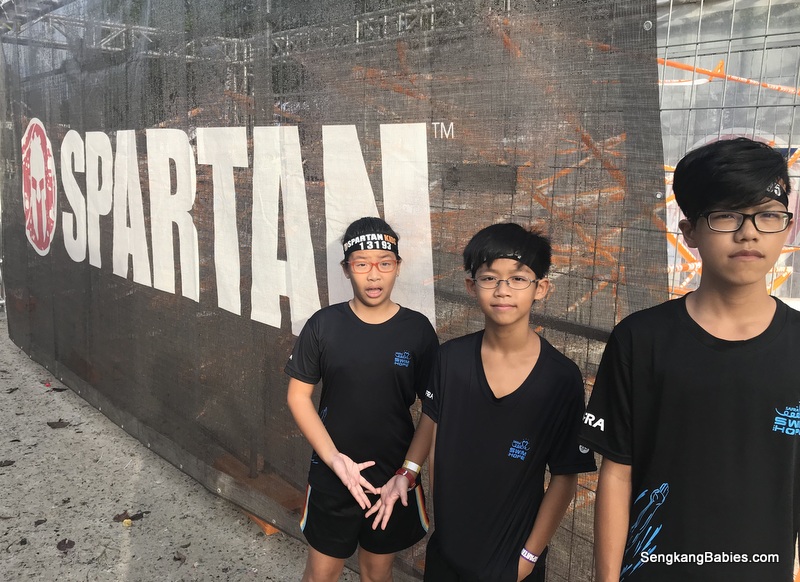 Participants can join the warm up session 15 minute before start of race, but someone did not get the message. Push up is supposed to lie (almost) flat not squat :p
Spartan Kids Singapore route at BTSC was designed in loops of 1.6km.
Our 13 (no2) and 11 years old (no3) ran 2 loops (total 3.2km) and 9 years old Xin  (no4) only need to complete 1.6km.
There are 15 obstacle to stall and challenge the kiddos. Any failed station will get forfeit of x10 burpees.
The circuit is a good challenge for average fitness adults, imagine how shorter legs and frames kids attempt the obstacles. This sound like Army SOC upsized 🙂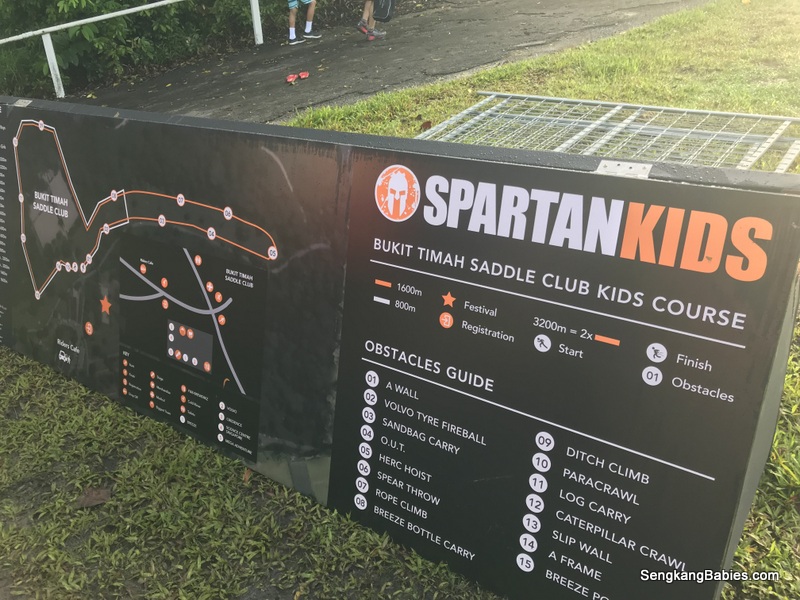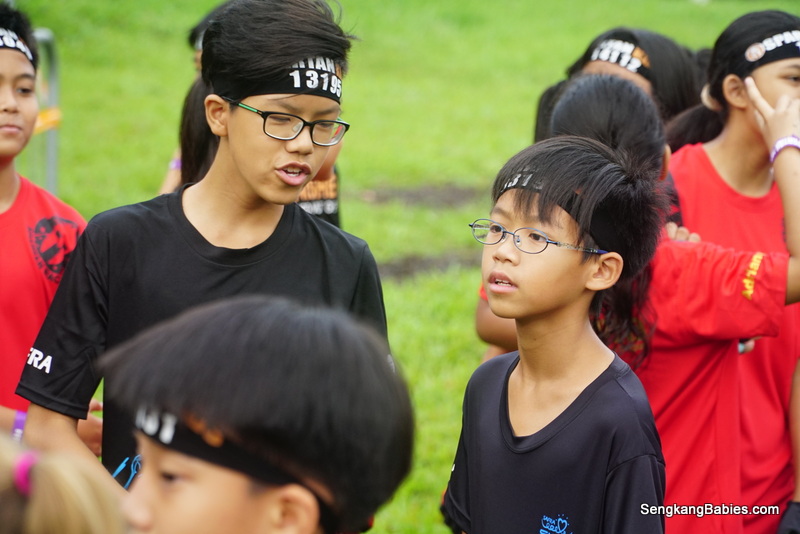 Lined up, shouts of "I AM SPARTAN", "Aroo Aroo" and off went the kids.
First obstacle is always the bottleneck, some are too short to climb over.
I told Kang (no2) to run with Yee (no3) for first lap, as orientation and to look out for his younger brother.  As Spartan is new to us, we were still adjusting our expectation and adrenaline.
Kang literally sprint his way through the second lap!
There was a lot of running, criss crossing, and sometimes with additional weights.
Proud of the kids, all are so game and adventurous!

Obstacles let the kids work out their muscles, and perhaps an opportunity to catch a breather 🙂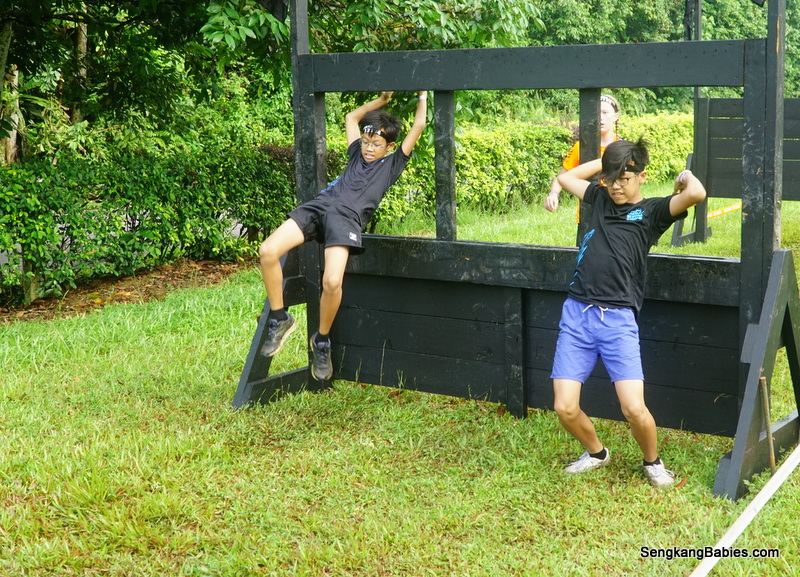 I kept reminding the kids to pace themselves. I was running with them for 90% of the first lap.
When you are tired, the weights really slow you down. But seeing everyone struggle with the breeze detergents, the boys persevered.
At the end point, everyone need to dash into a pool of water to cool off. On second thoughts maybe not, as 500 pairs of muddy legs had turn the water chocolate haha .
BTSC stands for Bukit Timah Saddle Club, we spotted a few horses.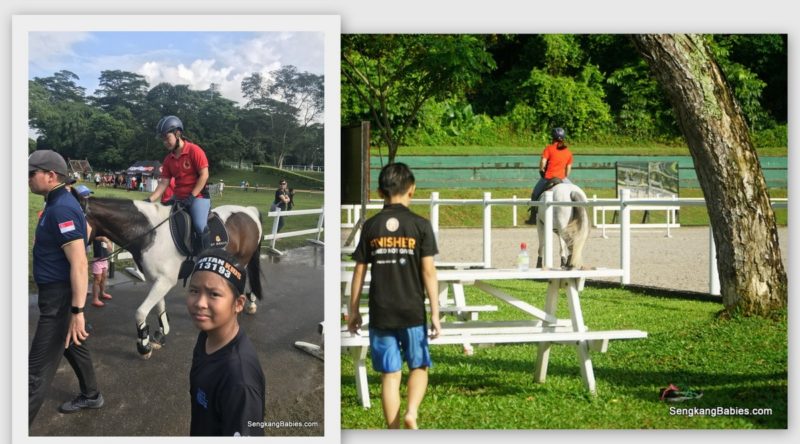 The race course itself is pretty scenic. Although we heard those participating in the afternoon got drenched from a downpour.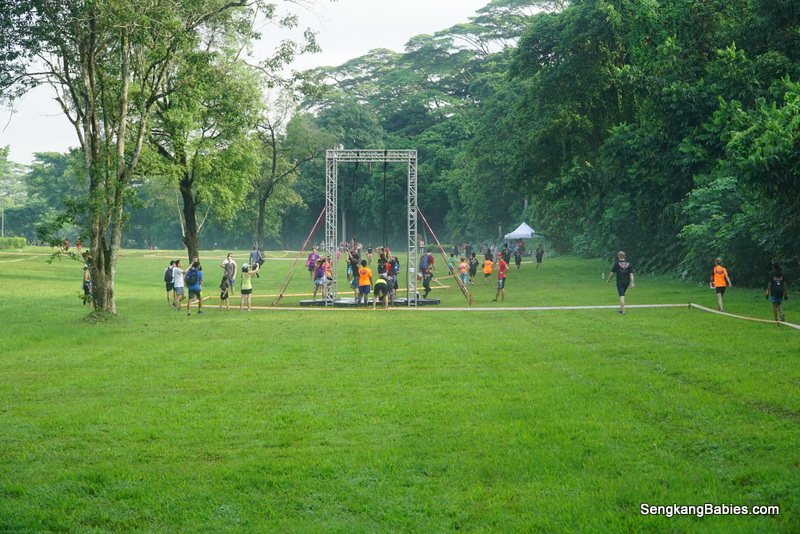 If kids somehow managed to stay relatively clean, crawling under the canvas will guaranteed to coat you in brown! First-hand reports from kids indicate the mud stinks too!
"Rope climb" can be intimidating for adults, dreadful for kids.
Without proper training, I doubt many can scale the rope.
The height is another factor!
Pace yourself, catch your breath and hydrate.    
Kudos to the kids, the mud makes everything that much more difficult and slippery. It would be challenging for adults, not to mention kids.
I was so proud when I see the kids smiling and laughing, even though they were all coated in mud 🙂
The ditch looks fun but many parents opt out. Adults could not bypass this obstacle, so many detoured and waited at the front.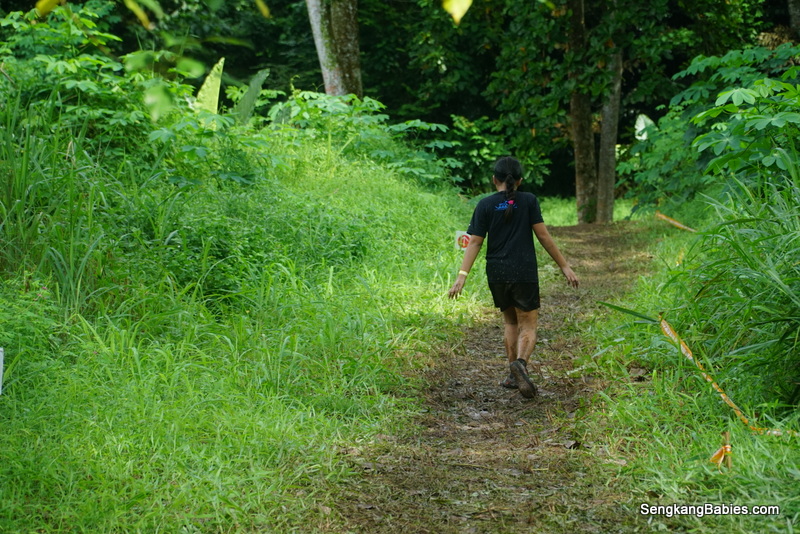 The kiddos demonstrated RESILIENCE to me during the race.
I could never imagine my girl Boon Xin sweating it out with so much MUD and style! Yet, this could be a good metaphor that parents have to learn to let go and let the child grows 🙂
This slope at "Slip Wall" was brutal. The layer of mud made the surface extremely slippery. Every slip hurts the elbows and knees (ouch), and I witnessed a few kids broke down here.
They are so near to end point yet this obstacle is insurmountable! Fortunately, our boys managed to scale easily but Xin could not pull herself over the top.
Some of the obstacles looks familiar from my Army days :p
But this A-Frame (below) also let the kids know that Finishing line is just ahead.
Just look at the mud on the kids. Their hair turned brown!
I believed some of our muddy Gunung (hiking) excyrsions came in useful.
(Read our hiking posts here -> https://sengkangbabies.com/tag/hiking)
You GO, Girl! Her hair colour wow!
Mommy was not impressed with the mud, because laundry.
Parental support was awesome, the cheers and the encouragement.  Come On, You can Do IT! , Well done!
Seeing the kids work their butts off, many parents felt the need to run alongside the kids. Moral support or motivation, I was panting with my camera and bag.
Boon Yee really enjoyed his Spartan race 🙂
At the end of the race, families can enjoy more games and beverages at the Spartan Festival. We did not stay long as we wanted to scrub away the mud.
We are happy with the way race was organised. Seamless and minimum hassle, a lot of volunteers were on hand to assist.
Perhaps the only complain is the goodie bag collection and waiver forms submission at the front. Many folks forgot to sign the forms and delayed the registration process.
Another recommendation would be to increase the rinsing stations, there was a long queue at the shower spot.
I hope Spartan Kids Singapore Race will encourage our kids to scale higher grounds and confront their challenges with Spartan Spirit!
Parents can sign the kids up upcoming Spartan Kids races in the region –Iskandar (Johor) Dec 01/02 2018
–Stadion – 26 Jan 2019
Video (YouTube link) : Catch our Fun and Muddy run video 🙂

Finally, we would like to thanks Spartan Singapore for the race opportunity.
It was a rare opportunity to see the kids excel out of their comfort zone 🙂
Do follow Spartan Singapore on their Website and Facebook for upcoming races.
ps.. Spartan Kids Singapore event was sponsored for the kids