冲浪 Surfing at Dulan 都蘭 (Donghe town 東河, Taitung) was super cool! The waves crafted plenty of memories and FUN for us.
The highlight for our latest Taiwan trip was the amazing 250km biking trip from 花蓮 Hualien to 台東 Taitung.

But if you ask the kids, their favourite activity was Surfing at 都蘭 (Dulan)!
Repeat after me, Du 1 Lan2. It is not the Hokkien expletive :p
YouTube Video:Cool Surfing at Dulan Donghe 🙂

You can checkout WaGaLiGong's expert videos too.

The kids did not even know that Surf was up, as it was meant as a surprise. Secondly, wind and wave conditions are never predictable. Infact, our surf was only confirmed on the morning itself.
Surfs and strong waves all along the East Coast (Highway 11). The first target when we reach Dulan was to 吃冰 (literally Eat Ice).
台澢號  Taitung Tea House is the only shop to offer the cool Surfing dessert. Hey, their fish & chips rocks too 🙂
Friendly cafe, offering a resting stop for travellers. At this point, we had already cycled 200km from Hualien! (4D3N itinerary here)
Checkin to our Hostel, WaGaLiGong.
Weird name, maybe direct translation from dialect 我跟你讲 ?
WaGaLiGong is managed by Mark (our surf coach too) and partner. He used to teach in South Africa but somehow found Surf and Love in Taiwan 🙂
WaGaLiGong provides both shelter and surf classes. Travellers mingle to share their life journey.
Quaint and unique architecture. The interior looks totally different from the quiet streets. I would say Hippy too.
You can learn SUP (Standup paddling), and many more water sports too.
If you have an opportunity, ask the locals about the story behind bus-on-the-roof.
Dulan is actually a little known town. The main highlight in this town could be ex Hualien Sugar Factory. It is now filled with music and arts, as in many 文創(Cultural) establishments.
Maybe you can explore 都蘭鼻 (more cliffs and shore).
Dinner was next door eatery. Simple fare, but delicious 🙂
Be prepared to wait as the chefs really put in a lot of passion in their food.
Comfortable rest before we embark on the next adventure. 
Day 5 6am, we were ready for our surf class.
But the waves and wind was a bit strong for newbies Surfing at Dulan.
In the end, we proceeded as we did not want to miss the opportunity of another Fun adventure.
Class proper and safety instructions first.
Mark shared why surfers encounter more dangers as they always search for new spots and breaks. We need to understand the sea condition and currents (especially rip tides) before we surf.
*If you encounter a rip tide, do not try to swim against the current towards shore. Instead, swim left or right (and get out of the rip)
** Try to be calm during any emergency. Panic will make things worse.
If in doubt, just float and tread water, catch your breath and energy and THINK.  (would be tough to remember when we are struggling in the water)
Hey, we learn about geography and wind too.
Example, wind will generate waves. Reef,sandbank, river mouth(eg donghe) will create a bump for the surf.
The wind should be far from shore, just push the waves towards surfers. If the wind is near shore, then the waves would be unpredictable.
Look at the endless Pacific Ocean waves. Intimidating and Exhausting!
Very often, we move forward two steps only to fall back one step.
The board is hard to wield and the wind kept blowing our board around. But Kids never GAVE UP!
My arms and core was weakened after 45minutes.
Found an excuse to be the camera man haha.
Kids nailed their "training" session, despite the less than optimal wave conditions (too windy and choppy)
Three steps to remember: Our coach will shout these commands 1,2,3 to us.
1-Prone (lift your chest up)
2-Squat (one leg lift infront between hands)
3-Stand (and hopefully balance)
Verdict: Surfing the waves is more Fun than Surfing internet!
Kids pickup a new skill. They exhibited their fearless and adventurous attitude. We were all tired but they kept running back into the waves!
We got bruises, cuts, even our nipples and chest got abrasion rash from the board too! Yet the kids proclaimed their Love for SURFING!
I was just PROUD that the kids took up a challenge and owned the Moment.
Our coach Mark (L) and Steve(R).
After a tiring morning, we enjoyed some chill breakfast moment at 逗留豆遊.
Google Map has give them a Good review.
Niche cafe with two friendly bosses. But they emphasised that the real boss is their 4-legged mascot 🙂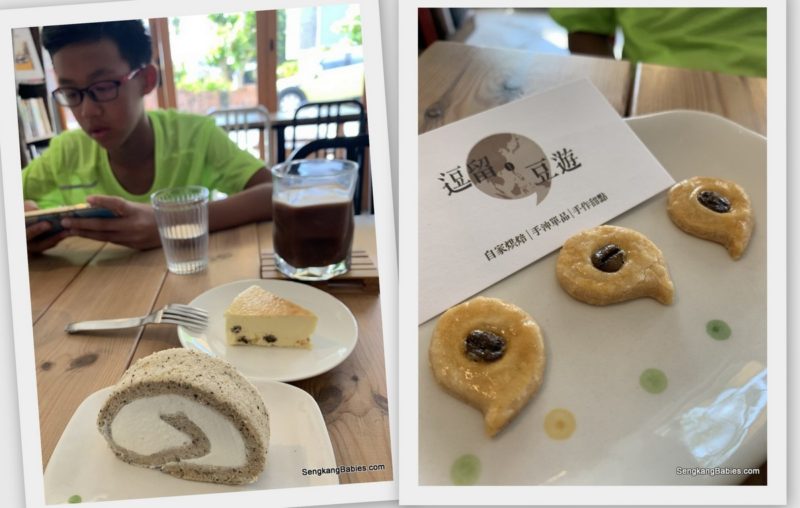 By the way, we are publishing Surfing at Dulan post first, because a huge Surf event is coming up!
台湾台东国际冲浪赛 (Taiwan Open Surfing) surfs from 23Nov to 07Dec website) and many international folks will be barreling at Donghe.
WaGaLiGong surf class starts from NTD 1400 (2 pax, about $60Sgd per pax). I would say the money was well spent as it bought us unforgettable memories in Dulan!
Experience is priceless 🙂
We would like to shout Thank You to team WaGaLiGong for the surfing adventure! Mark is recommending that we should extend our Surf class to a week next time :p
Do contact WaGaLiGong :
-Phone +886 89 530 373
-Email wagaligongdulan@gmail.com
-Social media Facebook/Instagram
-Website http://www.wagaligongtaiwan.com
Let's Go! On to the last stage of our cycling milestone.
Only 9km to Taitung town, and 30 km before we end our 花東 cycling .
Goodbye 都蘭 Dulan, Hello 台東 Taitung!
Stay tune for more adventures and photos.
Do follow our IG Story too #sengkangbabiesTaiwan #SengkangBabies花東
You may reference our Taiwan cycling posts at this tag SengkangBabies花東 : *Google Sheet itinerary (GPS inclusive)
*4D3N Cycling itinerary and summary
-Day 1a-Hualien-Taiwan Railway Online booking
-Day 1b-Hualien-Taiwan Giant bicycle rental and Hualien attractions
-Day 2-Cycling Hualien to Ruisui (Google Map GPX)
-Day 3-Cycling Ruisui to Yuli, route 193 is SO beautiful! (Google Map GPX)
-Day 4-Antong to Donghe (Attractions along Highway 11) (Google Map GPX)
-Day 4/5 – Surfing at Dulan
-Day 5 – Taitung top attractions, Kaohsiung, Home
Video: Cycling Hualian to Ruisui

Video: Cycling Ruisui to Yuli (so pretty!)

Cycling Highway 30,11 Yuli to Taitung

ps.. Do follow our Cycling adventures on Instagram hashtag #Cycling
We enjoyed some discounts from WaGaLiGong. The surfing photos credit WaGaLiGong.