Where can I find Pig, Chicken and Fish?
Not in the Zoo, but try your neighbourhood wet market (湿巴杀).
Boon Yee caught buying himself, I meant pork.
Our boy is born in the year of the zodiac pig 🙂

I told Boon Yee that my own wet market experience was literally wet! Floor was wet, and I hated the poultry section as it stinks! Back then, chickens were still in coops and they were slaughtered on the spot (not in an abattoir).

Pity all the fish and poultry are lifeless but it was still memorable to see a busy bustling wet market.
Boy watched in amazement as 奶奶 poked the fish, select the cabbages and bargain with the hawkers haha.
In our home, the womenfolk do the grocery and market runs.

奶奶 did not take much effort to pick up bundles of green leafy vegetables. Vegetable and fruit stalls are usually the most colourful and brightest.

Dried sundry goods, ikan bilis, 虾米 (hae3 bee4 ie shrimps). You can spot all sorts of spices too.

Boon Yee's brothers have already done wet market trips before (Read here). This was supposed to be Boon Yee and Boon Xin's first trip to wet market, but princess decided sleep is more important… zzz …
All of them love the stall selling guppies and terrapins 🙂
Boon Yee looks forward to pushing the trolley, he is happy to contribute and play a part in our morning shopping excursion. He now understands poultry and vegetables come from Malaysia, while fish and prawns are distributed at Jurong Fishery port (click for our experience) in the wee hours.

The unique feature about Singapore's hawker centers. One side Shopping, the other side F&B, and both sides are always crowded. Most of the stall owners are very friendly, and they will even remember regular's preference.
I tell my foreign friends that markets and hawker centers will be where you get to mingle with real heartlanders, not Orchard Road or Clarke Quay.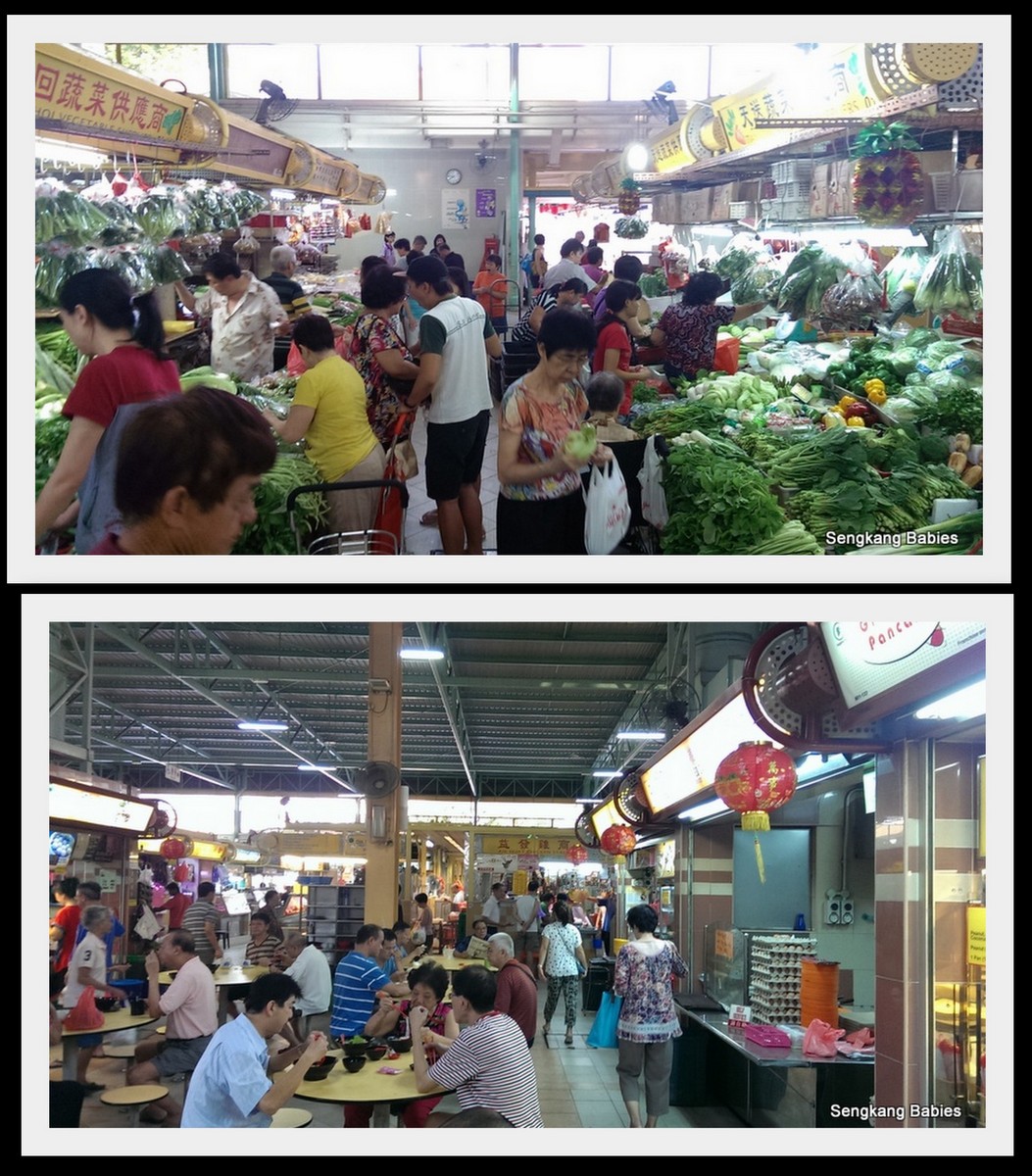 Cheng San Market & Cooked Food Centre at Ang Mo Kio Ave 10, this is 奶奶's favorite wet market.

Breakfast and coffee aroma from 天天, the coffee queue is worth it 🙂
Boon Yee has discovered the source of our Sunday breakfast (Roti Prata, Bee Hoon, Nasi Lemak).
Although we had to wake up early for the market trip (which 奶奶 does every Sunday rain or shine, 谢谢奶奶!), I believed it was an eye opening experience for Boon Yee.
The questions came fast and furious. Why is the chicken black, why is the pork chilled in the freezer. Where does Singapore import their poultry?
You can find 人情味 in the markets 🙂

This post is part of the 'To Market, To Market' Blog Train hosted by Life's Tiny Miracles. To read about other local markets in Singapore, please click on the icon below.

Introducing the other Daddy on this Market blog train, Eddie can cook while I fumbled in the kitchen 🙂
He is the founder of Stranger in Bangkok. Eddie is a Malaysian born in Singapore and is currently based in Bangkok. He blogs about his everyday life in Bangkok and shares his joys and struggles raising a young family without external help in a foreign country. He will be showcasing a typical wet market in a residential neighbourhood in Bangkok where he does his groceries every week.

~~~ ~~~ ~~~ ~~~ ~~~ ~~~
To Market, To Market Blog Train (August 2015)
3 Aug Mon – Angie, www.lifestinymiracles.com, Ghim Moh Market
4 Aug Tues – Dotz, www.apancakeprincess.com, Bedok South Market
5 Aug Wed – Michelle www.mummyweeblog.com, Bukit Batok East Market
6 Aug Thurs – Pamelia, www.lilacpetal.blogspot.com, Tiong Bahru Market
7 Aug Fri – Summer, www.ahappymum.com , Rivervale Plaza in Sengkang
10 Aug Mon – Pamela, www.tanfamilychronicles.com, Mayflower Market, AMK Ave4
11 Aug Tues – Andy, www.sengkangbabies.com, AMK Cheng San Market
12 Aug Wed – Eddie, http://strangerinbangkok.blogspot.sg, BKK Market
13 Aug Thurs – Debra, olimomok.livejournal.com, Shunfu Market
14 Aug Fri – Vera, www.lifeisinthesmallthings.com, Empress Road Market
15Aug Sat- Shirley & Audrey, www.sayshappymums.wordpress.com Chinatown Market
17 Aug Mon – Debs G, www.owlswellblog.wordpress.com, Commonwealth Market
18 Aug Tues – Lyn, www.lilbluebottle.com, Fengshan Market
19 Aug Wed – Karen, www.mumscalling.com, Tekka Market
20 Aug Thurs – Diana, www.thedomesticgoddesswannabe.com, Bedok North St 1 Market
21 Aug Fri – Jiahui, www.mumseword.com, Toa Payoh Vegetable Night Market
24 Aug Mon – Danessa, prayerfullmum.net, Potong Pasir Market
25 Aug Tue – Mrs Kam, www.thekamfamily.com, Chong Pang Market
26 Aug Tues – PC, www.scrapmumloft.com, Admiralty Market
27 Aug Wed – Mei, www.finallymama.wordpress.com, Pek Kio Market
28 Aug Thurs – Meiling, www.universalscribbles.com, Pasar Bella Market