[ Advertorial ]
POSB Smart Buddy Watch for school going kids, a small step to encourage them to go cashless, a giant peep into Singapore's future Digital economy.
Picture Singapore 2030, a Smart Nation, where Digital economy takes a firm foothold and transformed our society.
-We can buy everything (almost) off the Internet
-Every industry (and country) will need to evolve with Digitisation.
-End to end processes from Logistics, Finance, Healthcare, Education to Manufacturing etc, will be embedded in the cloud
Digital Natives will adapt fastest to new technologies.
One day, toddlers might prefer handheld devices to pacifiers, Gasp!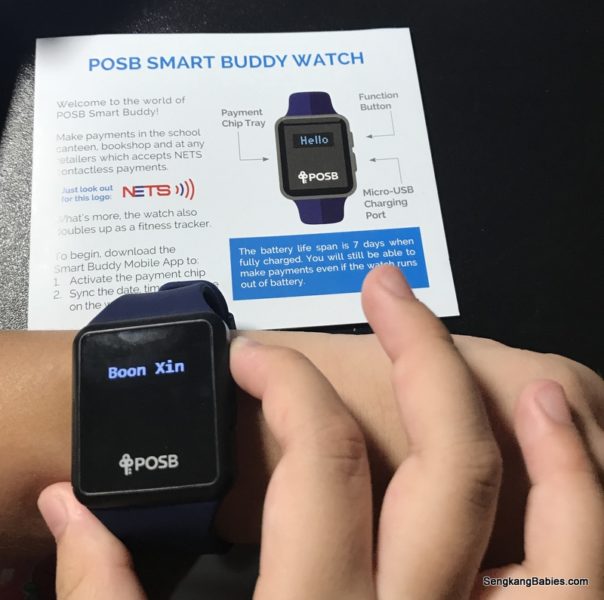 I got to preview POSB Smart Buddy watch earlier and I am impressed with the amount of smart activities for kids.
Cashless and ePayment, a whole new digital payment ecosystem will start in school. Sample images of kids using their smart watch for transactions in school canteen or minimart.
Boon Xin was eager to start her "Smart" watch journey, but we still need to setup the watch (took us less than 10 minutes).
1) Follow the instructions to insert the payment chip tied to parent's account.
2) Download POSB Smart Buddy App for your IOS or Android device, detect and sync the watch.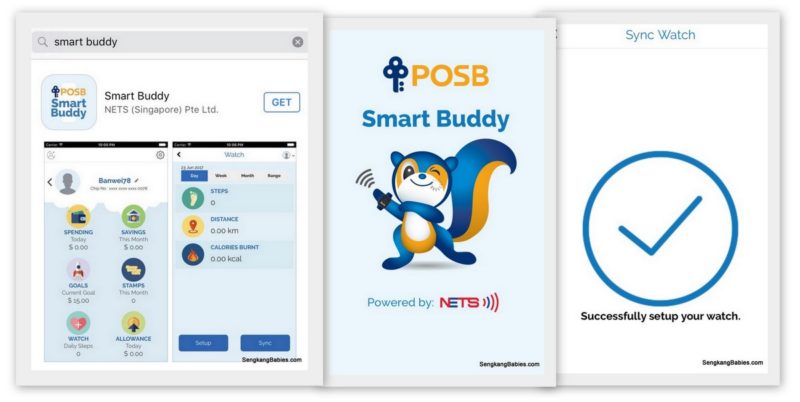 Setup a profile for your child, you can have more than one profile for multiple kids.
One button to control them all, this watch is so simple for kids. Activate one button to display Date, Time, Calories, Distance travelled.
Video (YouTube link) : Easy setup of POSB Smart Buddy watch

.. and Boon Xin is ready to go shopping 🙂
Besides selected Primary schools (canteens and tuckshops), we understand Popular Bookstore, KFC, Pizza Hut, Sheng Siong and Comfort supports POSB Smart Buddy payment.
More merchants are expected to join the programme.

We need to configure her daily allowance and she just need to spend
(so good right!)
Snacks or colour pencils or skip lunch again?
Parents would know how their kids are spending their allowance in school. I would even know if my child skipped lunch to play soccer!
(maybe there would be more Steps)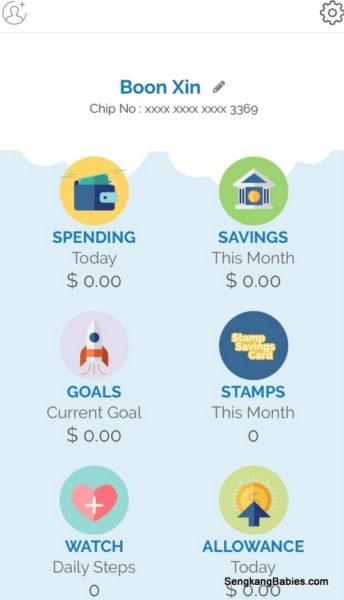 The maximum allowance is $100, but I am not going to tempt her 🙂
What I like about the app is we can adjust the allowance and it will be effective immediately (these changes are transparent to the child).
We brought her to Popular Bookstore. Boon Xin just needed to pick up her favourite stationery and tap her POSB Smart Buddy watch.
Her first cashless transaction, so Easy.
Boon Xin would be excited to share her steps and distance travelled everyday. She was curious about adults' HPB Steps Challenge, and she can now join us and clock her own steps.
Hooray to a healthier lifestyle !
As Boon Xin's school is not yet on POSB Smart Buddy programme, any unused allowance will automatically go into her Savings.
She can also plan her own savings Goal or buy digital Smiley stamps. We encourage her to setup another Goal for her favourite Roller Blades.
How many $1 must she save before she can buy a pair or Roller Blades?
We cannot over emphasised the importance of Financial literacy.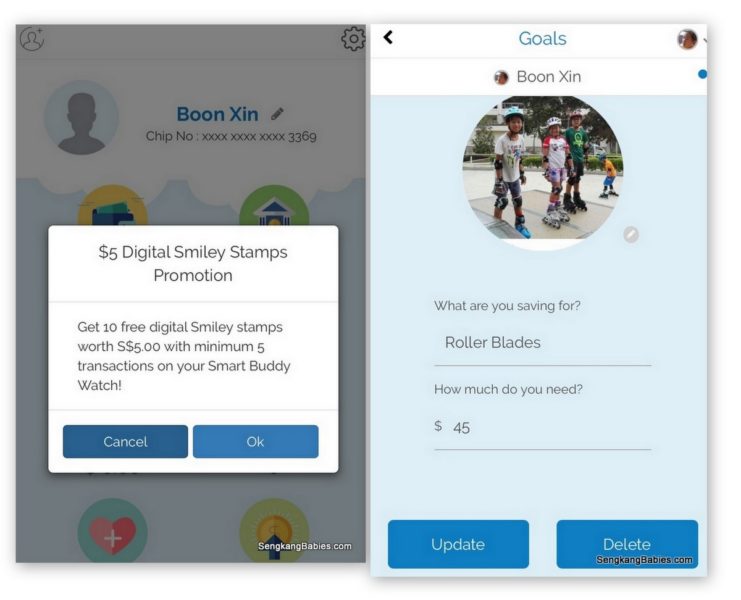 Need more tips and FAQ? You can either go Online or use the user-manual in your POSB Smart Buddy app.
We heard more features will be released in the future. Example tracking of kids in school and school bus. This would definitely give parents a layer of assurance, knowing that our kids are in a safe familiar environment.
POSB can also work with schools to add credits for needy students (Financial Assistance Scheme), no more vouchers.
Video (YouTube link): POSB Smart Buddy features

24 Primary schools are currently on board. If you would like your school to support POSB Smart Buddy soon, do write in to your school too.
We hope POSB Smart buddy will come to our school soon 🙂
Check out how other parenting bloggers are sharing about POSB Smart Buddy on DBSinnovates.com portal.
We only have one small problem. Boon Xin's siblings are asking when they can have their own POSB Smart Buddy watch!
Interested to find out more about POSB Smart Buddy :
– Website http://www.posb.com.sg/smartbuddy
– Email PosbSmartBuddy@dbs.com
– Hotline 1800 339 6666