We talk about Johor Bahru's fabulous street food in our first post. If you are still clueless about where to start your Johor Food trail, let it be Monday evening, at KSL's Pasar Malam (Night market).
You will get to taste everything, just bring along an empty stomach 🙂
If in doubt, consult Heng Family's extensive Pasar Malam experience.
Every Monday from 4.30PM onwards, the street next to KSL Resorts Hotel start buzzing.
It will transform into a gourmet Pasar Malam.

Fried Chicken cutlet at the start of the Pasar Malam. Crispy treats for the kiddos.

Fried fritters (you2 tiao2), fishball or fishcake never fails to calm a grumpy hungry child.

This White truck serves Penang Laksa and Cendol, the sour and sweet complements each other. Denver's favourite drink.

Mixed rice anyone? More food variety.

The Satay looks appealing ! and if you love fruit Rojak, we heard this Rojak-on-Motorcycle is a must try!

(middle pic below) The Green colour cylinder building is Grand Paragon, and it is the Pasar Malam's end point. take your time, enjoy a slow 45mins eat and walk trip to satisfy your cravings. The food is cheap too !
Cakes, Tim sum, Fruits, everything is on display. We saw more stalls which are converted from trucks.

Kids are as curious as the adults, they find everything fascinating. If they are not picky, the Pasar Malam walk will offer tons of eye and food candies 🙂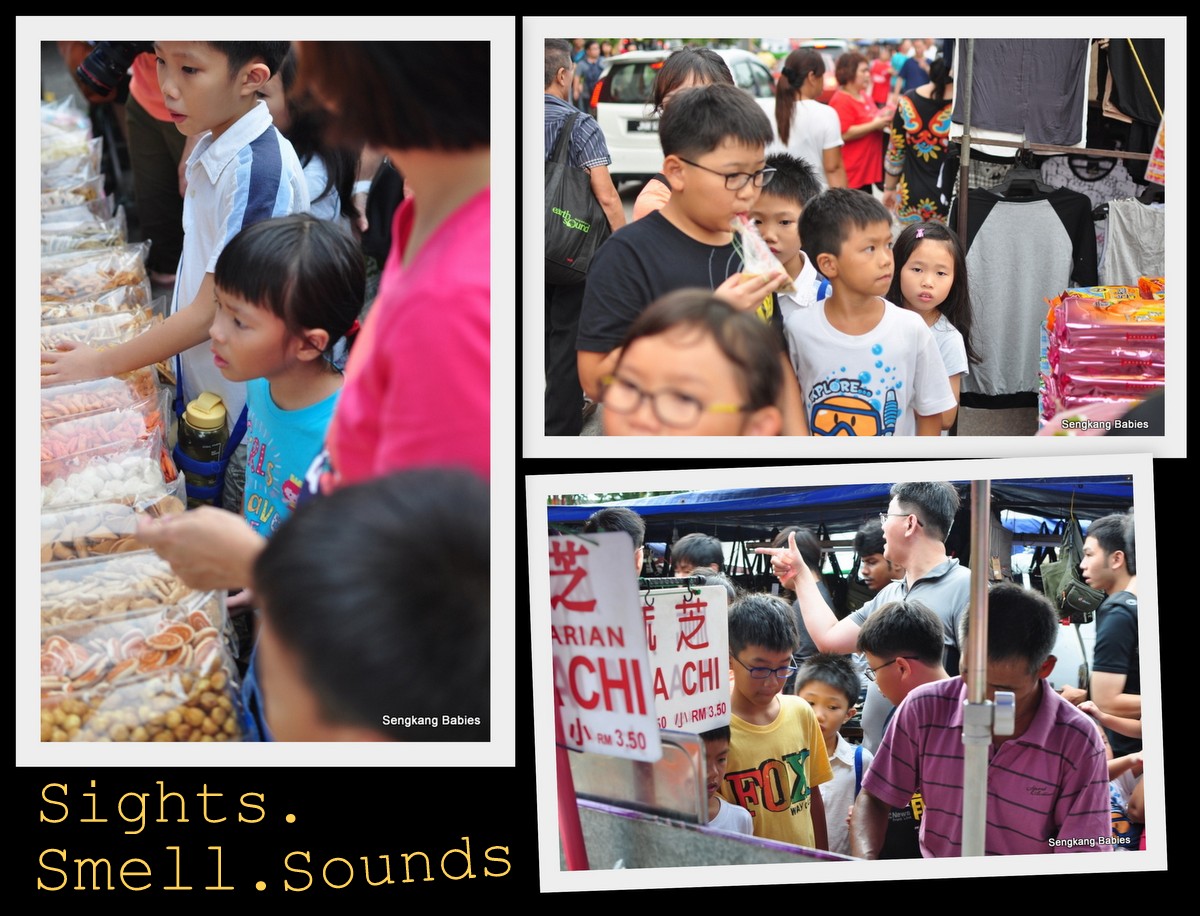 Do expect jams at certain junctions (near to popular stalls), locals are out with their baskets to buy farm produce and even poultry.

Chui2 Kueh4 (水粿) and Muah3 Chee2, who interested?
Pasar Malam means we Walk See Shop, and we Eat along the way haha 🙂
It is definitely a Fun adventure for the little ones.

They get to see sugarcane remains pile HIGH up like a hill, you do not see this in Singapore.

Minimum 20min queue for the popular carrot cake. The sweet black carrot cake is 100% worth the queue.
Next to carrot cake stall was someone selling Hong Kong's Salt Baked chicken. The marinated chicken is wrapped and heated with charcoal, will try it next time.

Xio1 Bak3 (燒肉), this is the No1 recommendation by Heng family 🙂
Crispy and addictive, we were lucky that Uncle Barry manage to grab the last batch.
All 燒肉 were sold out within the first 2 hours !

Sushi? Yes Sushi and Japanese pancake are in the market too haha. The Sushi packaging are very popular with youngsters.

If you are still hungry, welcome to tabao (takeaway) some cakes, pancakes or even Ramee burgers 🙂

This is a map of KSL's Pasar Malam, it stretches from KSL City (South) to Grand Paragon. (GPS start point at KSL 1.485974, 103.763145 )
As we left at around 7pm, more crowds are streaming in. Pasar Malam will open all the way till 10pm.

Additional tips :
1) Do set your expectations accordingly, this is Johor Bahru's side street, and you cannot expect Singapore's level of hygiene. The sidewalks might be dirtier, the food display less appealing, get over this minor sights and you will truly enjoy your Pasar Malam Trail 🙂
2) It is safe to bring the kids along for the Pasar Malam. Do stop every few steps to ensure no one has stopped for hamburger :p
The first stretch will have cars moving in the opposite direction, hold on to the kids. Just be vigilant and ensure your belongings are secured.
3) Leave your stroller behind as the pavement might be uneven will also be jam packed at certain stretches.
4) There is minimum seating places or stools. BE prepared to stand and eat your dinner.
5) If we are popping by again, Daddy or Mummy will consider takeaway to dine in the comfort of our Room 🙂
Easier, less hassle, more comfortable, the same good food, but there would be a 30% discount in the Pasar Malam experience.
On our maiden KSL Pasar Malam trip, it was a nice experience for our families' kiddos. Food, laughter, sharing of good food and newly acquired taste. More food photos are on SengkangBabies Fanpage to whet your appetite 🙂
Our JB 3D2N blog posts and photos are listed below :
– Johor Street Food
– KSL City's Pasar Malam (Mon only)
– KSL Resort pool and shopping
– Safety driving tips in Malaysia
In our final post, we will share KSL's happening pool.

ps.. Follow our Instagram tag #SengkangBabiesJohor for more JB adventures