[advertorial]
In our family, Daddy is doing the reading, but kids do not mind. As long as they get good stories, captivating animations, everyone should enjoy some quality reading time.

Read With Me Mommy recently invited us to review their Chinese storybooks. We chose Volume 1 of "Shapes" as Daddy thought Boon Yi(6) and Boon Xin(4) would love the six fables. Volume 1 talks about "Friendship and Kindness" (友爱互助).
Maybe Boon Xin loves to say "don't want to be your friend", so Daddy wish to let her know friends are important.

We love the big fonts on the picture book, allowing the kids to follow us through the storyline. For parents who are picking up Chinese again (after decades), the Hanyu Pinyin will be helpful. On the last pages, a full English translation is available.

The six titles under Volume (1) are listed here. The three volumes of "Shapes" are ideal for kids between 3 to 7 years old.
Volume 2 and 3 talks about "Use Your Intelligence" and "Look Before You Leap" respectively.

Every story will always end with a moral summary, often encouraging kids to pick up good habits and attributes.

Boon Xin loves The Grumpy Tree (爱发脾气的大树). It tells the story of a unfriendly tree who chase away all his friends. The Tree later realised that friends will always standby us, and help us in our times of need.
"友情是可贵,要好好珍惜" (Friendship is precious, we must treasure it)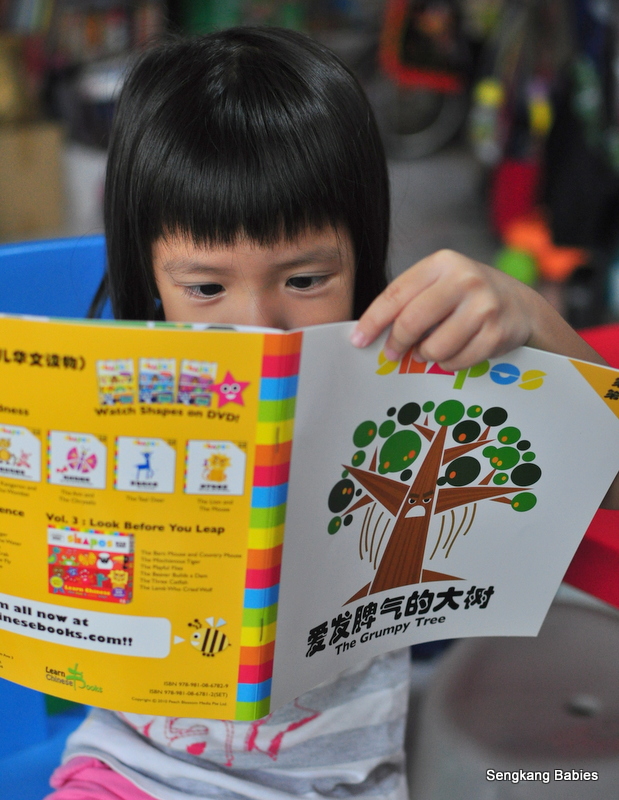 "Read with me Mommy's" Marketing-team would love to share the love of reading with more people. There are two promotions for SengkangBabies' readers :
1) The Store will be giving away one volume of "Shapes" worth $45 to a lucky reader :
a. Like ReadWithMeMommy and SengkangBabies fanpage
b. Answer this simple question on our Fanpage. Which volume (1, 2 or 3) do you like and why?

c. Contest ends 03Feb 2300, and winner will be randomly picked
2) From now till end February, in line with Chinese New Year, customers who key "SengKangBabies" during checkout, will get a 8% off all their purchases + free local delivery + 5% return voucher.
** Do take note above promotions are only valid for Singapore based customers.
About Read With Me Mommy Bookstore:
Read With Me Mommy Bookstore puts together chinese storybooks for young children. Each product is specially selected and reviewed. For every book, we have included a short description in English to enable parents who has lost touch with Chinese language to be able to better understand the content of the book that they are buying.
The Store shares with us that their most popular series are from "我会读" (I can read). Consisting of 5 levels, it uses a progressive approach to aid parents in the teaching of Chinese language to their kids.
We hope that more families can start to pick up a Chinese book and start reading to their child at home. With early exposure to Chinese, we hope that it can cultivate their liking for the language from young.