We woke up earlier to participate at Touch Giving Festival 2019. Organised once a year, proceeds from the carnival and charity goes to support Touch beneficiaries.
For the first time, we joined the 4km walk and jog. Countless families walk along Kallang Basin.
There are mini obstacles along the way, and motivation posters.
Runners can choose to support one HOPE initiative. We chose Yellow or Child and Family.
No3 Boon Yee ran with me, while Mommy and no2 walk behind. Boon Xin sprained her ankle and waited for us at the end point.
Scenic waterfront area.
A short 45 min walk and jog. Finally, whole family is back at Singapore Sportshub area.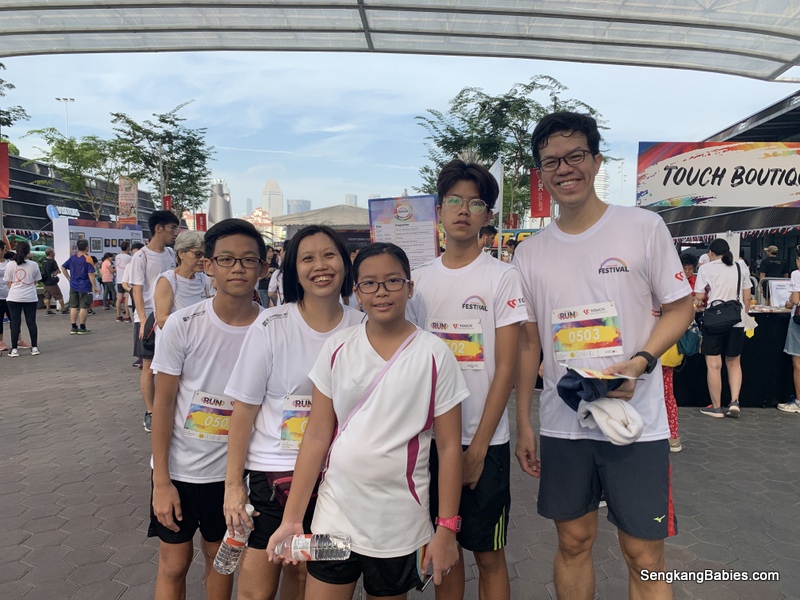 There are plenty of activities for young and old at the Touch Giving Festival 2019 carnival. Through the sales of coupons (for activities and food), proceeds will go towards helping Touch beneficiaries.
We are famished after the morning exercise.
More importantly, the carnival shares more about how Touch is reaching out to the community. Participants get to experience some of the "inconveniences" too.
Some of us might need emotional or physical support. You may read about another Touch initiative here (blog Meals on Wheels).
Through our small effort and contributions, I hope the kids can learn more about empathy. 有钱出钱 有力出力!
Each of us can bring a little change and hope for the community.    
It is always more meaningful when the whole family can contribute to charity together. You may read about our 2018 Touch Giving Family experience here.
Thank you to Touch for the meaningful invite.
Do follow Touch for more community outreach campaigns and volunteering opportunities.
– Website
– Facebook