[ Media Invite ]
We have heard good reviews of 美滋锅 Beauty in the Pot, and their hearty  steamboat broths. We were at their OneKM Branch last week.
Before we start feasting, the unusual pink decor got my attention. Not really feminine but it reminded me of medium rare premium quality beef 🙂
Ok, we heard the pink theme was inspired by Cherry Blossoms.
Although decor is pink , guys would enjoy the soup base and company too. Our female friends and family will love us for the tender nourishment treat 🙂
Six Hearty steamboat soup base to choose from!
Beauty in the Pot menu promotes Health and Nourishment. We got the famous Beauty Collagen Broth (Shark's cartilage soup), Spicy Nourishing Soup (Pork Bone), Herbal Drunken Chicken broth and Cooling Coconut Broth.
Our favourite is the Chicken broth, sweet rice wine infused, the broth is simmered slowly with kampong chicken and plenty of herbs.
The collagen broth was delicious but we got a bit overdosed. Every ladle filled with collagen-rich goodness, your skin will become more radiant 🙂
Coconut broth was refreshing for us. Made with fresh coconut, the soup soothes our throat and was cooling, a good counter to the potent Mala.
Each broth has its own specialty, and we got the luxury to choose from 4 pots, spoilt for choice!
The taste factor will only get better, once we soak in the other ingredients. Our family was pampered with a wide spread of delicious dishes, a satisfying and heartening steamboat for the family.
You must compliment your dinner with condiments too, there are  instructions to concoct your own sweet sour spicy sauce. Anything Goes 🙂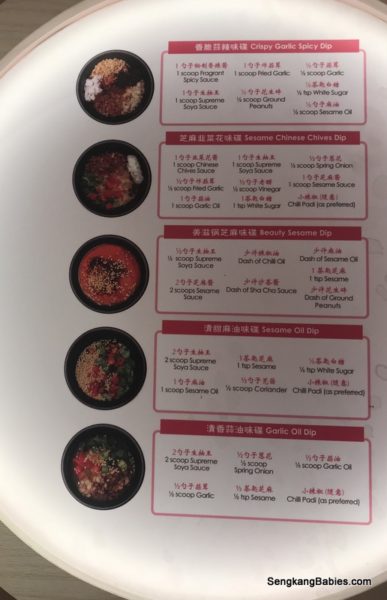 Our steamboat dinner is not only delicious, our plating looks good too.  Chefs would meticulously craft the ingredients into creative art pieces.
Look at some of the delicious morsels below, the presentation surely scores some points 🙂
(Ebiko prawn paste $18.80) The prawn essence will add a punch to your broth.
Signature Homemade Fish Tofu (2 per piece consisting of yellowtail). Just let them swim inside the pot and simmer, enjoy the sweet tofu with your rice.
Assorted Balls platter ($12 per plate), meat balls and scallop are popular with kids.
Below, Fried Fish skin($10.80) appetiser is so crispy and good, my camera failed to take a decent shot before the kids' assault.
Prawns are very fresh, sweetness enhanced by the broths.

Love 和牛 wagyu beef (Left pic below), simply melt in our mouth. Look at the tantalising marble, Yummy.
Alaskan crab is very popular, we quickly finish them off. Sweet and succulent.
木耳 (Mu Er), crunchy and yet chewy texture (more for the adults).
The most popular dish for us is the humble beancurd skin!
How can they make something basic so attractive and enticing, just dip for 10 seconds and bite into pure crispy indulgence (Fried Beancurd Skin $9.80)
We struggle to finish the food on our table. It is always more fun and enjoyable to eat with family or friends, and our serving is meant for 6 to 10 pax.
Really soothing to see the kids helping each other to prepare the ingredients and scooping for each other. They enjoyed preparing the food more than eating !
Steamboat lovers rejoice, too much good stuffs. Every pot delightful 🙂
Fun when the family cooks together.
If kids need extra fun, they just need to head outside. There is an exclusive playground, and parents can enjoy their steamboat while tracing the kids' movement. How cool!
Dessert for us is Pomelo juice. It got the soju feeling, light and delightful, the tanginess really cool us down and help us to digest.
A few additional tips :
-The service folks are too courteous, they constantly bend 90 degrees to express their service, but it makes us awkward (paiseh). Initially, when they bend halfway, I thought they were checking the fire or drawer below our dining table :p
-Our table got too much good food, we had problem remembering which ingredient need to dip for how long. Maybe Beauty In The Pot can prepare as small slip to remind us? (or we can always ask the friendly staffs)
We would like to thanks Beauty in the Pot for the wonderful hearty steamboat. Discover Beauty and a hearty steamboat at Beauty In The Pot, we hope your family will enjoy 美滋锅 nutritious meal and hospitality too.
Contact : 6284 8820
Opening hours : till 3am
Website: https://www.paradisegp.com/brand-beauty-in-the-pot
Address: 11 Tanjong Katong Rd, #03-38, OneKM, Singapore 436950