What does Spring (春天) brings to mind? Daddy thought Spring always symbolise Life, a new Beginning, and blooming Flowers.

Marina Bay's amBAYssadors were invited to explore Gardens by the Bay (GBTB)'s Spring Celebrations, and also a special Lo Hei (撈鱼生) at Majestic Bay Seafood Restaurant.

We started our tour, by visiting the Garden's sculptures. We all know the famous Conservatories (Flower Dome and Cloud Forest), Supertrees but there are pockets of little gardens and landscaping dotting GardensByTheBay. Some sculptures look differently when viewed from another angle.

Someone commented Merrill Lynch's Bull is very verile, is it any coincidence the Bull is placed at GBTB's Bull-Ring?

At Heritage Gardens, you can find Elephants, Rabbit, Stones (in their natural state), and Malay Kampong style house.
Kenneth Er (Gardens COO) told us that Buddha and Bodhi tree placement reflect Buddha's journey from India to China. He also shared why some Elephants are missing ear-lobes (souvenirs).

Then we came across this hugh Baby. His name is Planet, and his Daddy is Marc Quinn. All 7 tons of Planet is resting on one hand, breakdancing?
From certain angle, Daddy is amused that Planet looks like Humty Dumty falling off Marina Bay Sands.
GBTB has fenced up baby Planet, in case some Singaporeans decide to heed our Government's baby bonus initiative and rub the baby.

The highlight of our tour is Flower Dome's Spring celebrations.

Flower scent hits our nose when we step into the Dome. More details about Gardens' Spring Celebrations here.

2013 is the year of the Chinese Zodiac Snake. How many KumQuat (金橘) snakes can you count?

Every corner we turn, fragrance greets out nose. Take a deep breath.

We saw many couples romancing under the hut, surrounded by an explosion of colours.

These are some of the other festive flowers around Flower Dome (click for the names). 春天来了, Spring is here.

We always remember the 1000 years old BottleTree (baobab) in Flower Dome, but did you know about the 500 years old Camellia tree? Also known in Japan as "Roses of Winter", this grand old lady is still blooming.

We end the evening with Lo Hei at Gardens by the Bay's Seafood restaurant Majestic Bay. With Flowers blooming and yuSheng, we shall welcome the Snake year together.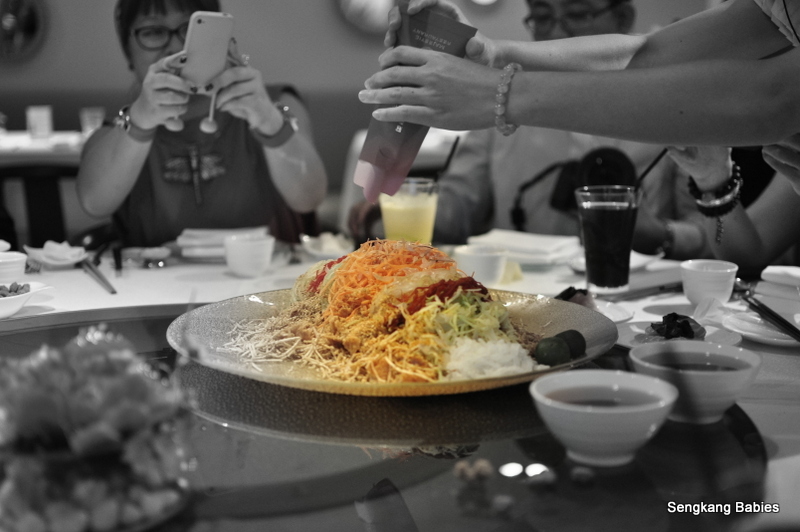 We would like to Thanks GardensByTheBay for the invitation, and it was nice to catch up with fellow amBayssadors again.
–> Spring Celebration activities can be found at GardensByTheBay link.
–> More flower photos can be seen on our fanpage