WHAT a Colourful RUN! Color Run 2018 🙂
It was our first Color Run 2018. We have participated in many family races before, but none is as colourful and outlandish as Color Run 2018 :p
Our running t-shirts before and after the race 🤣, was totally unrecognisable. We started with White but ended with rainbow of colours haha. Even our hair changed colours.
The run was a good opportunity for Boon Wee to take a short break from his exams preparation.
The crowd, the atmosphere, the spread of cheers and colours brought the event to a high.
Color Run 2018 venue was at Sentosa Palawan Beach.
I did not expect so many families to turn up for this run, venue was packed with happy spirits (and Unicorns and Tutus and Ponies)  and everyone was raring to GO.
No wonder they call Color Run the Happiest5K run 🙂
Participants were celebrating Health, Happiness and Individuality.
Some event booths activities for the participants, and Unicorns led us through a warm up session.
Weather was hot, but it did not dampen our spirits. Once the race started, most of the route was under shades.
Spotted plenty of Unicorns and Little Ponies in #ColorRunSG

Alas, the 1st to 2nd km marker was not a Happy Route as many struggled to run up slope along Imbiah Hill.
Many chose to walk instead 🙂
I never knew about such a scenic and tranquil trail before Color Run 2018.
Running under familiar Sentosa Island icons. No matter how tired, we must remember to selfie and have FUN.
Enjoying the moment. We learnt quickly to keep our mouths closed when volunteers splash colours :p
EMBRACE the colors! Make ourselves as colourful as possible haha.
Boon Wee trying to evade the volunteers haha!
He did enjoyed the race and would like his siblings to join next year 🙂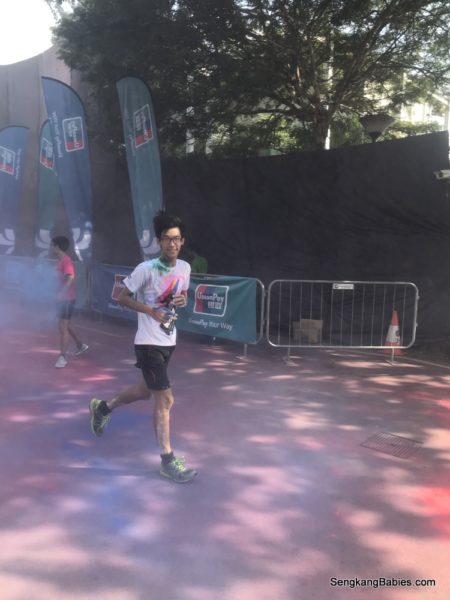 Video ( YouTube Link) : Check out how we dashed through all the Colors !

One section got a bubbles bath haha, we dashed through it and was soaked in soap and shampoo. A cool respite from the run but I hoped the fan (or blower) was bigger though
This sounds weird but we were sweating multiple colours haha, yellow, purple, red and blue. But the smiles are across all the runners.
5km completed, I turned into a blonde

We definitely Ran in Style!
Families finishing together
More Happy faces on IG #ColorRunSG

We stayed behind to cheer the the 5pm runners. Get ready to be splashed with COLOURS even before you start!

We spotted a "Super ON" photographer (ie enthusiastic) prowling the grounds at Palawan. She was coated in green just like HULK but her megawatt smile was charming.
I hope her DSLR is colour proof 🙂
Thank you UnionPay for the Fun invite, we enjoyed the Run! Event was very well organised and the atmosphere was electrifying.
Do follow Color Run Singapore on their Website and Facebook. Take a look at the post-run Color Blast "concert" on @theColorRunSG Instagram !
We do have one recommendation for the organisers. Please consider two water points, especially since we are running under mid-afternoon sun and route has uphill elements.
ps.. Do follow our family's running adventures here-> #skbRunning