Enjoying my sweet Bo Bo Cha Cha (also known as burbur cha cha or 摩摩查查  ).
#DadAndDishes is an initiative from DaddyMatters 🙂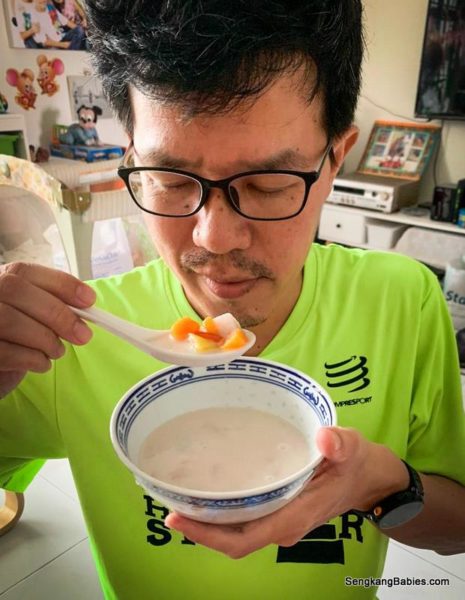 With Covid 19 and circuit breaker, two trends have emerged.
People are cooking more and doing more sports too.
We are also trying to be creative and keep everyone sane, healthy and positive. A few Dads decided to make their families happy and proud through food 🙂
I was game to join the initiative, even though I cannot cook.
(Excuse, I am really good at washing the utensils)
Ingredients
-Sweet potato
-Yam
-Tapioca flour
-Sago beads (optional)
-Pandan Leave
-Rock sugar
-Coconut milk
Preparation
1)Peel the sweet potato and yam, then slice into cubes.
Steam 30min until soft.
2) Mrs had earlier kneaded the tapioca flour. We added colouring to make them blue and pink.
(You can tell I am a cooking noob, nobody stir with a teaspoon! Mrs was in the kitchen to ensure I did not burn in down… )
3) Boil the mixture until slightly translucent (about 20 minutes), stir constantly to prevent stickiness.
At about 10 minutes mark, add the sago beads (optional).

Scoop the tapioca into another bowl.

4) Add pandan leaf to a big pot.
Add rock sugar and boil till sugar melts (about 10 minutes).
Low heat and simmer.
Final steps.
5) Pour everything inside the big pot, keep stirring.
6) Still at low heat, add coconut milk and a pinch of salt. Keep stirring.
(Coconut milk sweetness up to individual, we used 1 package, some use 2)
You should be able to smell the fragrant pandan and milk.
Keep stirring until slight boiling (bubbles).
Bo Bo Cha Cha dessert is served.
I prefer it warm but Mrs prefers it chilled.
I hope my family would enjoy the dessert, it is the effort which counts 🙂
YouTube Video (Link)

Thank you to TheBurningKitchen for the recipe.
You guys can also Google for more Diy Bo Bo Cha Cha recipes and videos.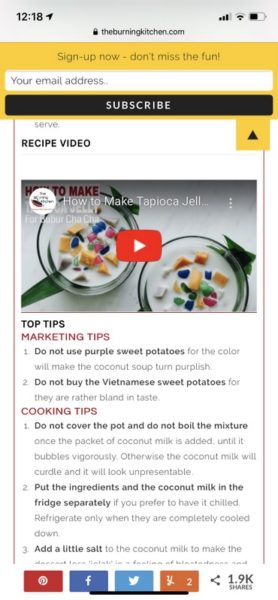 More dishes from the Dads at hashtag #DadAndDishes :
-Kelvin's Ham Egg Cheese assortment
-Lawrence's Hokkien Prawn Mee
-David's Ramly Burger
-Winston's Sous Vide Wagyu!
-Andy's Bo Bo Cha Cha
Disclaimer: My cooking skills and culinary vocab sucks. I cannot guarantee that your dessert will be sweet, or whether your family members will "pass" the taste test :p