Not too long ago, Daddy used to resist a GPS (Global Positioning System).
He says it removes the joy and adventure out of a road trip.
Yes, even if we miss a turn or exit, that is part of the road trip "fun"…
but kids are not impressed.

Maybe it is the macho stuff, where guys need to be able to topo (navigate) and find their bearings anyway everywhere.
After a few painful "hollands" (navigation failures) near Melaka, Daddy is finally convinced GPS is not a nice-to-have, but a must-have. Maybe it is the constant reminder from the Mrs (you just over shoot the landmark again!) or worse, kids (are we there yet?)
Back to our topic, we will share why a GPS is useful when we travel up North.
It brings us to the last M-I-L-E.
Trust us, in Malaysia or any other country bigger than Singapore, that last mile can prove elusive. When we are hunting for food stalls, you really need to be precise to the street name or junction ! Otherwise, kids will be clamouring (we are hungry) again !

A GPS's basic role is to bring us from point A to B.
Garmin, Tom Tom, and Marbella are some of the popular brands in Singapore's IT fairs.
Nowadays, a GPS has more functions and computing power.
Do we really need a bigger screen, voice activation, smart phones connectivity ?
Daddy thought the extra functions might end up distracting the driver.
Get familiar with your GPS system in Singapore before driving into Malaysia.
Some newbie questions which we encounter before :
– do I need to set country to Malaysia when I drive to Malaysia? (nope)
– does GPS needs a constant internet or connection? (nope, as map is preloaded)
– so many ways to input the destination, POI (points of interest), postal code, street name, coordinates (GPS). Even Image (landmark) Geotag.
– you can even use your mobile phones to push the coordinates directly into your GPS unit
– One constant issue is loss of signal when we travel under a flyover. Those entering Johor via Woodlands custom will understand the challenges like the sharp bends, overhead flyovers, your GPS will be barking turn\keep left\right every 100 metres !
Focus on the road first and only GPS-navigate when you are confident of road conditions. Do not cut lanes abruptly or brake suddenly, you can always U-turn further up.
Another less common issue might be to convert your GPS coordinates from Decimals (eg Google Earth) to Degrees and Minutes.
Example Legoland's GPS Coordinates :
– Degrees, Minutes, & Seconds: 1º 25' 38″ N 103º 37' 47″ E
– Decimal: 1.427361, 103.62987
– GPS: N 1 25.642, E 103 37.792
Your GPS unit might not understand Decimal coordinates, and we need to convert them into Degrees.
1) example how to change decimals "1.427361, 103.62987".
2a) Use the digits after the point, ie 0.427361 x 60 = 25.64166, we round up to 25.642
2b) 0.62987 x 60 = 37.7922, round up = 37.792
2c) Thus we get "1 25.642, 103 37.792"
Alternatively, we can use a convertor — http://www.csgnetwork.com/gpscoordconv.html
What features do you like in your GPS?
– lifetime map update for SG and MY ?
– ability to find carpark lots?
– detecting the next speed-trap (illegal in Singapore)  (updated 201710 – try Waze)
– one day, our Smartphone will become our default GPS navigation unit
– bigger screens?
– detours, traffic jam avoidence
– GPS unit price can range from $150 to $500++, what do you need?
– ability to tell Tow Truck or Ambulance your location coordinates
Daddy is still primitive when it comes to GPS, he justs punch in the numbers, and listens to the instruction. He does not need to understand the satellite and receiver technology behind the GPS infrastructure,
Viola destination, Hooray food trail, yeah 燒肉 !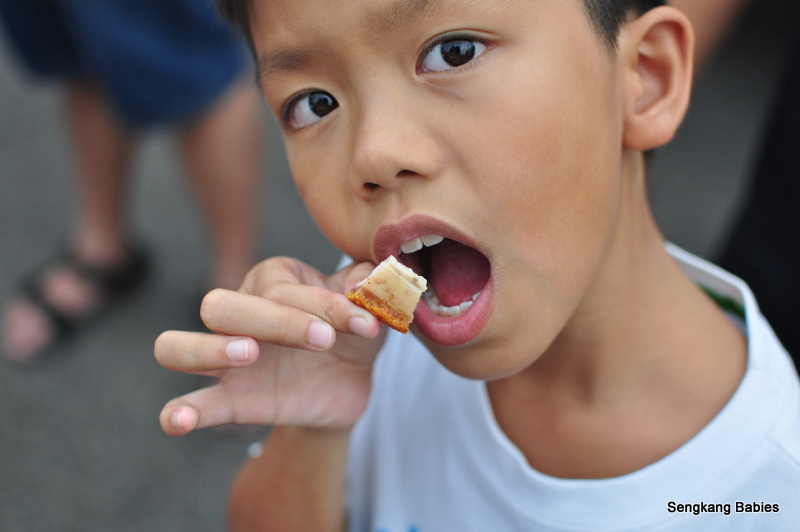 If you find the hungry kids photos irresistible, do pop by our recent Food trail Johor and Pasar Malam KSL city. Do not visit the albums on an empty stomach !

Now that you are more familiar with your GPS system, review our Holiday destinations in Malaysia ! We have some Driving tips too, in case you are apprehensive about driving up North.
More GPS (Garmin) features on this video clip "Coordinates on GPS usage".
Thank you to our humble Garmin Nuvi 1250 🙂
You have brought us so much Fun, and Food.
ps.. do pop by our Google Map hacks too