Somewhere in Sembawang, you can find a famous White bee hoon 白米粉 stall. It is so famous that we queue one hour, even when we arrive at 5:30PM ! Look at the empty plates, it is an understatement to say we relish our dinner :p
Customers will place their order while queuing, so once you have a table, we did not wait too long for food. We start with fried rice, in case the kids do not appreciate the Bee Hoon.
If you love Malaysia's wok-heavy fried rice, you will love the crispy version here. Just sprinkle fresh parawn, and kids are hooked.

Kids will love the cruncy and chewy calamari.

The sweet sour pork is so so only.

Egg omelette, we could not order the famous bittergourd omelette as kids might not appreciate the veg.

The star is of course our white bee hoon (白米粉). The savory bee hoon just glide down our throat. Smooth gravy filled with prawns and squids. We use the soup to wash down the other dishes. It is good enough on it's own !

Our dinner came under $50, in summary :
1) Fried rice 4/5
2) Sweet/sour port 3.5/5
3) Egg omelette 3.5/5
4) Calamari 4/5
5) The Seafood Bee Hoon 4.5/5
We cannot cover all the nice food in one trip, please drop by our friends' posts.
– Klessis
– BookJunkie
– FoodieFC
You can ask our kids whether the food is nice keke.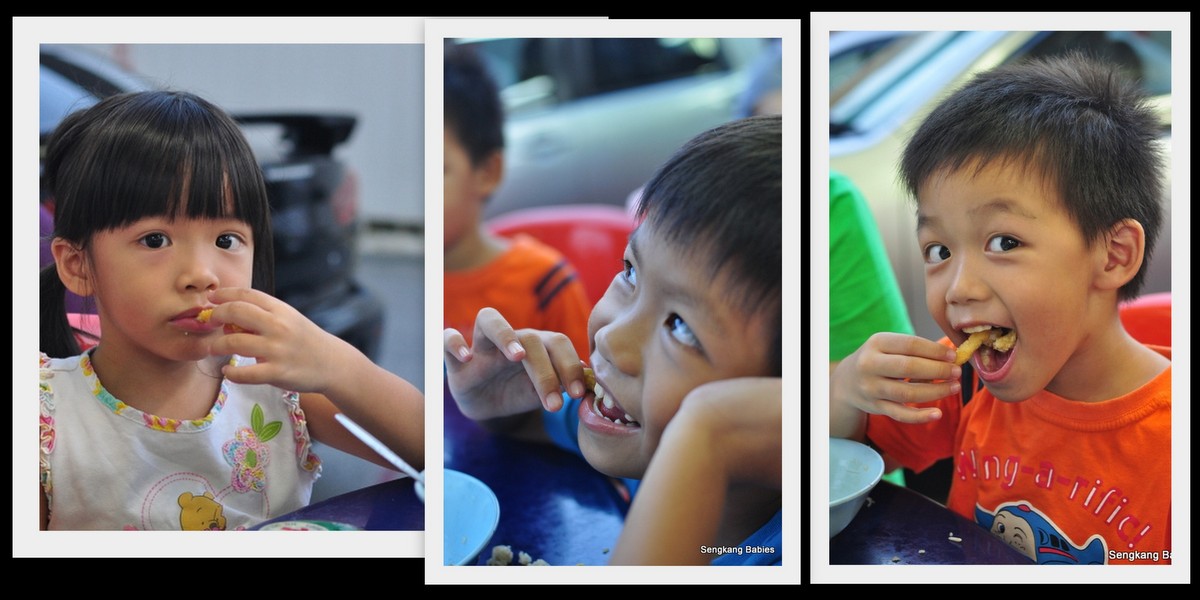 More make-you-hungry photos can be found at our Fanpage food album.
You can reach White bee hoon 白米粉 at :
– 22 Jalan Tampang (opposite Sembawang Shopping Centre, park your car at SSC)
– Contact 98434699 (no reservation allowed)
– Sembawang 白米粉 fanpage