[ Review ]
Kids remembered our splendid dining experience at King Louis' castle (at Vivocity).
Yes, the knights, castle theme, and HUGE plate of meat, pork, chicken, beef and lamb!
We could smell the sweet grill meat again when King Louis delivered their "Festive Dining" package to our home.

King Louis' "TakeHome package" retails at $178.80++, and is only available from 01Dec to 05Jan2014. Those who place an order before 15Dec will enjoy a further 15% discount.
The poster indicates a hearty mix of grill meat and salad too.


(poster credit King Louis)
Now comes the challenging part, we have to lay out the table, and wait for Daddy to take some photos first. The kids are hungry and cannot wait to feast!

Who can blame the kids? The Baby Back Ribs smells so nice and juicy, very seductive !

The festive package also comes with a bottle of Chardonnay or Cabernet Sauvignon.
With good wine and friends or relatives, we are ready for our early Christmas party.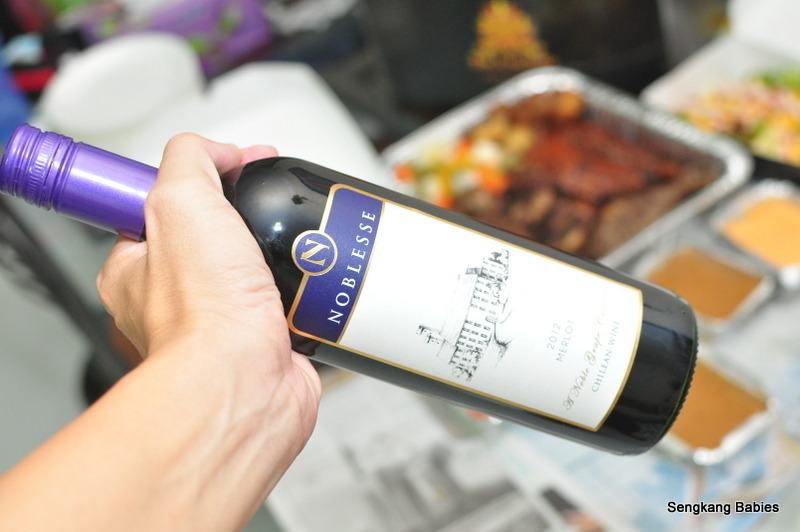 What did we tell you about our previous experience with King Louis?
It is meat, meat and more meat haha. Carnivores rejoice.

Above, we have BBQ Wings and Banana Bacon Bite. Do order more of the latter as they are never enough when we have kids around.
The plate below contains Roasted Beef, Baby Back Ribs, roasted Queen Pullet and Lamb Steak. King Louis' takehome banquet is meant for 5, but Daddy suspects it can feeds 7 adults easily !
Everyone could not wait to tuck into the succulent meat platter.

The turkey ham garden salad is actually a refreshing appetiser, love it!

Kids are hungry and parents are busy snipping the meat into smaller strips 🙂
We also brought fried rice in case some kids still prefer rice for dinner.

But we love to serve the kids, look at how they are enjoying themselves !
We can talk and laugh loudly in the comfort of our own home, no need to dress elaborately for a restaurant outing.
Cousins (good friends) and good food, we have all the ingredients for a fabulous party.

Another advantage of eating at home, Boon Yee can tuck into his favourite Baby Back rib with his bare hands 🙂
Finger licking Good !
Thank you King Louis, we believe your takehome package would be ideal for a Christmas celebration at home.
We love the handy takeaway box too. After a party, we can simply dump everything inside and dispose of it. Clean and non messy.

There might be only one complain from us, the beef is half-done and thus too tough for kids to chew. If you are expecting kids for guest, medium well-done or well-done would be more suitable.
What do we like about King Louis' TakeHome Fine Dining package?
– Value for money – 4/5 (we got 6 adults and 6 kids, and extra side dish)
– Quality of grill – Everyone loves the juicy Baby Back rib (4.5/5), and Banana Bacon bite (4.5/5)
– Convenience of ordering and delivering, and dining at home – (4.5/5)
– the takehome box kept the food warm until it is served
You can order King Louis' takehome set too, and indulge in their meat platter.
Just dial 6276 0862 to Feast like Kings !
For more details about "The King Louis Grill and Bar" :
– Facebook
– Instagram
– Website
– Address – 1 Harbourfront Walk, VivoCity, #03-07A, S098585 (Beside Daiso)
Click for our previous dining experience at their Vivocity branch.