[ Media Invite ]
The Soup Spoon Group has a Cartoon Network  cafe (themed) at Punggol Waterway Point.
Cartoon Network  fans would go gaga over Ben10, Powerpuff girls, We Bare Bears and Adventure Time! The cute menu itself heightened our expectations.
Even I am impressed at the efforts taken to make our food adorable.
Look at the cute milk shake! I could not resist a Ben10 root beer float! Must Order 🙂
The highlight for the cafe are the indoor decorations, featuring the wall cartoons and overhanging characters. It really brings our dining experience up one level.
You might be able to enjoy Cartoon Network screening at one corner too.
While waiting for their food, kids can doodle their own cartoon creations.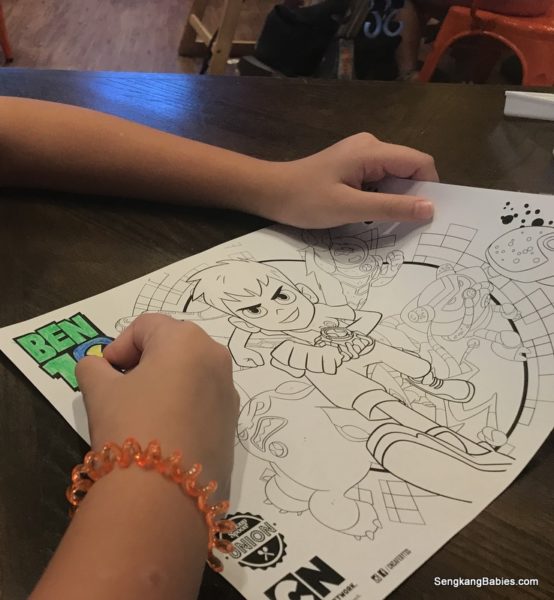 Our dinner did not disappoint. "Adventure Time waffles", We Bare Bear steaks, or Ben10 pizza.
Never mind if we got the food item names wrong, the themed food are too cute to eat. Wait, we must feed our Instagram first 🙂
As the main course roll out one by one, they all put a smile on our face. We have not even tasted the dish yet but the cartoons are a Plus factor.
The food is actually quite appetising, Kang loved his Grizzy Beef Burger 🙂
Do order the chicken drumlets 🙂
Our appetiser and desserts (Milk shakes) really stole the show.
Please ask for deserts to be served last. Otherwise kids would be too engrossed in finishing their milk shake and desserts before their main course.
If you are a Cartoon Network fan, do head down to Punggol waterway's "The Soup Spoon Cartoon Network Cafe" soon. Take note Cartoon Network decoration and themed food is only available at Punggol branch.
We would like to thanks The Soup Spoon for the fun and interesting invite, we had fun taking photos and enjoying our dinner.