Kiwifruits be it Gold or Green, Boon Kang loves them all.
He is someone who likes sour fruits.
We absolutely love his expression 🙂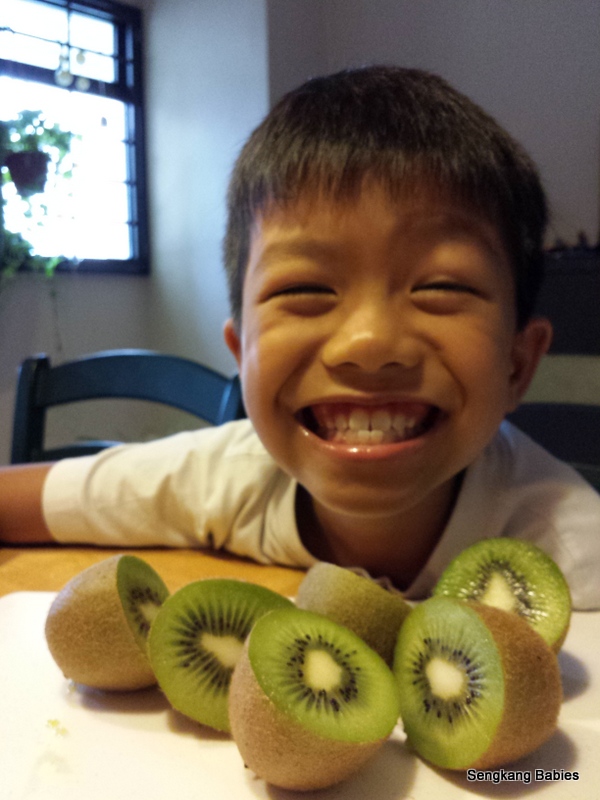 For the other kids who might not be so enthusiastic, we can always mix ice cream with kiwifruits. Boon Xin agrees with us that there is nothing more refreshing on a hot sunny day 🙂

Zespri has kindly sponsored 5 packets of Goodie bags for our fans. Each bag contain cute toys, stickers, a kiwifruit-container, and an umbrella.
Contest details :
1. Like SengkangBabies and Zespri Fanpage
2. Just leave your name and email address on our Fanpage here.
(If uncomfortable, you can message us)
3. Share our Fanpage contest on your Facebook wall.
4. Giveaway ends 24th Aug 11pm, and 5 Winners will be randomly selected
Meanwhile, parents might be interested to participate in Zespri's 14-day challenge.
You can learn about new recipes, tips on improving our health, and more excuses to have family picnics.
Click to enter Zespri's 14 Days, 14 Easy Ways to A Healthier You!
Interested to know more about Zespri Kiwifruits ?
Do pop by their website and fanpage.