Go figure, Indonesia has 17,000 islands but most of us only know of Batam, Bintan and Bali 🙂
Together with fellow Nuffnang bloggers, our 5D4N East Java itinerary took us across volcanoes, sunrise and beautiful landscapes.

Our 5D4N East Java trail started from Bali and ended in Surabaya, before a transit at Jakarta.
1) Bali, 2)Banyuwangi, 3)Kawah Ijen, 4)Mount Bromo, 5)Malang, 6)Surabaya
We did not visit A)Baluran National Park (little Africa) and B)Madakaripura Waterfall (wow!), but from photos and reviews, both are highly recommended.
Besides the awesome itinerary and youthful bunch of kakis, we also got to enjoy Garuda and Tourism Indonesia's generous hospitality! We were treated like VIPS from transits to transfers, from propeller to ponies to jeeps and coaches. Comfort and convenience was a granted in all our accommodations.
Every need was anticipated, very request fulfilled.
I just need to enjoy being a tourist hooray!

It happened to be my first non-business trip in a long time, traveling on my own without constantly worrying about the kids. The sense of freedom was liberating, I craved for the adventures and adrenaline yet I felt guilty about enjoying the moments without my family.
Whether I was inhaling sulphur fumes at Kawah Ijen, or kicking volcanic ash at Mount Bromo, family was never far from my mind. I kept thinking how we could admire the beautiful and majestic volcano ridges together!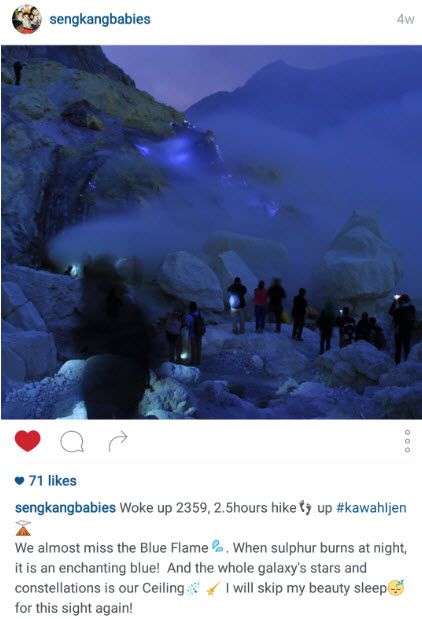 To be frank, it was quite tiring on the first two nights, we got to wake up at 2359 and 0100 to hike up Kawah Ijen and Mount Bromo! But the views and landscapes were totally worth losing a few hours of sleep.
I can now uncheck volcano from my bucket list 🙂

Another surprise for most of us. Garuda Indonesia has revamped its image and garnered a few accolades over the years.

Accolades:
– Received a 5-star rating awarded to airlines at the forefront of product and service delivery (7th airline to earn this accolade)
– Award-winning airline – 'World's Best Airline Cabin Staff' in 2015 and 2014, 'World's Best Economy Class' in 2013 and 'World's Best Regional Airline' in 2012 by Skytrax World Airline Awards
– Extensive flight network as the 20th member of the SkyTeam alliance with modern and young fleet of technologically advanced aircraft
When someone tells you Garuda is KING in Bali, trust him! We were treated like VIPs!
Let me share more good news with you :
~~~ ~~~ ~~~ ~~~ ~~~ ~~~ ~~~ ~~~
1) Garuda Indonesia Promotion: Garuda x Nuffnang
Special promo price: SGD 350 (all inclusive)
Booking period: From now till 31 Oct 15
Travel period: From now till Mar 16
Destinations featured:
Departure: Singapore – Denpasar (Bali) – Banyuwangi
Return: Surabaya – Singapore
Booking details: Tickets are available for purchase at Garuda ticketing office (101 Thomson Road #12-03 United Square) or via the reservation hotline 6250 2888.
Promo code: Please quote 'GANuffnang' when booking
You may reference or book land tours from "Trisno from Diorama Travel Management, trisno@dioramagroup.net".
2) ACE Insurance Promotion
Simply visit www.acetravelinsurance.com.sg/nuffnang to enjoy discounts off your next travel insurance.
Mechanics:
– 20% off Single Trip Plan*
– 10% off Annual Plan
*Not applicable to Basic Plan for Malaysia/ Batam/ Bintan
**Medical claims in Singapore is valid for 31 days provided medical treatment is sought overseas
***ACE Insurance promotion ends 11th Oct 2015
~~~ ~~~ ~~~ ~~~ ~~~ ~~~ ~~~ ~~~
We will be sharing more sights, sound and smoke from our East Java Itinerary over the next few days.
Video (Link): Meanwhile, I have compressed our 5D4N east Java Itinerary into a 8 minute clip

Meanwhile, the following albums have been uploaded onto our Fanpage:
– Day 1 blog- 5D4N East Java Itinerary
– Day 2 and 3 blog – Kawah Ijen or Mount Bromo
– Photos Day 2 Kawah Ijen
– Photos Day 3 Mount Bromo
Wonderful Indonesia!

All our flights, accommodation, food (and Bali massage too!) were sponsored by Garuda Indonesia and Ministry of Tourism (Republic of Indonesia). Insurance sponsored by Ace Insurance.