We explore Sabah Street Food in this post.
Kota Kinabalu (affectionately known as KK) will be our base for our vacation in West Sabah. One of our initial objectives was to discover Sabah Street Food. (Pineapple Bun from Keng Wah Hing)
We stayed at Klagan hotel, which is centrally located, and walking distance to nearby food joints and tourist spots. Do pop by our Sabah Itinerary for a list of actions over our 8D7D stay.
~~~ ~~~ ~~~ ~~~
Earlier in Singapore, we arrived at Changi Airport in limousine comfort and style. We were invited to try Blacklane's VIP service. Our luxurious Alphard can comfortably fit "bigger" families, and we did not have to commute in two cabs. You too can book a ride from Blacklane website.

We reached Kota Kinabalu after another 2.5 hours flight. Klagan hotel is in the city center, rooms come with basic amenities and our package came with daily breakfast buffet.

View from our room, you can choose either sea (harbour) or city view.

Shopping malls, supermarket and food court near our hotel. We noticed there are a lot of pastries stalls (both upmarket and coffee shop) around. Kids do not have an excuse to go hungry 🙂
Do take note shopping malls close by 8.30 or 9pm, too early for Mummy Mengchoo.

View of KK from Signal Hill Observatory Tower. You can walk from East to West in about 45 minutes.

Some of the Landmarks in Kota Kinabalu, (L)Sabah State Administrative Centre and (R)Kota Kinabalu City Mosque (also known as The Floating Mosque).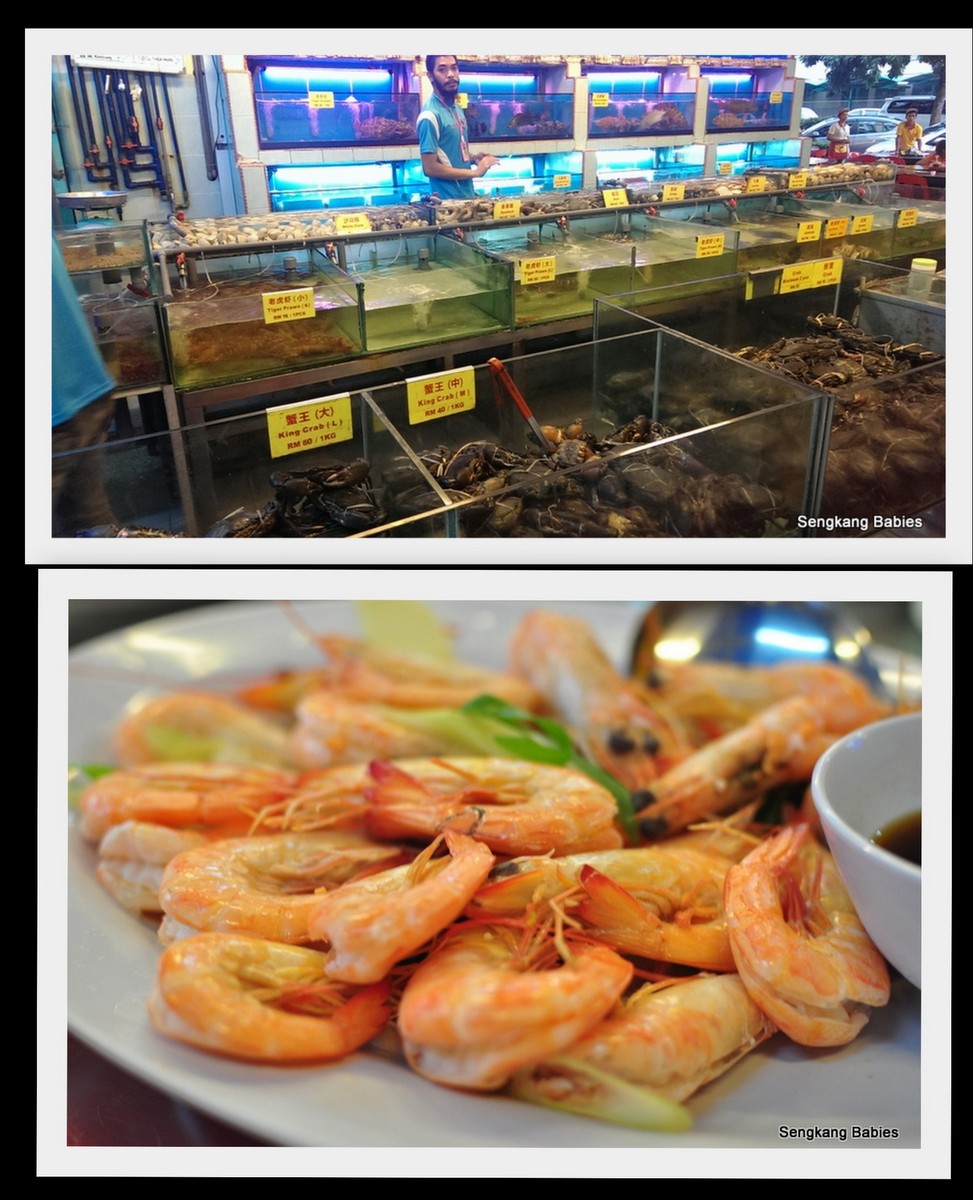 Mention Sabah, and seafood comes to mind. Even friends from Western Malaysia find Sabah's seafood cheap 🙂

Tuck in, yummy prawns and crabs. Price is indeed cheaper but we still prefer West Malaysia (and Singapore)'s seafood. Sabah's seafood is slightly bland. Infact, we found most of the "famous' food in Sabah so-so only. Decent and tasty, but nothing spectacular.
Good traditional coffee (Kopi) is hard to find too, you might want to consider bringing your own 3-in-1 stockpile. You can find good Teh Tarik everywhere 🙂

We did not really explore hard enough to find the best Sabah Street food, but we can assure you that Sabah has tons of family friendly activities!
Do pop by our Sabah itinerary and photos below.
– Sabah 8D7N itinerary
– Sabah Day 1 – Street street food discovery
– Sabah Day 2 – White Water Rafting!
– Sabah Day 3 – Twin Islands Hopping
– Sabah Day 4 AM – Desa Cow Farm
– Day 4 PM – Kinabalu Park
– Day 5 – Poring Hot Spring + Waterfall + Canopy walk
– Day 6 – Gaya Island Resort – Luxury Villa
– Day 7 Gaya Island Resort Family Activities
More photos have been uploaded on our Fanpage album :
– Day 1 and 2 – Klagan hotel, White Water rafting
– Day 3 – Water sports, Island hopping
– Day 4 – Desa Cow Farm and Kinabalu Park
– Day 5 – Poring Hot Spring and vicinity
– Day 6 – Gaya Island Resort
– Day 7 – Snorkeling and private beach
– Day 8 – Hiking, Home sweet home