Elephant (大象) and Whale (藍鲸) in a Mandarin class? Actually, these are props used by teachers to attract kids' attention. We understand that each lesson will showcase different animal characters.

In another segment, kids have to use Mandarin instructions "左右停走" to navigate their  blind partner to pick up the correct flash card.

We got an invitation from Chengzhu Mandarin Centre (成竹华语中心) to attend their Chinese curriculum course. Chengzhu is part of "Julia Gabriel education" group.
It was interesting to see how Chengzhu's passionate teachers go about enhancing the kids' interest in Mandarin curriculum. The school firmly believes in instilling a love for Mandarin in the kids first.
Kang's teacher is Teacher Yu, who nurtures the kids to appreciate "Mandarin" classes, through story telling, followed by quizzing the kids on their understanding (comprehension).
Kids are encouraged to form sentences with the new words they learn today.

ChengZhu's Mandarin curriculum follows MOE (Ministry of Education)'s curriculum. Teachers will keep emphasizing our kids to reply in full sentences, instead of words. (parents with Primary school going kids will always be puzzled why the correct answer will only get 1/2 mark, and only a full sentence gets you full mark)

What impress Daddy is the 故事屋 (StoryHouse). It is actually a library, but designed with heavy dose of oriental flavour 🙂

Look at the elaborate motifs and loft, kids can actually borrow a book and snuggle up comfortably. Daddy love the wooden stool. So nostalgia!

With such an environment, it is definitely easier for kids to immerse themselves into a positive learning experience.

ChengZhu's playground offers ample space for kids to roam up and down. While the older siblings are at class, younger kids can have their own playtime and exploration.

More than the oriental environment, passionate teachers will determine whether our kids enjoy their classes. ChengZhu's teachers has a high profiency of Mandarin, and Teacher Yu engages all the kids and kept them curious during the class. Kang really enjoys his show and tell session.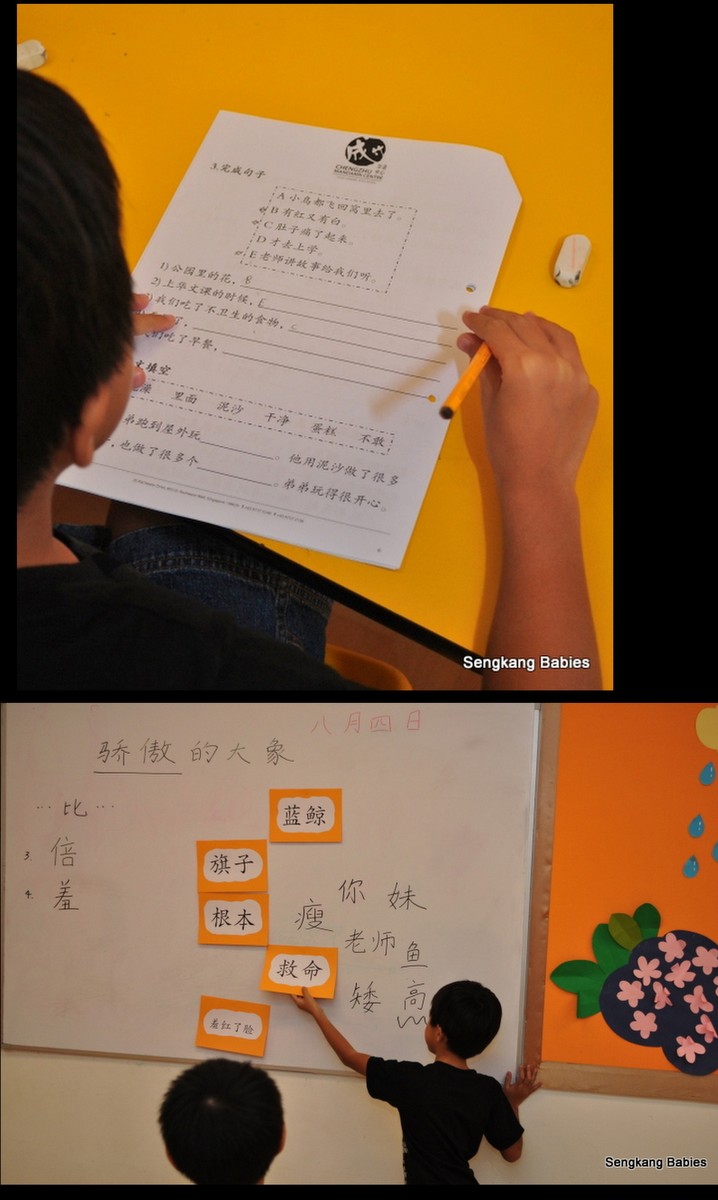 ChengZhu's Mandarin name is 成竹, which hopes students will be confident and 胸有成竹.
When kids are confident, they can take on any challenges.

We would like to take this opportunity to thanks ChengZhu and Janice for the invite.
ChengZhu offers Mandarin curriculum all the way from Nursery (6 months) onwards to Primary six (twelve years old), interested parents may contact ChengZhu at :
– 35 Rocheser Drive #03-01 Rochester Mall (Bouna Vista MRT)
– 6737 5348
– http://www.chengzhu.net