[ Media Invite ]
We participated in OCBC Cycle with family last weekend. It was another fun opportunity for families to bond and encourage kids to be sporty 🙂
We first participated in OCBC Cycle in 2016, read our experience here.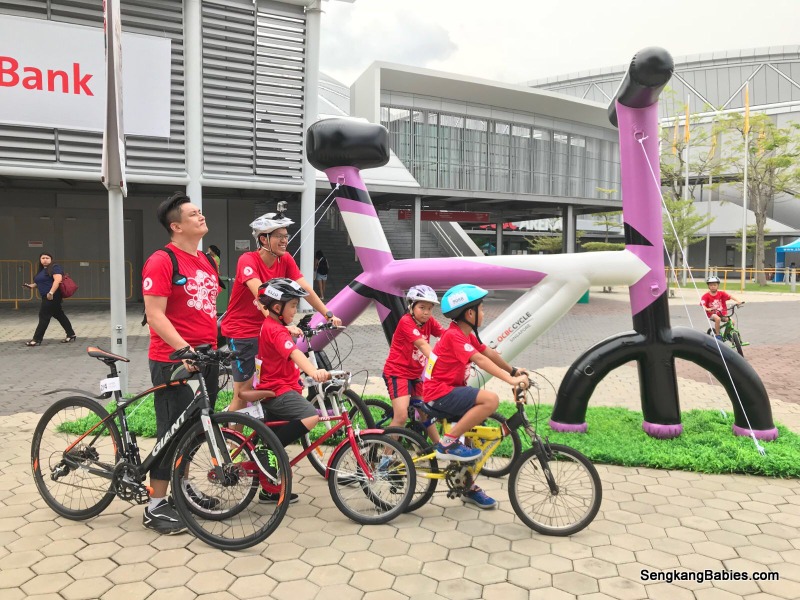 OCBC Cycle was a two days event at Singapore Sports Hub. Saturday for young families and Sunday for individuals (23 and 42Km).
There were carnival activities at event venue, some fun stuffs are related to bikes, and smaller kids are fascinated with bubbles.
At the appointed time, we got into our race lane and get ready to roll off. Boon Yee and Boon Xin were supposed to be in two different age category, but I managed to combine them into the one session (save on logistics, and it would be more fun to cycle together).
We have Xander and Winston from BlogFather to join us in this section.
Overall, the event is very well organised. No rush, and everyone file to the front in an orderly manner. Parents were smiling and chit chatting with the kids as we cycled slowly, some would inevitably be in race-mode.
The road was wide enough for everyone, but some of the road marshals were standing too close to the lanes.
Fortunately, the dark skies did not pour, we were very lucky as the weekend had a thunderstorm forecast! It might be a different ending if we are all soaked  🙂
It was a fun and easy 20 min loops for us.
Well done kids, time to upgrade your bikes for 2018. Boon Yee was complaining that our pace was too slow and he confidently ride infront and overtook us once.
As the kids were warming up in the carpark before we start (maybe too much rounds(, Boon Xin struggled to compete the last 2 laps.
But she persisted to cross the final line, and earn her finisher medal 🙂
Love this photo from David, look a bit like OCBC Cycle poster :p
We would like to thanks OCBC for the Fun invite. Many families enjoyed the riding opportunity. You may read more about OCBC Cycle Family category (Mighty Savers) on their Website and Facebook.
Do pop by our 2016 OCBC Cycling here and more stories on our blog tag "Cycling" and Instagram hashtag #skbCycles
We will share more about Day 2 OCBC Cycle Family (with my No1 in 23km) soon. Meanwhile, you may wish to read up how Dana (Life's Tiny Miracles) did in her sole category 🙂