Johor Mount Austin is only 30 min drive from Woodlands Custom. This "enclave" has plenty of food and activities to keep you busy for 3D2N.
We love the relative quiet neighbourhood (compared to KSL or City Square), Mount Austin feels relatively safe for us and our car.
We have shared our favourite food joints (food ratings) and GPS in post below, with additional links to our friend's recommendations.
One of the recent discovery is Japanese goodness "和樂屋 Warakuya". We first noticed this corner eatery is always packed, with queues forming even before restaurant is open. Although it looks classy, the price is very reasonable, and most importantly food fresh and Instagram friendly 🙂
We will definitely visit again to satisfy our cravings for Japanese cuisine.
1.和樂屋 Warakuya (rated 4.25/5)
(GPS 1.562640, 103.779090)
Botak did not live up to expectation. We understood that the grilling was done outdoor last time, but had to move indoor due to some regulations.
The bbq meat are designed with meat lovers in mind , we found it a bit salty. Please share your review with us.
2.Botak BBQ (3/5)
(GPS 1.559208, 103.781944)
Facebook
We usually stay at Prince 33, which is even nearer to our favourite food haunts. Our family do not require any elaborate rooms, just a simple bed and shower would suffice, we seldom linger in our rooms :p
For those seeking more wifi and creature comforts, you may wish to explore nearby Airbnb options, just cross the road to our usual Mount Austin eat and shop street 🙂
3. Airbnb Premium Studio (link)
(GPS 1.560998, 103.779004)
Spacious and with a pool, simple basics for a comfortable stay.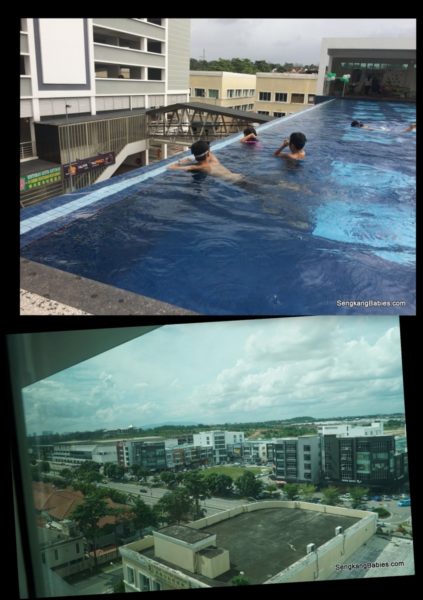 We were there last Dec to celebrate No1 (Wee)  and No3 (Yee) 's Birthdays.
Glad to have Heng family with us 🙂
Beside plenty of food and cafe choices, there are much fun activities in Mount Austin for a relaxing 3D2N. We blog about Austin Heights Water Park recently (link). You can do ice skating and "bouncing " too.
4. Austin Heights Water & Adventure Park (4.25/5)
(GPS 1.560447, 103.775236)
Facebook
Ok, not real ice, but we still had Fun :p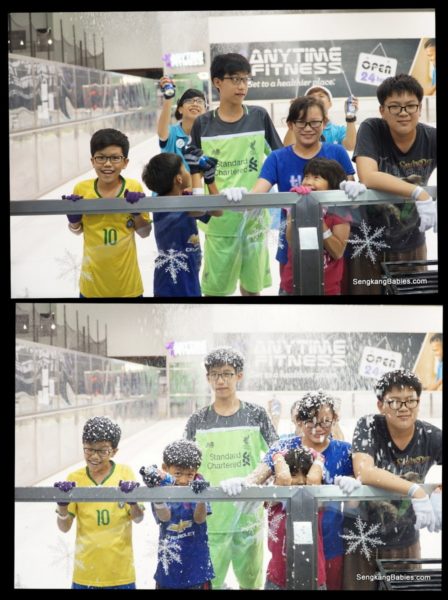 We would consider arcade in 5. Aeon Tebrau City (GPS 1.548643, 103.793924) as part of our fun activities too 🙂
Creamery – one of our favourite cafe.
Ice cream on cookies, please take our money 🙂
6.Creamery Boutique Ice Cream (4.25/5)
(GPS 1.562176, 103.777274)
Facebook
Roasted meat anyone? The duck is succulent and char siew decent. There are a few Meng Meng (阿明帝皇鸭) in Johor.
7.Meng Meng Roasted Duck (3.5/5)
(GPS 1.559458, 103.781177)
There is a Hua Mei at Mount Austin, 5 min walk from Prince 33. You will find decent coffee anytime. Toast for breakfast, Mee Siam for lunch. Hainanese chicken chop for dinner, cheap and good.
8.Restoran Hua Mei (华美) (The original store is in JB)
(GPS 1.561792, 103.776993)
Facebook
If we can only recommend one breakfast spot, it must be Gim Cheng dim sum! We always try to stopover  when we visit Johor Mount Austin, alas this place is often packed. You can find carpark space behind, but there is no table space! Do consider tabao 打包 🙂
9.锦成茶楼 Restoran Gim Cheng (4.25/5)
(GPS 1.549307,103.76485 )
More photos of Mount Austin can be found on our Facebook album (link and here). Do pop by our blog posts about Mount Austin, Permas Jaya and Bukit Indah.
We have reviewed more Johor Mount Austin restaurants from the following posts:
~~~ ~~~ ~~~ ~~~
– Water Adventure Park – https://sengkangbabies.com/holiday/austin-heights-water-adventure-park
– GoKart in Permas Jaya, super FUN! You can drive there in 30min – https://sengkangbabies.com/sports/permas-jaya-go-kart-circuit
– Dayre mini-blog 3D2N Food and Fun hunt – Post One and Two
-Bukit Indah (photos on our Facebook album)
~~~ ~~~ ~~~ ~~~
-Prince 33 (4/5) – Comfortable bed, spacious room (to accommodate 6). Budget price and friendly staff, central location!
(GPS 1.561274, 103.776610)
-22 Fried Chicken Factory (3.75/5) – do try the extra spicy noodles
(GPS 1.559885, 103.773971)
-Korean BBQ Gogigo (3/5), budget items but nothing fanciful.
(GPS 1.559622, 103.773667)
-Restoran KKJT (蒲种上汤街, 3.25/5)
Steam fish is popular but we did not know how to appreciate, the zhi char (煮炒) dishes are so so but over-priced.
(GPS 1.565045, 103.778000)
–JWC – Just Want Coffee (3.75/5) – Slightly pricey, but we love the Instagramable industrial setup, cheese cakes and latte
(GPS 1.548983, 103.775746)
A few other "popular" stalls which we did not not try, do research their Google reviews for reference.
-Grandma Kitchen  外婆家乡小菜 (Bukit Indah has a new outlet)
(GPS 1.559728, 103.773679 )
-Kassim, Indian Halal
Nice prata, Briyani and tandori, walking distance from Prince
(GPS 1.56216 103.77835)
Do pop by our friends' blog for more food joints!
–Johor Kaki
–BPDG (Food and family activities)
–Hazel Diary (cafes!)
We have blog about Johor street food too, banana cake! (link).
ps.. Follow our Instagram tag #SengkangBabiesJohor for more JB adventures
Johor Massage recommendations -> https://sengkangbabies.com/holiday/johor-massage-recommendations