Cycling to Pontian (笨珍) was my 6th Johor trip. This is also our group's furthest adventure yet. To and fro distance in Johor was about 120km.
(YouTube (link) video is at the end of this blog post.)

Normally, travellers might bypass small towns like Pontian.
Singaporeans might be more familiar with Pontian wanton noodle.
As we grow older, I wish to explore older towns like Pontian, Muar, Batu Pahat. I do prefer older towns compared to new towns (more touristy) like Mount Austin, Bukit Indah or even Kukup.
The old school feel, the laid back community, and of course glorious food. At this point, you should be aware that the "original" Pontian Wanton noodle is different from Singapore's.
You can refer to our Strava Map (GPX) for Pontian Route (More details if view on desktop, rather than mobile phone)

Back to our Pontian cycling itinerary.
0530 Setoff from Esso Woodlands Road
As an overview, it is about 15km from customs to Jia Qin breakfast place (near to Bukit Indah). Another 25km to Pekan Nanas, and lastly another 20km to Pontian.
We took 5 hours to reach Pontian, rolling speed 23 to 25kmh (8 hours if include SG cycling time). Total distance of 170km if including Singapore cycling (Pontian to JB distance is 120km to and fro).
Tip 01)Pontian is our further trip in Johor. Although Google Map will indicate minimum gradient (fake news !), you will definitely feel and respect the slopes. We clocked elevation of 760m for Pontian trip.
Total cycling duration was 12 to 13 hours 170km, including our cycling distance in SG. That is a healthy dose of Vitamin D!
Tip 02)The Sun is always underestimated. One major issue with cycling in Malaysia is the lack of shades. You can be cycling for 20km stretches under direct sun exposure. Hydrate!
0620 Jia Qing always available for early breakfast.
Newbies might wish to take photo at "Iskandar Puteri" landmark (GPS 1.452635 103.652597)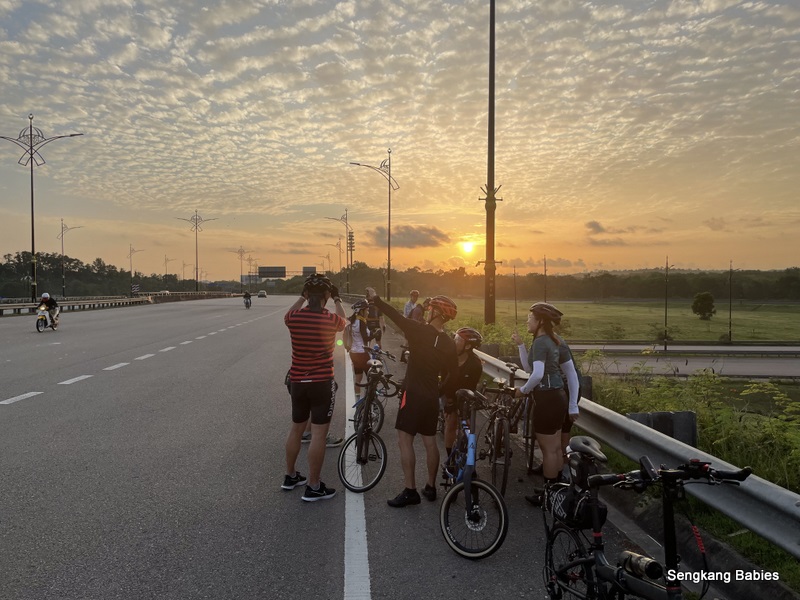 Tip 03)Before hitting Pekan Nanas, there is a small stretch where both sides are only one lane. This is from J7 turning left into J46 (GPS 1.481546, 103.581711). Exercise caution here as this stretch is very tight.
We had to split our group into two. This would allow a gap whereby cars can overtake us safely.
On the return trip, Google Map recommended a South loop Kampong route, instead of going through J46. Take note there will be two steep slopes along the kampong route.
Although the slopes are scary, seasoned cyclists recommended this kampong route as it is much safer. Safety first!
Tip 04)On the return trip from Pontian, many cyclists and even motorcycles were going against traffic! This added some nerve-wrecking inconvenience to us, in addition to the bumpy and sandy road. Be alert!
We last visited pineapple landmark (Public Bank) in May ( Read our previous blog post)!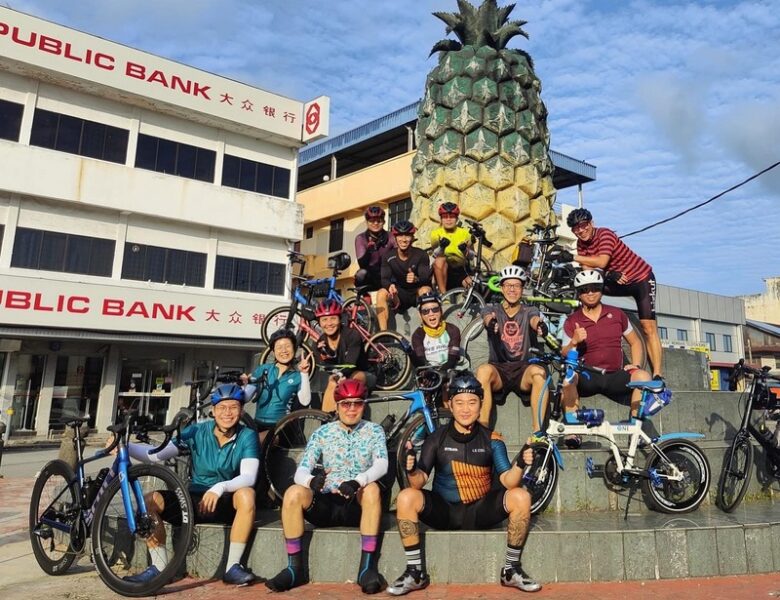 Did you know Nanas means Pineapple (in Bahasa Melayu)? (And Kedai is shop or dining)
永乐苦瓜米粉汤 干捞猪肝 at Pekan Nanas. The Pork liver (Rm16) is nice! Portion is meant for sharing.
There are actually a substantial number of popular F&B in Pekan Nanas town. However, folks will normally make a quick pitstop before rolling.
Eat drink and chill. Took a quick break before we headed West.
From here, just follow Route 5 towards Pontian direction. (J49 and J112 are smaller roads and might have more slopes or lesser road shoulders).
Those heading towards Kukup will turned left and follow route "J110, J95".
After 15km, you will reach McDonald T-Junction at Pontian Kecil. Turn left towards Kukup and right towards Malacca.
Tip 05)Most of the attractions and good food would be in Pontian Kecil. Pontian Besar (further North) holds the administrative offices.
We headed to 3D mural for photo stop first. Waterfall painting definitely looks refreshing for a hot day.
Checkout other famous landmarks in Pontian.
The crown and "I Love Pontian" logo are side by side (GPS location 1.488070, 103.386529)
It is a crime to cycle so far and not photoshoot at " I Love Pontian"
A milestone for us. We had fun posing at Pontian already 🙂
We split into two groups for lunch.
Kedai Makan Ah Poh (Bak Ku Teh) and 笨珍古楼小食 Kedai Makan Kurau are just 200m apart. Both are famous in Pontian (No1 is still Pontian noodle).
You know the herbal brew is delicious from friends' smiles.
古楼小食 (and Pontian) is famous for local eats especially fresh seafood. From social media, we noticed some folks actually buy their own fish, prawns and squids at the fish markets before a restaurant cooked for them!
However, I am not sure which Pontian fish market is more popular.
Seafood only Rm 90 for 5 pax. We ordered 5 dishes.
Fried rice is spicy but delicious. Lala dish was the bomb.
We noticed many tables ordered "lor mee", as this is their signature dish. I would consider it bland compared to Singapore's lor mee.
Rode along Pontian Seaside until the end of the "pier".
Our slow and easy Cycling to Pontian itinerary in itinerary stretches to 2.5 hours. We needed more time and stomach to savour all the good food!
Kopi and toast Rm50 for 12pax at Kheng Guan Hiong. There are many famous old school coffee and toast in Pontian, just follow the crowds.
Indulging in Kaya toast and white coffee with the best cycling kakis.
With Pontian trip completed, we have reached a milestone. Refer map below, we are only left with Kukup and Sounthern Most Point (Piai). We are ready to venture for our first multi-day trip!
Refer to map of Malaysia states in URL below. Maybe one day, we might just load our bikes onto train and bus and roll from other states like Kelantan, Pahang, Langkawi etc.
https://www.researchgate.net/figure/Peninsular-Malaysia-map-showing-states-divided-into-administrative-levels-of-district_fig1_347615114
We have only explored less than 10% of the town, and Pontian has left a good impression for us. We will be back for tomato "Heng Heng Wanton Mee".
It is an old and relatively quiet town. Folks are happy to just chill at old school kopitiam.
We hang around Pontian until 1pm+ before rolling home.
Tip 06) Our foldies rolling speed was around 23 to 25kmh.  Road bikes would easily roll 30+ kmh making the trip more bearable. As Malaysia is much bigger (Johor is almost x40 times bigger than SG), it is very common to cycle non-stop for 10 to 15km, as you will encounter lesser traffic lights outside town areas.
Tip 07)Do expect more slopes between Pontian towards Pekan Nanas. It could be the heat (no shade) or it could be the dreaded return trip fatigue. We also got a lot of headwind resistance too.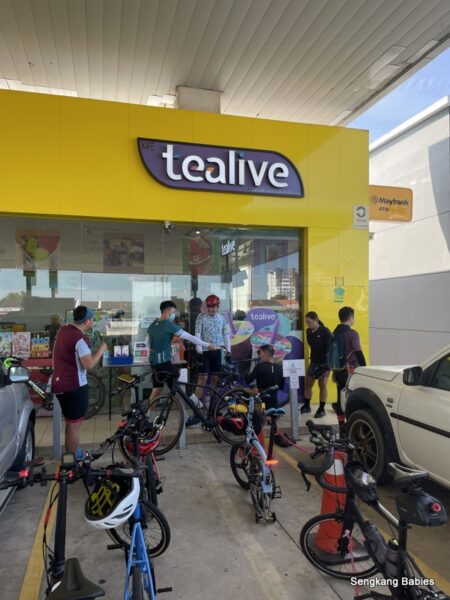 Petrol stations are our best friend every 15 to 20km. Hydrate and cool down.
Tip 08)Refer my screenshot above, you can expect elevation between 500 to 1000m for any Johor trips above 60km. Pontian was 763m. For comparison sake, Mandai road (20 km both way) will only hit elevation 200m.
If you are already struggling along Mandai road, you will find the slopes and bridges in Johor tougher! Just go slower can catch your breath.
If it is any consolation, the hilly slopes in Kulai, Kota Tinggi and Kluang will stretch your elevations to 1000m +
Pontian trip makes me realised my foldie and fitness mileage. 150 to 200km would be my comfort zone.
If we wish to cycle to Malacca (250km from customs), it would be recommended to stay one night maybe along Batu Pahat.
Some folks can rushed 250km within one day, but you might be tired out. This might also defeat the purpose of cycling enjoyment (we are touring, not Training).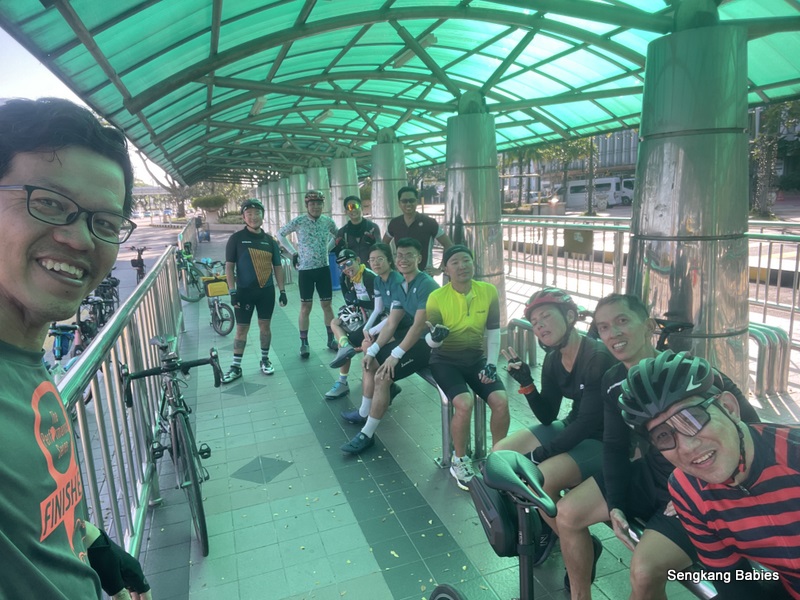 On a side note, I experienced mild heat exhaustion after crossing the customs. This is even after I ensure I had plenty of fluid replenishment.
I suspect it must be the overbearing heat. I had to chill 30 minutes at Yishun Dam, enjoy the sunset before continuing home.
Still not serious enough to be declared cycling bonk :p
Our Tampines kaki Joe clocked 200km!
Refer to Google Map GPX to Pontian.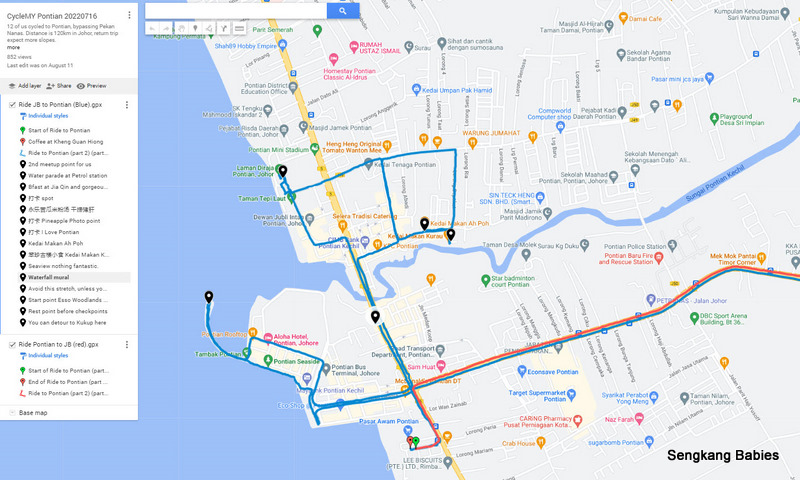 Tip 09)We always missed a Durian stopover. We realised that we had always planned for durians on the return trip. Bad choice, as everyone would be tired and just wants to go home. We must put Durians at the front of our itinerary next round.
We are still hunting for popular and recommended durian stalls in Johor.
Tip 10)You will noticed many drivers "Turning Right" on straight-only lanes (be alert!)
Meanwhile, you may read about other cycling trips below:
– Cycle to Pekan Nanas and Legoland
– JB food hunt (3 hours 30km)
– Cycle to Forest City
– Cycle to Pontian (笨珍)
– Cycle to Elephant Rock (Bukit Batu Gajah)
– Cycling to Malacca
–2018 Cycling Hualien to Taitung (with two kiddos)
YouTube: 2 to 3 Hours in JB. Eat, see and Experience

YouTube: Chill at Pontian 笨珍

YouTube :Cycling to Forest City and boat ride (my best Johor trip yet)

YouTube: Cycling to Elephant Rock (Bukit Batu Gajeh)

YouTube: cycling to Malacca

YouTube:Cycling to Putuo Village

Cycling In Taiwan (250km from Hualien to Taitung)

*Do follow our cycling adventures here -> https://sengkangbabies.com/tag/cycling