We enjoyed Jewel Changi Canopy Park attractions recently.
Families with kids would have heard of Canopy Park by now. It occupies 14,000 sqm on the 5th floor of Jewel Changi Airport!
What I like about this "playground" is you can see the Greens (rainforest), Waterfall (Vortex) and glass ceiling (dome ) from all corners!
Video from our Instagram:
View this post on Instagram
*Do read our Digital review for Changi Experience Studio too (blog link)
Before we start, do take note :
-Only Canopy Bridge and Manulife Sky Net (bouncing) needs appointments for crowd control. The other Canopy Park attractions are first come first serve.
-Tickets are for one-entry only (so do not exit the bouncing net too quickly)
1) Canopy Bridge
Mist will float across the bridge at regular intervals, making it feel like a Walk in the Cloud.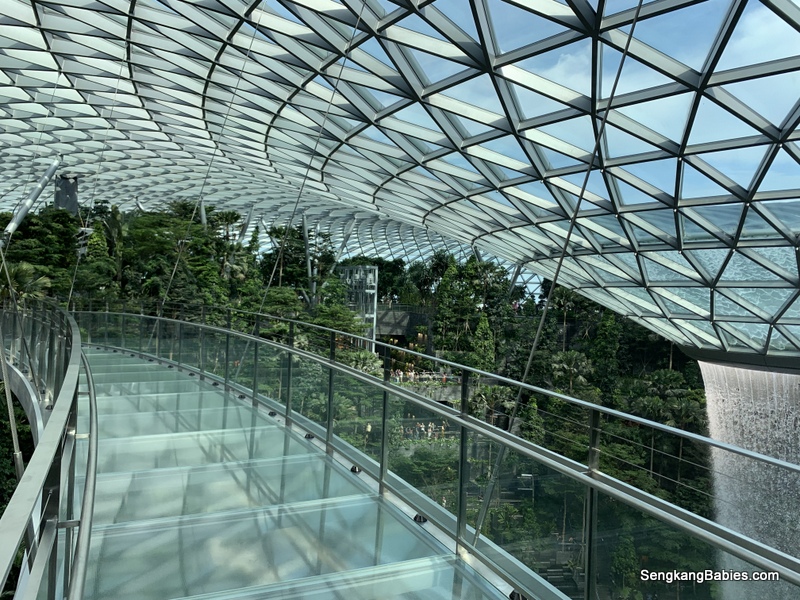 The short bridge is 23 metres above ground, and you are supposed to see the ground below. But it is not transparent enough, lessening the novelty (and fear factor).
Canopy Bridge might be the closest point to the vortex. We can see the "rainforest" over the horizon, basking in the sunlight.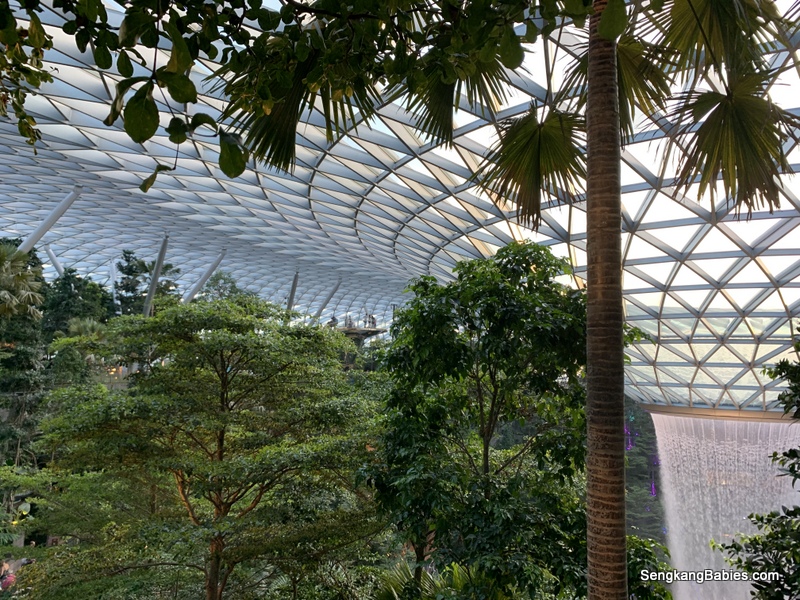 Love the trees and foliage! Waterfall can be heard from every corner.
Canopy Park also offers the nearest spots to the dome ceiling. Checkout the Slide and Nets below.

The reflection off the lily ponds looks mesmerising and unreal too. Nature and Man-made structures co-existing.
Spot the Vortex from all corners. Get ready for the moments when the skytrains roll in and fill the frame, try to spot Control Tower photo-bombing too 🙂
2)Manulife Sky Nets – Bouncing
Kids were looking forward to the nets (bouncing and walking) even before we visited Jewel Changi Airport. Thanks to the various social media coverage.
Kids were eager to checkout the bouncing nets or slides but parents might be keen to know more about safety features:
-What if the net breaks?
-What if I drop my phone!
-Can we fall and roll down?
Visitors should keep excess accessories in the lockers. We must wear shoes too, although spare shoes are available for loan (foc).
Once you book your time-slot, look for the black nets and jump to your heart's content! Even if you are not jumping, someone bouncing next to you would make you bounced too haha.
Forget about heavy duty DSLR. It is hard to focus, and some paths are narrow. Your hands should be busy grasping for balance :p
Parents with younger kids should take extra care. Someone might fall backward or collide into each other.
By the way, the nets are industrial grade and can support up to 1000 visitors simultaneously.
We can challenge each other to see who loses his balance first!
If we have to choose, I would say go for the bouncing net. Kids will agree bouncing and jumping is more fun than walking.
3)Manulife Sky Nets – Walking
After trying the bouncing Net, the Walking Net looks tame 🙂
But the starting slope is steep.
*Do take note minimum height of 110cm for both nets.
Although this is "walking" net, some folks will still scramble and jump.
The net, as seen from below and above. You can literally see the escalator and humans below.
If your phone does slip, there is a second layer of fine mesh below. You do have to be careful about the rope cross sections, the rope is tough and has securing rings. Abrasion can be painful for younger kids.
Do exercise caution, and Ladies, please do not wear dress or skirts.

This spot is nice for family photo, with the background dome ceiling and clear blue skies. During a thunderstorm, the falling raindrops should be spectacular!
4) Discovery Slides
The slides structure looks futuristic, and those distortion mirrors gripped our attention.
As the kids attempted 90 degree vertical drop, I was awestruck by the view of T1 Tower. This is the same iconic tower which bids us farewell as we takeoff off from Changi Airport.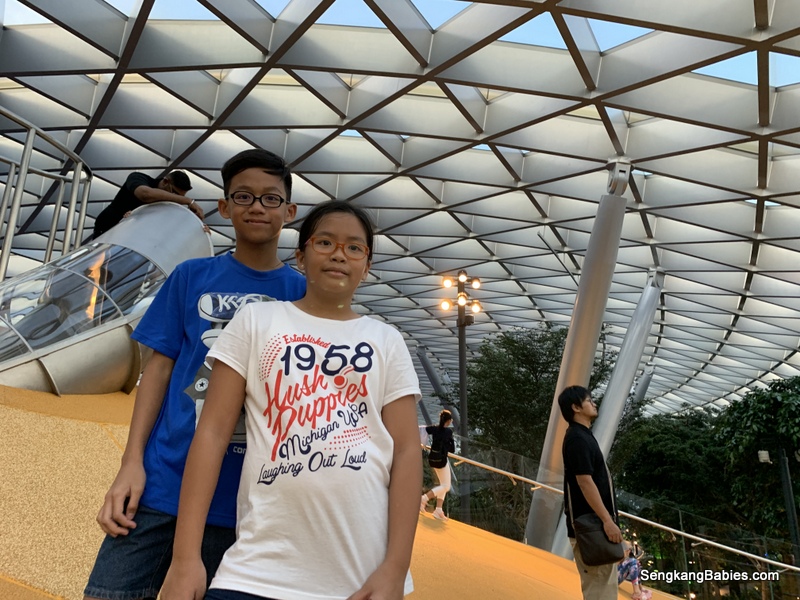 5) Foggy Bowls
Kids love to roll on these mini slopes. It looks fun and magical, especially  when mist carpets over the entire lawn.
We saw some adults lazing in the "bowls" too, please make way for the kids.
6) Topiary Walk
Amazing animals made from flowers. Lifelike, colourful and definitely popular for family photos.
7) Petal Garden
Feels like Gardens by the Bay.
Seasonal flowers dot the landscape. These flora adds colour to the glass and steel structure.
There are two types of Maze at Canopy Park.
8) Hedge Maze
Imagine those romantic garden maze from temperate countries.
Objective is to climb up the elevated platform. However, the gates can change direction, the path is not so straightforward :p
Mirror maze has more fun factor, whereas Hedge Maze is better for photo gigs.
9) Mirror Maze
Try to spot yourself and others. Which one is real and which are reflections 🙂
The illusions are quite entertaining. The rubber foams are for you to poke infront, in case you smash into a mirror!
Our kiddos stationed themselves near the exit and told others "Wrong direction turn back!"
Pose silly or prank others but NO running inside the maze!
If you are hungry, these are the F&B options on level 5. Some might wish to chill with Tiger craft beer too. Otherwise, there are more food options in Jewel or the other Terminals.
If you are staying later, do look out for the daily Rain Vortex performance. Every hour from 1930 to 0030, laser light show will be imprinted onto the waterfall, mesmerising the crowds.
Jewel Changi Airport is bringing the World to Singapore!
Click for more Canopy Park photos on our Facebook.
Click for Changi Experience Studio (photos) on our Fanpage.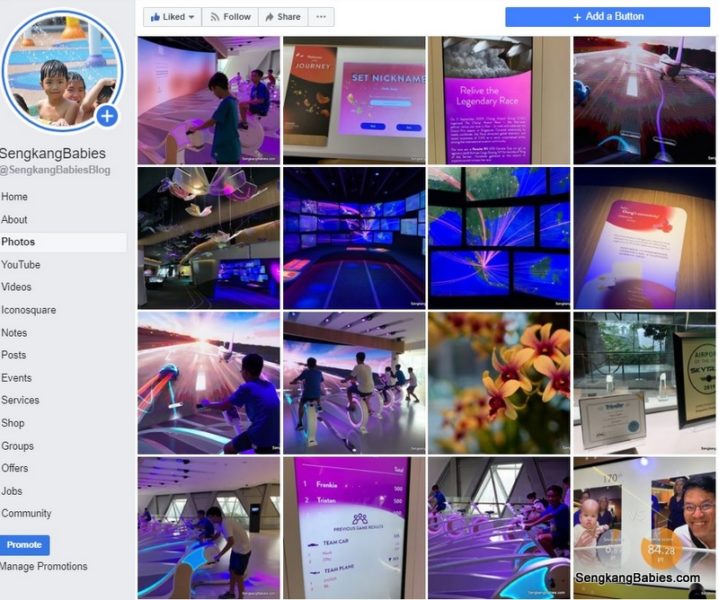 Kids are asking whether Jewel Changi Airport is an airport, shopping mall, or a forest. It does not matter, Jewel has something for everyone and it is indeed a stunning attraction!
Ticketing (link)
Canopy Park Bundle Tickets start from $38 to $71 per pax. This is more like theme park pricing, and can be very expensive for a family.
Although you can buy individual attraction tickets, value bundles are more worthwhile.

If you only want to relax and enjoy the scenery, a $5 entrance ticket will let you enjoy the following (Everything else is ticketed)
Additional Tips for visiting Jewel Changi Airport:
-Get the latest Canopy Park news on Jewel website and Fanpage
-You might like to explore Changi Experience Studio too (plenty of digital and multimedia interactions)
-Canopy Park opening hours are more 10am to midnight, and 10am to 1am weekdays and Friday/weekends respectively. Some Canopy Park attractions are opened till 3am
-Transit visitors can take the skytrain (between T2 and T3) to view the Vortex up front or grab a Instagram profile. (Immigration clearance needed, as Jewel is in the Public area)
-Visitors leaving Singapore can checkin earlier at Jewel (3 to 24 hours earlier!) You can also claim your GST refunds
-Parking fees in Jewel is more expensive. We park at T2 and walk over to Jewel. 4 hours parking costs at Jewel and T2 are $18.60 and $9.60 respectively.
ps.. We would like to thanks Jewel Changi Airport for the fun invitation to Canopy Park!