[ Media Invite ]
Marvel at Madame Tussauds Singapore, Captain America, Hulk, Spiderman and Ironman are appearing in a new SuperHeroes 4D movie!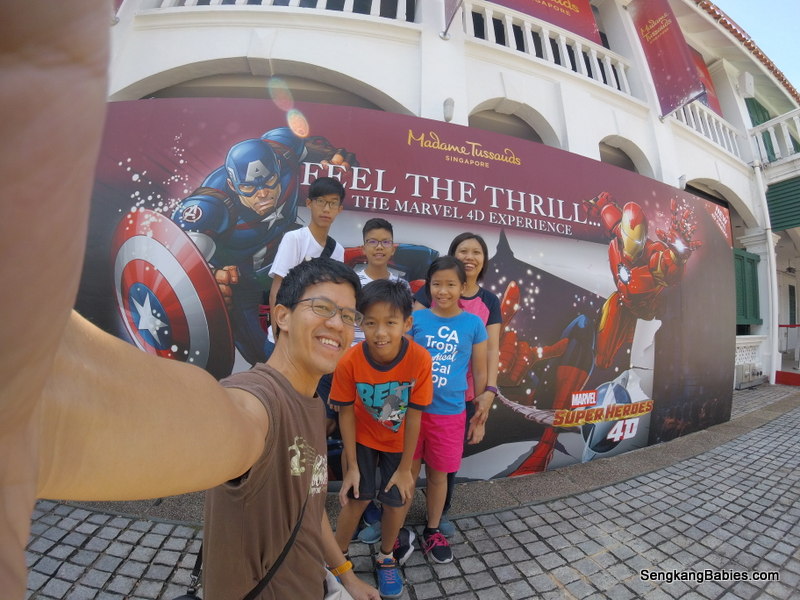 Marvel exhibition would be at the end of your Madame Tussauds tour. All visitors will start with a short boat ride to discover Singapore's icons.
Singaporeans might take Merlion, SuperTree and MBS for granted but visitors are fascinated.

Above all, the multi cultural aspects of Singapore are always so enriching and beautiful (we are not talking about food yet!)

Kids got a chance to shake hands with VIPs. Xin told us she remembered ordering McDonalds for Obama at Hong Kong's Madame Tussauds 😛
…Of wax VIPS and Twitter followers
They can identify the bosses from Indonesia (Jokowi) and India (Modi).
But they were surprised when I told them the Presidents and Prime Ministers got huge Twitter following! (9 and 39 million respectively). Obama and Lee Hsien Loong have 98mil and 640k Twitter followers!
#AnotherWaytoImpressTeenagers haha :p
And no trip to Madame Tussauds is complete without a wefie with our Prime Ministers (current and ex). What I noticed is most of the wax models still have black hairs.
Hello PM Lee and Mr Goh.
Singapore's first Prime Minister LKY and wife, always portraying a loving harmony.
There are many areas for kids to express their creativity and enthusiasm (or lack of haha). Whether it is Sports, or Entertainment, I told them to enjoy the moment.
Yes, you can all act Silly and have a good laugh. Do not be shy 🙂
Hollywood, Bollywood and Hong Kong stars are shining bright. They got to interview famous host Oprah.
Photo below, the wax figures for the famous couples are already separated (Brad and Angelina).
Terminator Arnie and Ah Boys to Men's Jack.
Daddy's fantasies, acting tiko(lusty) with Marilyn and cute with Taylor (..and embarrassing the kids again haha).
Mummy's favourite beaus. Hello Andy and Zoe, both looking gorgeous!  Can you believe they are 58 and 50 years old already?
Cantopop anyone? Hello Jay Chou 地表最强! We got Stephanie Sun and Teresa in the background.
Wei is definitely getting a wallop from Bruce Lee, Wolverine is comparatively less menacing.
The highlight for our trip was Marvel at Madame Tussauds. Catch your favourite Super Heros and watch them in 4D action!
We are all impressed with the 4D special effects, with some fun from mist and water spray haha 🙂

Kang trying to get Captain America's shield!
Yee and Xin's best experience was VR Racing Experience with Hamilton and Vettel (Separate fees apply).
Vettel commented that Yee got potential to be F1 driver.
We would like to thanks Madame Tussauds Singapore for the fun invite. Do book online to enjoy more discounts, follow them on their website and Facebook for the latest promotions.
Contact : +65 6715 4000